Jane Walker remembers the day a representative from Yelm Community Schools walked through the doors of the new Olympia Federal Savings. "I'd met him at a meeting, and he came in the next day and said, 'Would you be willing to donate money to us?'" says the new Yelm Branch Manager. "I told him, 'Let's see what we can do.' He filled out our donation form and asked for $250. I sent it our Vice President and she ended up sending him a check for $500."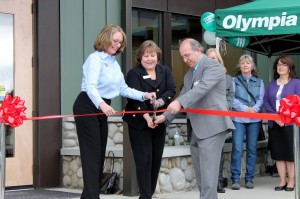 The Yelm community is learning that such generosity is typical of the company, which held a soft opening for its new branch on August 31, 2015. Unlike stockholder-based banks, which must deliver maximum profit and dividends, Olympia Federal Savings places added emphasis on community reinvestment as part of its charter. "As a mutual institution, we have the flexibility we need to help our community grow and we are able to take a long view of what's best," says Sandy Di Bernardo, Vice President and Marketing Director. Annually, the company is dedicated to donating at least 5% of their profits back to the community; however, she says, "We donate much more."
Walker, who has been a Yelm resident for 23 years, says there were two main reasons for the new branch. "We have several customers that live here in the Yelm area, and we also did a lot of research. Studies showed that this is a growing community," she says.
Since opening, the bank has sponsored a Yelm Chamber of Commerce Forum, sponsored the Yelm Farmers Market, and donated $1,500 to Yelm Community Services. "We said we would donate $25 for every new checking account from the time we opened until the end of October," says Walker. "When I handed the check over, there were a few gasps. They couldn't believe it was for $1,500. I think people have been surprised by how involved we are with the community."
As a mutual bank, they can also personalize their lending and mortgage practices rather than adhere to a cookie-cutter formula. "We're a portfolio lender," says Walker. "We don't sell our mortgage loans on a secondary market. Whenever we look at a loan, we look at the whole picture, not only your credit history and how much money you make, but things like property value. If it makes sense, we do what we can to make the loan."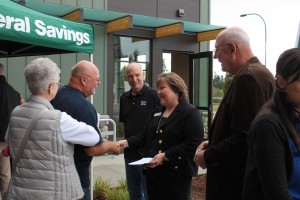 The company supports sustainable practices through everything from its green lending program to the state of the art, energy efficient new building. Home equity loans for customers who want to make their homes more energy efficient are available at affordable rates, says Walker.
They also offer energy efficient mortgages at a rate of 85% loan-to-value without private mortgage insurance. "Normally we'll go to 80% but for this we go to 85%," says Walker. Applicants need to have a HERS (Home Energy Rating System) score of 70 or less. "These types of mortgages are more beneficial to the borrower than a traditional mortgage," she says. "Applicants get half a percentage off their loan fee. We know that they're going to save on their energy costs so that can help with their mortgage payments."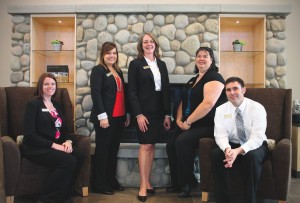 Energy efficiency is literally built in to the new branch, which is on its way to becoming LEED certified. LEED is a green building certification that recognizes best-in-class strategies and practices. The Yelm facility has solar panels, radiant floor heating, and a car charger in the front drive so that people with electric cars can plug in. The builders used locally sourced materials as much as possible, including the rocks for the interior, and the building has a shower for employees who want to ride their bikes to work or go for a run during their lunch break.
"We should be able to give the electricity back to the grid on nice sunny days," says Walker. "There's a sensor so when it's bright outside the lights dim and when it's darker they brighten up. I think we're going to be the only LEED certified building in town, at least for now."
The Yelm branch is sponsoring classes to train local real estate agents in how to look at energy efficiency. Fiona Douglas Hamilton, founder of SEEC, an education and consulting firm specializing in green building evaluation, teaches the classes and has taught Olympia Federal Savings appraisers how to understand what to look for.
Community groups can also use a free meeting space within the bank that fits up to eight people. "They just need to contact me to find out the availability," says Walker. "We will let non-profit organizations use it at no cost. We also have a space next door that can be leased."
After 27 years in the banking industry, Walker is happy to be working in her home town for a company like Olympia Federal Savings. "I've worked with small banks and I worked for big commercial banks," she says.  "All the banks I've ever worked for say, 'We give back. We give locally.' It's great working for an organization that really does what they say. I've never experienced this type of generosity. It's amazing."
For more information about Olympia Federal Savings visit www.olyfed.com or call 360-754-3400 or reach the Yelm branch directly at 360-400-2100.