The sights and sounds of the holidays are enhanced by the scents of pine, wood smoke, and gingerbread. This fragrant partnership turns any home or office into an instant winter wonderland.
Through December 18, view another amazing partnership in the beautiful lobby of Thurston First Bank at 600 Franklin Street. There you will find the first place award-winning creation from SideWalk's annual Gingerbread Village. Visitors can drop by the bank to see—and smell—this amazing 'Christmas in Leavenworth' castle, as well as donate to SideWalk's mission to end homelessness in Thurston County.
SideWalk's Development Director Anna Robinson explains that this year's Gingerbread Village took place on November 28 and 29 at The Washington Center for the Performing Arts (WCPA). Community-based teams baked, built, and carefully decorated dazzling creations that were then part of a silent auction fundraiser. The event raised more than $12,000 to provide Rapid Rehousing services to Olympia's homeless population.
This year's winning castle 'Christmas in Leavenworth' was built by the Gilliland/Hodgson family and sponsored by Rod and Pat Cate. It was bid on and won by Kathleen Gookin of Olympia. When Gookin went to The Washington Center to pick up the house and found that it was a bigger than she had anticipated, she came up with the idea of using it as a vehicle to collect donations. She turned to Chad Carpenter, WCPA Events Director, for his opinion on what business would make a good home for the house. Gookin's goal is allow the community to share in the "joy of giving" during the holidays while promoting the mission of SideWalk.
Carpenter immediately thought of Thurston First Bank due to its ongoing commitment to improving downtown. In addition, Thurston First Bank Chairman Steve Bean was the MC for SideWalk's annual 'Love for a Change' gala last February. Hours later, the house was wheeled up to Thurston First by a few Washington Center staff members and placed on display for everyone to enjoy. Carpenter states, "It feels really amazing to be part of the bigger picture—many different organizations working together to build our community."
Gookin will share the castle with Thurston First Bank until December 18 when it will move to the Hands On Children's Museum. There, too, it will be a fundraising opportunity benefitting SideWalk and its vital outreach. While on display at Thurston First, visitors are encouraged to fill the house with donations via an opening below the roof.
Says Gookin, "I just know this gem of a roof can serve to help someone else get a real roof."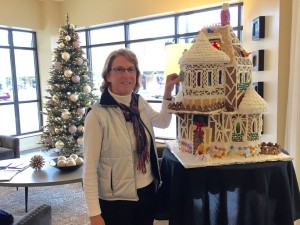 Robinson is proud that through similar partnerships and generous community volunteers, "SideWalk recently reached a milestone in our history, housing our 500th client in less than three years. Our goal is to house 300 people this next year alone. We've been seeing record numbers of clients through the door in recent weeks, upwards of 50 a day."
Gookin says she learned about the work of SideWalk earlier this year and is excited about the housing first idea. She agrees: "If you help someone find a warm, dry and safe place to live, they are likely to also be receptive to other services such as mental health and chemical dependency counseling."
"Another thing I like about SideWalk is the bang for the buck," continues Gookin. "Much like when I was a young adult, many people can afford to share a house, but they can't afford a whole house. SideWalk works with people to find affordable housing and helps them with an average one-time cost of about $1,200. Compare this to ongoing subsidized housing costs of about $7,000 per year and SideWalk is my charity of choice these days."
By partnering with Thurston First Bank and the Hands On Children's Museum, Gookin hopes "to turn a small donation into a larger one. For example, I took the lead on a fundraiser over the summer through a tennis function called Woods and Whites. We raised $500 for SideWalk. Then, I set-up a fundraising campaign on SideWalk's website and raised another $100. When my $50 bid on the gingerbread house was the winner, I immediately started thinking about how I could turn that $50 into something much greater. My hope is to raise another $550. Then, I'll have raised a total of $1,200 and another person in Olympia will be off the streets."
Thurston First Bank is open from 9:00 a.m. until 5:00 p.m., Monday through Friday. Drop by and drop in your donation while the castle is on display. If you're unable to visit, you can donate to SideWalk online or plan on attending their largest annual fundraiser 'Love for a Change' on February 11, 2016.
The holiday season is all about togetherness and community. As you gather with friends, family members, and coworkers, remember—and reach out to—those who need our help the most.
Sponsored