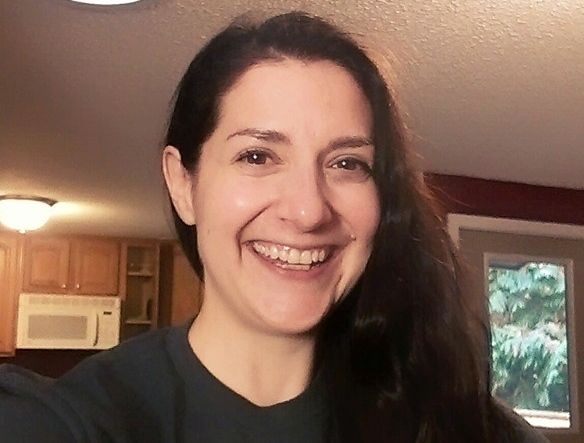 By Nikki McCoy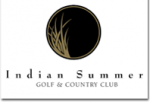 Julie Kinn and her brother Marc Shecter are on conference call for our interview (she lives in Olympia, he's in Snoqualmie) and honestly, I feel like I'm listening in on one of the sibling's podcast episodes – playful rivalry carries the conversation.
Launched in August, The Station Wagon podcast is where Julie and Marc accept the challenge of giving up a common habit, service, or product for two weeks – a twist if you will, on the classic sibling dare.
In addition to their hilarious observations and insight on what it's like to live without paper (toilet paper was thankfully exempt), to not sit down, or to quit using eating utensils for two weeks, the two cover unusual and interesting facts about that episode's topic.
For instance, listening to Marc and Julie break down paper products led to some intriguing history about toilet paper, ones I made mental notes to bring up as an icebreaker at a party sometime. Did you know toilet paper wasn't always on a roll? It was in books, and the user would tear out the page. Or that 1935 was the year the first splinter-free toilet paper was invented? Yikes. This wonderfully legit excuse to be juvenile is just one example of the history The Station Wagon likes to share with listeners.
Marc, a software specialist by day, usually tackles history and Julie, a military psychologist, shares all things – as she likes to say – science-y. For instance, she reported on the 16 billion paper coffee cups used last year in the U.S.
Another discussion is around the parameters of the challenge. What does it mean to not consume "news" for two weeks? What constitutes eating utensils? When giving up paper, does that cover food product packaging?
Turns out it does. Instead of little paper packets, Marc pulled out a plastic bag of white powder every morning at the office. It was filled with Splenda for his coffee.
Podcast enthusiasts for about a decade, (favorites include Sawbones, Big Picture Science, and the Flop House) the brother/sister duo are naturals on the mic. As soon as Julie introduced the idea to Marc, he was sold.
"I was sitting at home one night minding my own business, when Julie called me out of the blue," recalls Marc. "When she suggested a podcast, I didn't miss a beat in saying yes."
I ask Julie and Marc to walk me through a podcast session. It's explained that a Skype conversation is recorded, and the first 20 minutes or so are dedicated to the history, science, and a break down of the experience. What will be given up for two weeks? Swear words? Technology? Going outside? A five-minute break with some groovy tunes and snippets of guest interviews follow, and segues nicely into the final leg of the show – the results of the experiment.
Take the discussion on when they gave up dressing down, meaning they had to wear fancy clothes, make-up, and hair for two weeks. Julie walked away a little less of a tomboy and more inclined to take the few extra minutes to style her hair – despite showing up at work with curling iron burns.
Marc, on the other hand, said he was relieved to put away the suit jacket and get back to jeans, noting that it was awkward to be more dressed up at work than he was at his interview.
"Each one of these experiences changes us slightly, even if it's just helping us understand about the things we take for granted," comments Julie.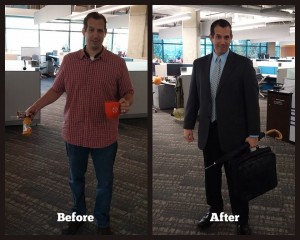 Where do they get their ideas on what to give up? Listeners submit ideas through Twitter or Facebook, and co-workers and family members are in on the action. Marc's daughter even solicited submissions at school – giving up proper nouns is now on the short list.
While hilarity is the inevitable outcome, the siblings hope listeners can learn from the challenges, and appreciate the opportunity to experience, and share, a new perspective.
"We hope to educate as well as entertain listeners," says Julie.
The siblings are seven years apart, but very close at heart. Julie recalls her brother as being protective and compassionate growing up, and while Marc didn't say it in so many words, I may venture to guess she was the loving (and sometimes bratty) counterpart. These dynamics play through to today.
Case in point, the following comment from Julie:
"The podcast is a really great way to stay and touch with my brother, even if it's just texting him a picture of my middle finger, like I did today," she laughs.
Family banter is part of the listener's fun. Snarky (or loving) comments are often directed at each other, their parents, cousins, spouses, and more. Growing up, the siblings, along with their older brother used to ride in the back of the family station wagon. Nowadays, The Station Wagon podcast is an adult version of those back seat antics, and a clever way to enjoy the ride.
Tune in at www.wagonpod.com.