By Heidi Smith

Everyone at Rainier Therapeutic Riding wants one thing perfectly clear: despite the word 'therapeutic' in the title, the only psychiatrists on site are around sixteen hands high and weigh about 1,000 pounds.
"Nobody here is a trained psychologist," says Gregory Neufeld, an army veteran of 22 years who did three tours in Iraq, two in Bosnia, and one in Afghanistan.  He started as a volunteer before completing the organization's 8-week program, continuing to assist today. "No one will push you or say, 'Tell me what you've been through.' The horse is a therapist. I tell anybody who comes out here, 'Tell it to the horse, brother.'"
The relationship between horse and human is at the core of the organization's mission to facilitate physical and emotional healing for veterans and active duty military members suffering from PTSD, traumatic brain injuries and other combat-related issues. "It's really all about establishing the connection," says Executive Director Doug Pfeffer, recently retired after a 20+ year career in the U.S. Army.
Rainier Therapeutic Riding (RTR) leases space from Serenity Farm in Yelm, offering ample stables and a large arena. Local riders board their horses at the farm where they're heavily vetted before being allowed to participate in the program. "Even our biggest horses are extremely gentle," says Pfeffer. Similarly, all of RTR's trainers are either certified or in the process of receiving certification through P.A.T.H. International (Professional Association of Therapeutic Horsemanship).
The program is free for veterans, funded by a combination of grants, monies through the Wounded Warrior Project, and private donations. "The funding doesn't go toward people's salaries, it goes toward operations," says Pfeffer. "When you talk about having to board the horses, feed, and everything that goes into general maintenance, all of that has to come from private funding."
For the first half of training, participants never leave the ground, spending time on basic skills plus care and grooming. "As they progress through the program, they become more confident and the horses trust them, which is really what it comes down to – that trust, that bond that's formed," Pfeffer says.
By the end of the program, miraculous transformations have occurred, says Program Director Erin McMicheal. "We have some folks who come in here and either don't want to or are unable to interact. In a lot of cases they're overmedicated. They come in and they're staring at their shoelaces and won't make eye contact with anybody, won't talk to anybody. By the end of the next week's session, they've really come out of their shells. It's nothing that we do; it's really because of the horses. It's amazing."
Neufeld explains the transformation from a veteran's perspective.  Her returned from his last deployment to discover his wife had bought a rescue horse, boarding it with a group of other highly trained horses. "But every time I got around them they were amped up," he says. "They were not acting like well-trained horses at all. At some point the head trainer pulled me aside and said, 'You understand that it's you that's making them like this.'"
Going through RTR's training, he came to understand how horses act as mirrors for humans' attitudes and energy. "I love my dogs at home, but when I get nervous and maybe a little amped up, they get aggressive," Neufeld explains. "When you get that way around a horse, they're looking to get away."
The tools Neufeld has learned translate into life beyond the stable. "When you're working with a horse, you have to stop and think about what you're doing before you do it," he says.  If you're riding and you want to turn left, you have to start thinking left before you get there. You have to learn to control your movements, your thoughts and your reactions. The horse is looking to you to be a leader."
"My reaction to everything in fight or flight is, we're going to fight, because that's what I'm trained to do," he continues. "But that doesn't work here. It doesn't work off this farm either. The training helps with how you react to everything around you. I can take a second and figure out what I'm going to do before I do it. It's very, very helpful."
In addition to the 8-week program, RTR occasionally offers intensive workshops, with participants flying in from all over the country. At a recent event Cheryl Corrigan, a P.A.T.H. Instructor and the organization's Herd Manager, got to witness the culminating show.  "When the participants first arrived, they were very different from each other and were stand-offish," she says. "They didn't talk to each other and they would just work with their horses."
But on the last day, participants perform an obstacle course demonstration. "Everybody went out individually and went over obstacles and they all watched each other," she says. "They all cheered each other on. It was so inspiring to see. At the end they were all getting each other's emails."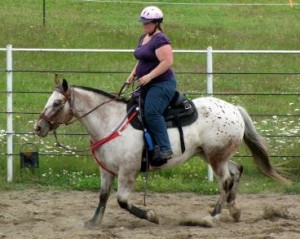 The obstacle course is significant, she says, in how it relates to larger challenges. "If they can work with that horse to get through the obstacles, that helps them to get through obstacles in life."
This year's season will wrap up in October, with the winter focused on program development. One goal is creating trainings for families and children with special needs, says Pfeffer. "To expand the family program and expand community involvement, we need more community support."
For any active duty or military veterans considering the program, Neufeld has a message. "Coming to a program like this does not mean that you're broken. There's nothing wrong with you," he says. "PTS, I don't want to call it a disorder. It's not a disorder; it's just a natural reaction to an incredibly stressful situation. There's nothing wrong with you, coming out here to learn how to deal with your natural reaction. Come on out and take a look."
Rainier Therapeutic Riding is hosting its 4th annual Heroes, Horses and Hope Dinner Auction on September 26, at the American Lake Conference Center, featuring Colonel Scott D. Sanders, U.S. Army Retired, as the guest speaker. Tickets can be purchased at www.rtriding.org.