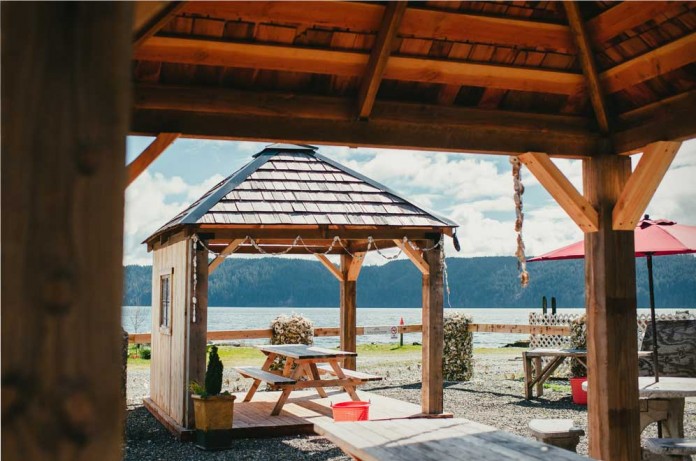 By Douglas Scott
The Hood Canal region of the Olympic Peninsula has become known for amazing outdoor activities, stunning wilderness views and incredible food. After a long day or weekend exploring the trails, camping, or boating in the water, nothing hits the spot like a delicious meal. Whether you are in the mood for oysters on the half shell, cedar plank salmon, pollo in mole or just a delicious cup of coffee and an ice cream cone, Hood Canal will fill you up with its many tasty offerings.
Dining on the Hood Canal is unlike most places in America — you won't find any chain restaurants here. The region offers only locally owned and operated restaurants, diners and coffee stands. In lieu of chain restaurants, visitors of Hood Canal instead enjoy sinking their teeth into fresh caught foods, straight from Washington's fjord. The places to eat along the Hood Canal are all worth stopping at, but these six spots are my favorites to visit when on the canal.
Hama Hama Oysters
A short, 15-minute drive north of Hoodsport, the Hama Hama Oyster Company has been in operation since 1922. For 93 years, the very best oysters have been harvested, sold and enjoyed by millions, all thanks to the people at Hama Hama. While most take their oysters to go, those visiting in the spring on Wednesday through Monday will be able to dine at the Oyster Saloon, open noon until 5:30 p.m. Summer hours are the same, only the saloon is open daily. And with moderately priced fare ranging fro to $7-$18, enjoying a top-notch meal doesn't have to cost too much. My favorite meal is the oyster po boy and the chowder of the day. Cap off the meal with a refreshing ale for a perfectly local meal.
Hama Hama Oyster Company
35846 N US 101
Lilliwaup, WA 98555
360-877-5811
Hoodsport Coffee
Located in Hoodsport, right along the Hood Canal and Highway 101, Hoodsport Coffee is an perfect place to stop after a day of hiking, kayaking or taking in the sights of the Skokomish region. Stocked with fresh coffee, pastries and hand-dipped Olympic Mountain Ice Cream, Hoodsport Coffee offers something to sate your sweet tooth, or opt for one of the cafe's salads or soups paired alongside a refreshing beverage. With so much to choose from, Hoodsport Coffee is an ideal place to cool off and fuel up while reliving your amazing day exploring the wilderness of Hood Canal. My favorite thing to grab from Hoodsport Coffee's budget-friendly menu is an iced coffee and a warm pastry with ice cream, which costs under $10.
Hoodsport Coffee
24240 US 101
Hoodsport, WA 98548
360-877-6732
Alderbrook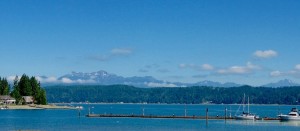 If you enjoy amazingly prepared food, incredible views and an amazing selection of wine, dining in Alderbrook Resort's dining room will exceed your expectations. A short 20-minute drive from Hoodsport toward Union gets visitors over to Alderbrook, which is located on the southern shores of Hood Canal, just past the great bend. Boasting views of the Olympic Mountains and Hood Canal, the restaurant at Alderbrook serves breakfast, lunch and dinner — all of which are of the highest quality. Dining here is for those looking for amazing food prepared and served by professional hands in an amazing atmosphere. Alderbrook's food will cost a bit more than other locations around the region, but you certainly get what you pay for. With dinner offering like seared sea scallops and filet mignon, the restaurant at Alderbrook offers an elevated dining experience in a beautiful setting. If you are looking for a delicious meal of local seafood, I recommend the grilled oysters parmesan. Feel like going all out? Try the Hood Canal seafood boil. If seafood isn't for you, the restaurant offers a variety of beef, chicken and vegetable dishes. Be aware that in the summer, reservations may be needed.
Alderbrook Resort
10 E Alderbrook Dr.
Union, WA 98592
360-898-2200
NorthFork Grill
Dining at the NorthFork Grill at the Lucky Dog Casino is a no-brainer if you are hungry when passing through Potlatch and the Skokomish Reservation. Located right off Highway 101, between Shelton and Hoodsport, this restaurant is a perfect stop when you're not quite sure what you're in the mood for. Offering nearly everything under the sun, the NorthFork Grill's expansive menu features something for just about everyone. And with affordable prices, NorthFolk is perfect for feeding solo travelers or large families. Featuring everything from sandwiches, soups and salads to  appetizers, burgers, seafood and steak, stopping at NorthFork will please even the pickiest of eaters. My go-to post-hike meal at the NorthFork Grill is the fish and chips or the pulled pork mac and cheese. Most meals cost between $10 and $15.
NorthFork Grill
19330 US 101
Skokomish, WA 98584
360-877-5656
El Puerto de Angeles IV
Quite possibly one of the most-underrated Mexican restaurants in the region, El Puerto de Angeles IV is always packed in the summer — and for good reason. Offering fantastic tasting Mexican food and a stunning view of the Hood Canal, this is a popular restaurant for both locals and visitors alike. With three other restaurants in the Pacific Northwest (from Hood River in Oregon to Port Angeles along the Strait of Juan de Fuca), you know the food must be good. Moderately priced, always delicious and served with a smile, the food at El Puerto de Angeles IV is always worth the stop. Traditional Mexican fare served with flavor and makes this south-of-the-border cuisine a must after a day exploring Hood Canal.
El Puerto de Angeles IV
24080 US 101
Hoodsport, WA 98548
360-877-5921
Eagle Creek Saloon
North of Hoodsport near Lilliwaup, Eagle Creek Saloon sits along Highway 101 opposite side the water. The unassuming storefront, made distinct only by the giant plexiglass burger outside, is a popular haunt for local burger lovers and passersby alike. Inside, this small-town saloon serves up some of the peninsula's tastiest burgers and onion rings. The eagle burger, weighing in at one pound, comes with everything, including a fried egg. Don't be surprised if this beast of a burger leaves your mouth watering for days. Just like one of the old-school pubs of yore, Eagle Creek offers great beers, greasy food and some pretty spectacular views. You might be tempted to drive past this place, but skipping by the Eagle Creek Saloon means missing out on amazing food in a beautiful location.
Eagle Creek Saloon
31281 US 101
Lilliwaup, WA 98555
360-877-6729