By Kate Scriven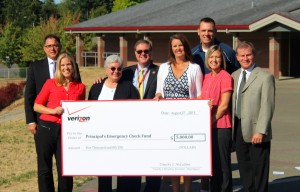 In a morning ceremony at Marshall Middle School, Verizon Wireless VP Milt Doumit presented the Olympia School District Education Foundation with a check for $5,000 to support the foundation's Principal's Emergency Checkbook Fund (PECF).
The Principal's Emergency Checkbook Fund (PECF), established in 2007, provides Olympia School District principals with immediate access to funds to purchase items for students and families such as eye glasses, car repairs, power bills, prom tickets, graduation gowns and other items. The PECF has been able to give out nearly $200,000 in assistance since its inception.
Representative Denny Heck, from Washington's 10th Congressional District, was one of the co-founders of the fund along with his wife Paula Heck, former principal at OSD's Jefferson Middle School.  Representative Heck spoke at the Thursday morning presentation, sharing his deep appreciation for the donation from Verizon and the success of the fund to fill the gaps for local students and their families.
Also on hand were Dick Cvitanich, Olympia School District Superintendent, Condee Wood, principal of Marshall Middle School, Ryan Gerrits, Dean of Students at Olympia High School, Ryan Hall, president of the OSDEF, and Anne Larsen, immediate past president of the OSDEF.
Cvitanich presented Rep. Heck with a "lifegaurd" t-shirt, sharing how his insight in creating the fund has literally been a lifesaver for so many families and kids within the district over the past eight years.
Ryan Hall spoke to the gathered group sharing, "We are incredibly grateful to Verizon Wireless for being the presenting sponsor at our September 17 breakfast fundraiser for the Principal's Emergency Checkbook Fund.  The annual breakfast is the only funding source for this worthy cause and Verizon's generous donation of $5,000, secured by Representative Heck, is truly remarkable and meaningful."
Stories of families who have been positively impacted by the fund were shared by Condee Wood and Ryan Gerrits moving many to tears – stories of temporary housing provided to prevent a night on the street, stories of eye exams and glasses purchased opening a whole new world to a vision impaired student, stories of winter coats and boots, backpacks and lunch boxes, food and gas money – small acts making immense impacts.
To support the mission of the Principal's Emergency Checkbook Fund, the public is invited to attend the Foundation for Success fundraising breakfast on Thursday, September 17 at the Olympia Center.  The event features OHS basketball coach John Kiley as the MC and former educator and parenting coach Emily McMason as the keynote speaker, presenting a talk on "Removing Barriers to Student Learning."
The Olympia School District Education Foundation thanks Verizon for its generous donation kicking off this year's PECF fundraising and hopes to achieve a goal of $35,000 to help principals quickly address student and family needs when they occur.
This slideshow requires JavaScript.