By Morgan Willie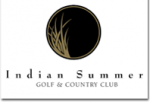 When Jenell Arnold was a young girl, she was constantly getting into her mother's makeup. Jenell's mother struggled to keep her daughter's hands out of her cosmetic bag.
Nothing could deter Jenell from her love of blush and eye shadow and when she turned 25, she enrolled in school to pursue an esthetician's license.
After receiving her license, Jenell spent seven years working for a spa, building up a strong, sizable clientele. And, although she was satisfied with this employment, Jenell knew there was a specific calling and purpose for her particular skill set.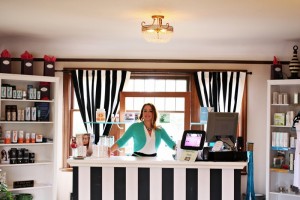 In 2011, Jenell became a small business owner with a partner and by 2013, she was ready to fly solo. That year, Jenell opened Olympia's Touché Beauty Bar, a boutique-like spa that caters to both women and men in need of skincare and waxing services.
Today, Jenell's business is thriving. In the past year, she's taken on 10 new employees and she's added a full-service nail salon to the spa's already substantial menu of treatments and amenities.
"It was a scary jump to go out on my own, but I did it," Jenell shares. "I was just so passionate about caring for people and loving-on them, so it came naturally. I think people feed off of your energy, and I'm pretty social, so it was easy for me to connect with people."
Touché has a distinct and refreshing ambiance. Bright colors and chic decor bring a fun, flirty vibe to the beauty bar. And customer service is second to none. The staff members are incredibly personable and sweet, taking the time to really get to know you.
"We create special bonds and friendships with the clientele at Touché. They have become our family," Jenell says. "People want to come here to see how we're doing, and because they love the way they feel when they leave. If someone falls off of my books and I don't see them for a couple months, I'll reach out to them. It's about treating people like individuals, instead of just clients, and remembering their stories."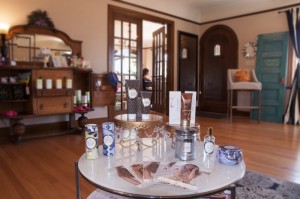 Jenell feels lucky to work among a generally upbeat crowd, clients and staff members alike.
"I'm surrounded by beautiful women and lovely women who want to come to me. They aren't coming in because they have to – they're visiting because they want to be here," she notes. "Here, all the stress kind of just melts away. Sometimes you can feel people's tensions, but by the time they leave, they're giving you hugs and telling you they love you."
Esthetician Rebecca Cochran absolutely adores working for Jenell. She had nothing but positive things to say about Touché.
"I love the work environment – it's beautiful here! I love my coworkers because we are a team, we support each other, and we help each other grow," she explains. "It's just the best place ever."
And, massage therapist Brooke K Bell feels similarly. "I love working here. I like the diverse clientele, the freedom we have as practitioners, and the trust that Jenell gives us," Brooke beamed. "I'm a mother, and I have four kids. There are always things that come up concerning my children. Jenell's been amazing at showing my family compassion and understanding. I love the creativity and vision that she has for this place."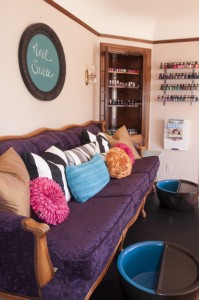 Touché offers a variety of massage styles and packages to have you completely at ease. Some spa favorites include the Lomi Lomi Massage, using flowing, continuous strokes, and the M'lis Detox Body Contour Wrap, which provides 90 peaceful minutes of holistic treatment.
Jenell is proud of her beautiful and friendly shop. She's looking forward to expanding the spa in future years as business grows."I just keep moving forward and doing what I love," Jenell says.
Jenell Arnold is an example of someone who has turned her passion into a career. When you stop in at Touché, you can feel assured that you'll be in excellent hands.
"Making people feel good," Jenell said, "is what makes me feel good."
Browse through Touché Beauty Bar's wide selection of treatments or book an appointment here and keep up to date with new specials on Touché's Facebook page.
Touché Beauty Bar
360-972-2345
1912 State Ave NE, Olympia, WA 98506
Monday 9:00 a.m. – 5:00 p.m.
Tuesday, Thursday, Friday 9:00 a.m. – 7:00 p.m.
Wednesday 9:00 a.m. – 8:00 p.m
Saturday 9:00 a.m. – 2:00 p.m.