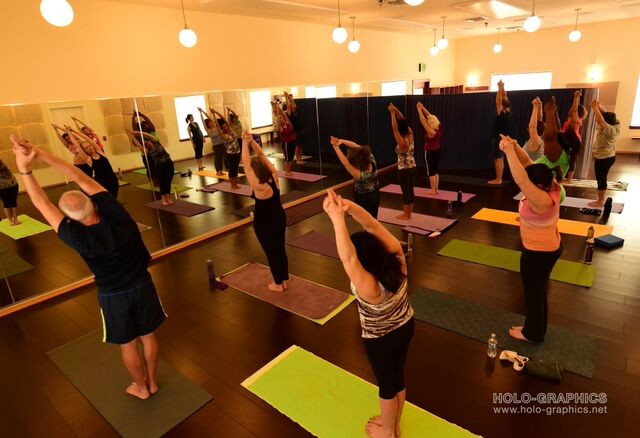 By Heidi Smith

Jessica Whitney had never done a sun salutation in her life when she first became passionate about yoga.  As a student at Wellesley College, she studied the ancient Vedic texts and yoga sutras as part of a philosophy class.  "I came to the physical practice through the philosophy," she says.  "The concepts of mindfulness and one-pointed focus as well as the spiritual aspects really drew me in."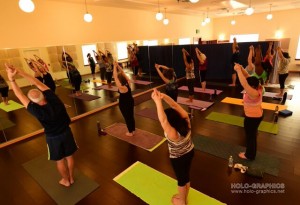 Her curiosity launched a journey that has included multiple trainings and even a yoga competition on the way to finding her own voice as a teacher.  Today, she offers unique, customized, and popular classes through her Fire Within: Yoga by Jessica Whitney studio in Yelm, combining elements of Bikram (a.k.a. 'hot') yoga, restorative postures, and a gentle hands-on approach she learned from California Yoga Company's Brian Monnier, plus an emphasis on mindful awareness.
Several key components set her classes apart, including:
Not So Hot Yoga
While temperatures in Bikram classes can hit 110 or even 117, Jessica keeps her studio between 80 and 90 degrees.  "I've learned that it doesn't need to be that hot to get the same benefits," she says.  That makes classes more appealing for some. "The 'not too hot' class temperatures are perfect for me. I'd always enjoyed the poses of hot yoga, but didn't feel right with the intense degrees of heat," says Lily, a student at Fire Within.
84 Postures to Choose From
In the spring of 2007, Jessica completed her Bikram teacher training, even winning the prestigious Yogini award out of 300 fellow students. Today she doesn't stick to the 26 postures included in that style, instead incorporating poses from all 84 classic asanas that are part of this lineage.  "Doing the same sequence of poses each time allows you to trance the mind," she says.   "You can know what's coming up next and track your progress.  I see the wisdom of that rigidity, but I have freedom within that.  It's like the best of both worlds."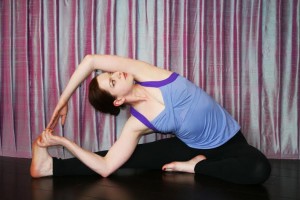 Hands-On Teaching
Jessica was already teaching Bikram yoga when she met Brian Monnier.  At the time, she was experiencing chronic injuries due to yoga that she believes was taught incorrectly and practiced without mindfulness.  The California Yoga Company founder invited her to check out his studio across town.
"I went to his class and I was blown away," she says.  "He didn't just stand in the front and bark at everybody.  He walked around the whole time, doing hands-on corrections, mindfully and gently.  He really cared that you were doing it right."  Monnier began to mentor her, and after 200 hours she became certified in the Monnier Method.  She includes his hands-on approach in all of her classes.  "Jessica gives the right amount of attention to everyone in each class while never neglecting the class as a whole," says student Meshell.
Infrared Heating
While many yoga studios use electric or gas heat, Jessica looked into the benefits of infrared heaters.  She was impressed by what learned.  "The panels I use create radiant heat on the infrared spectrum," she says.  "There's no forced air and there's no fan so they add to the stillness of the room."
That type of heat actually penetrates the body more deeply than electric heat just by the nature of the delivery system, she explains. "It's like being in an infrared sauna."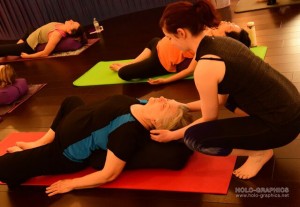 Modifications
Jessica believes that adapting postures for those with physical limitations is critical.  "I offer modifications for any injury or restricted range of motion," she says.  "To the best of my ability, I support that in any individual.  That really has opened me up as a business to connecting with more people."
Education and Mindfulness
With her background of studying ancient texts and her different strands of training, Jessica brings a mindful aspect to her classes.  "It's not just a physical process," she says.  "Yes, it's cardiovascular and it's fat burning, but it's also developing patience, determination, concentration, compassion for yourself, and more body awareness."
She also teaches what different poses accomplish.  "Once I started attending class, I began to understand the internal and mental aspects of yoga," says Lois, a student.  "Jessica is so knowledgeable about each yoga position."  Another student, Maria, agrees.  "The information she provides helps me understand the purpose of each pose, the breath, and the body parts that are helped both internally and externally."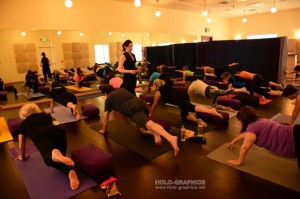 Restorative Class
In addition to her core classes, Jessica offers a restorative class that she designed herself. The entire class takes place on the floor, with no standing postures. "We use a bolster. It's a lot gentler – on the floor, very focused on breathing and deep surrender," she says.  After studying postures that could be done with the pillow, she added pieces of what she was already teaching.  "This class really is my own creation. I'm very proud of it," she says.
Her students appreciate it as well.  "I had never heard of restorative yoga before Jessica started offering classes," says Lisa.  "I love it, and I'm finding that it's a better way of healing and supporting my body than massage therapy or chiropractic adjustments.  I feel stronger, and in general have less pain in my lower back and hips."
Fire Within Yoga is part of the Wellspring Plaza, a complex that also includes Garden to Gourmet restaurant and other health-conscious businesses.  "I believe in the broad, long-term vision of helping to create an integrated wellness center with other businesses and practitioners offering their work in the healing arts," says Jessica.  "My place here is to offer yoga as part of other paths to wellness."
Visit Inner Fire Yoga on Facebook or at www.firewithinyoga.com.