Submitted by The Landing at Hawk's Prairie 
For the second consecutive year, The Landing at Hawks Prairie shopping center in Lacey played host recently to a special celebration at which Lacey-area military families from Joint Base Lewis-McChord were treated to an afternoon of free hot dogs and refreshments, face painting, giveaways from center tenants and children's games and activities.
The highlight of the July 25 event was 11-year-old Sarah Bamesberger winning the grand prize in a raffle conducted by the Hawks Prairie owner, Cimmarusti Holdings LLC/Lucia Properties.
Sarah, the youngest of five children, moved from Kentucky to Fort Lewis just one month prior to the event. Her father has served in the Army for 18 years and the family has lived in Texas, Missouri, Alaska, Georgia and South Korea prior to Kentucky and now Washington.
"We saw the sign in front of Navy Federal and I told my Mom we had to come," said Sarah, who won a $50 Domino's gift certificate, a $100 gift card to Pho Hoa', a free haircut from Jack and Jill's, a free massage and facial from Hand and Stone Spa, and a stuffed animal and free yogurt from Menchie's. All of these stores are tenants at The Landing at Hawks Prairie.
Despite being the big winner, Sarah said that wasn't the highlight of her day, but rather, "our favorite was the snow cones."
Attendance this year was twice what it was at the inaugural event in 2014, and in addition to the participation of nearly all of the center tenants, the event was supported by radio station KAYO, Rutledge Farm train cars, Costco, the Lacey Fire Department, and Kidz n' Motion.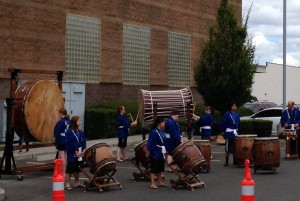 "We also had the River Ridge Taiko Band there to entertain our guests, and we served more than 1,000 hot dogs, in addition to all of the other treats," said center owner Larry Cimmarusti. "Everyone loved the 40 foot obstacle course and the face painting – it was a great military family turnout and we can't wait to do it again next year!"
"We consider this to be a small gesture of our immense appreciation for these selfless, modern-day heroes," said owner Ralph Cimmarusti. "In our minds, we can never do enough to thank the brave members of our military for the sacrifices they make to protect and preserve our freedoms,"
Brothers Ralph and Larry Cimmarusti, who currently own and operate the Original Roadhouse Grill restaurants in Oregon and California, have a two decade-plus history of staging fundraisers on behalf of the families of law enforcement officers killed in the line of duty.
"It is our responsibility as members of the local communities we are part of to honor the memories of officers who have made the ultimate sacrifice in protecting those communities, and here in Lacey we wanted to create an event to pay tribute to the brave service men and women, and their families, who are stationed at Joint Base Lewis-McChord," said Ralph Cimmarusti.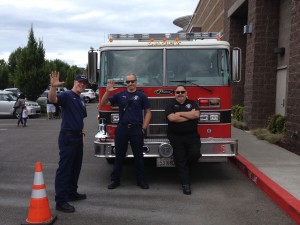 "This event is just our way of recognizing these service men and women, and their families, to whom we owe so much," said Larry Cimmarusti. "It's just one way for us to say 'thank you.'"
In addition to Domino's, Hand and Stone, Jack and Jill's, Menchie's and Pho Hoa', other Hawks Prairie tenants participating in the event included Red Robin, Comfort Dental, Navy Federal Credit Union, Kiddie Academy, Mattress Depot, LA Fitness, Total Nutrition, Sprint, Game Stop, Tan Republic, America's Best and the Military Recruitment office.
Located in the heart of the Puget Sound region, Joint Base Lewis-McChord (JBLM) is the Defense Department's premiere military installation on the West Coast. JBLM provides world-class installation support to more than 40,000 active, Guard and Reserve Service members and about 15,000 civilian workers. The base supports 60,000 family members who live on and outside the base, and nearly 30,000 military retirees living within 50 miles.