By Alyssa Ramsfield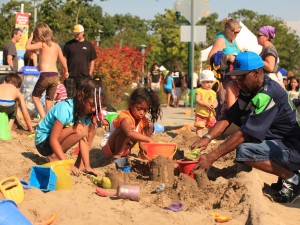 There are many events that define our community, but nothing showcases family fun quite like Sand in the City. The Hands on Children's Museum (HOCM) is celebrating 15 years of bringing Thurston County together through sand sculptures on August 22 – 23, 2015. With new exhibits, crafts, and activities free of charge, it's bound to be the best Sand in the City yet.
"We're really excited to bring an event to the community like this," explains Hands On Children's Museum communications manager, Jillian Henze. "We are all about creating easy access to STEM (Science, Technology, Engineering, and Mathematics) learning for our entire community. Events like Sand in the City do just that. This year highlights our 15th anniversary of the event so we are bringing even more STEM activities and sand sculptures to our downtown location."
Sand in the City boasts some of the most incredible sand sculptures in our area all created by local groups and master sculptors. Sculptors will be working around the clock to earn the public's vote for the favorite of the year.
"Last year the sculptors didn't finish carving until Sunday. This year, the carving will be completed by 7:00 p.m. Saturday, August 22," says Henze. "We want to give everyone a chance to see the completed sculptures before casting their votes on Sunday. We will also have a hybrid exhibition this year where local sculpting groups will be working closely with master sand sculptors. It should make some pretty amazing art."
The four local groups of sculptors are art teachers from North Thurston Public Schools and individuals from Olympia Waldorf School, FORMA Construction and Coldwell Banker Evergreen Olympic Realty, Inc. You can show your support of your favorite sand creation by voting for the People's Choice Award all weekend long. Votes will be tallied Sunday with the presentation of the award Sunday at 4:00 p.m.
Access to STEM activities for the community is HOCM's main goal and this event does just that. The wide array of crafts and art are all offered absolutely free. Whether it's creating crab hats or blowing giant bubbles, there will be something for everyone. The activities change throughout the weekend so if you want to see it all, plan to attend both days. Activities are listed online for the Saturday Beach Party and Sunday Grandparents' Day.
Entertainment from across Thurston County will take the stage at the East Bay Plaza for all attendees to enjoy. From the River Ridge Taiko Drummers to Derik Nelson & Family, the entire musical spectrum will be covered. Beyond music, there will also be a crowd pleasing ZUMBA workout at 2:00 p.m. Saturday by a professional instructor with ZUMBA in the Park. For a full list of entertainment click here.
One of the best parts about Sand in the City has to be a visit to the Hands on Children's Museum exhibits. "All weekend long we drop our entry price to $5.50," says Henze. "There will also be free tours taking place just to take a peek inside. We want to get as many community members through our doors as possible so they can see what we have to offer. We are adding new exhibits all the time which really makes the museum a unique place for learning."
Sand in the City is more than just a community event. It has become a family tradition. "We want everyone to come every single year," explains Henze. "Our goal is to provide access to free art and STEM learning to all families. That's what we are raising money for. Donations from this event go toward helping the 76,000 children and families that we serve in the community. We just want to create equal access for families to a wide variety of learning experiences."
Is it your first time to Sand in the City? Here are a few helpful tips to make the best of the weekend.
Park in one of the free lots and take the shuttle. It cuts down on the hassle of parking downtown and you can even take your strollers on the bus. Details and maps here.
Pack water and sunscreen for the entire family. The sun shines brightly on the plaza, keeping the sand warm and the visitors even warmer.

Free activities for kids abound during Sand in the City August 22 and 23, 2015.

Bring along a few dollars to donate. While the activities are free, all money donated supports the free and reduced admissions programs, serving nearly 80,000 children and families each year.

Play with your kids! Get involved in the activities, talk to your kids about what they are learning, and participate with them. It really is a great event for all ages.
414 Jefferson Street NE in Olympia
August 22 – 10:00 a.m. to 7:00 p.m.
August 23 – 10:00 a.m. to 5:00 p.m.