By Mary Ellen Psaltis
Growing up I really didn't know that hot dogs could taste good. Chewy pink meat in a tube on a tasteless white bun had zero appeal. Growing up in the Midwest, though, that was the choice. Trips to Europe opened my eyes to wurst. That might be a hot dog by another name, but these are two different animals.
It happened on a camping trip. Someone brought fat bratwursts to skewer over the glowing embers. There were crusty rolls. Primitive magic happens when watching fat drizzle and sizzle onto the coals as the meat toasts a satisfying brown. I got to slather the steaming dog with zesty mustard. That tasted way better than anything from my youth.
There are multiple ways to get your wurst desires satisfied around Olympia. You can pick them up at various locations to cook at home or let someone else do the cooking for you.
Tabitha Dotson stands behind the counter at Johnson's Smokehouse & Sausage Company at the Olympia Farmers Market. There you will find a shelf of choices wrapped in four-packs. Dotson said the cheese dogs are popular and she likes the basic German version. Johnson's, which makes their sausages right here in Thurston County, also has bins of jerky and landjäger and, which are tasty sticks of meat that require no cooking and no bun. Combining "old world recipes and new world ideas" you'll likely find choices that appeal to you. For more info about Johnson's, visit their website or stop by their stall.
Only a few steps away, you'll find Stewart's Meat Market that has supplied our area with all varieties of meat since 1933. If you miss Olympia Farmers Market days, they have a retail store in Yelm and you can also order online.
If you'd rather not cook at home, you can get your dog while at the Market at The Bavarian Wurst. You'll find ten different sausages including a meatless variety called a tofurky kielbasa.
The Olympia Farmers Market is not the only place for a delicious hot dog.
Out Martin Way you might explore the bratwürste (plural of wurst) at the German Diner. Mirjam Spreng, who has owned the business since 2012, features ones made of beef, pork, lamb and chicken. For your European taste buds order a side of red cabbage, sauerkraut or spätzle. You might want to save room for one of Spreng's desserts that are made fresh daily. Her sausages come from Seattle's Uli's Famous Sausage.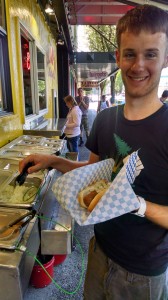 The German Diner also serves other traditional German and Austrian dishes such as schnitzel and roulade. Certain dishes are only available on certain days – Sauerbraten is every Friday and Saturday. The diner offers a military discount. What is Spreng's favorite? She'll pick the German bratwurst but also likes the Thuringer Style. Sausages vary by size and seasoning – you'll have to find what most appeals to you.
Oskar's German Deli in Lacey serves food and has a cooler with sausages from Bavarian Meats. They now bake their own breads including pretzels and brötchen.
Are you shopping or wandering around downtown Olympia? The Olympia Hot Dog Company order window is right on the sidewalk and there's a shelf of condiments to dress your dog as you desire – shredded cheese, diced onions, sauerkraut, olives, salsa, banana and jalapeno peppers, sweet and dill relish, pickles and mustard to the tune of Filipino Phil and Beaver.
Olympia Hot Dog Company's list of soft drinks is too long to write – and that would not even include all the Italian soda flavors. If you must have a beer then you need to go inside and sit which means you are now technically at Jake's On 4th. If you need an espresso – they can do that, too. We ordered a vegan dog and my son not only liked the taste but was especially impressed that it felt like eating a meat sausage with a tight casing that lasted to the final bite.
Truth be told, I'm a lightweight carnivore. For numerous reasons, I eat meat infrequently. That being said, a perfectly grilled brat with grainy mustard can be a highlight of fine summer dining.
Eat Well – Be Well