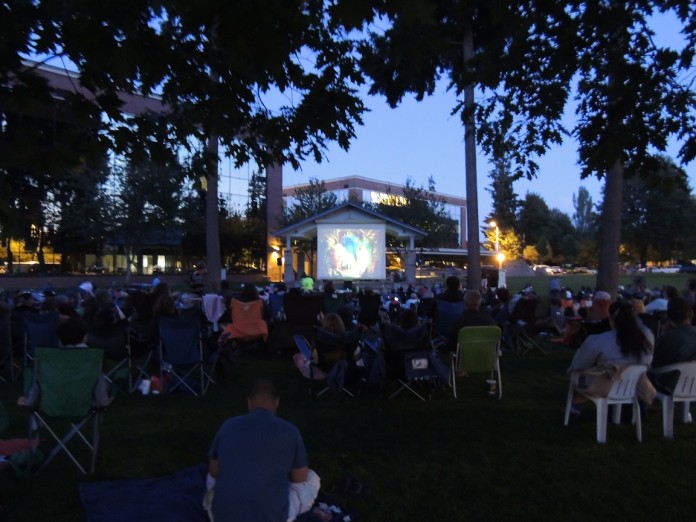 By Kathryn Millhorn

Summer fun shouldn't stop when the sun goes down. The heat wave finally breaks and you can truly enjoy crystal clear nights with family, friends, and neighbors. Outdoor movies are a great way to make the most of vacation yet are still near to home and easy on the wallet.
The vast majority of these showings offer small snacks or non-alcoholic drinks for sale but bringing your own low-backed folding chairs, blankets, and food can make the experience even better. Just remember to leave pets and alcohol at home and pack out all your trash and leftovers.
Sundown (Rated G-PG)
Families with kids—or those wanting to keep summer frothy and fun—can find exciting and popular films usually rated G or PG at several local outdoor hot spots. Shows typically start at dusk and the cost is minimal or free altogether.
Tumwater's Screen on the Green
Through August, Tumwater Valley Golf Course hosts film nights every Friday.  Seating begins at 7:30 p.m. and the movie starts at dusk.
August 7: The Lego Movie (PG)
August 14: Guardians of the Galaxy (PG-13)
August 21: Paddington (PG)
August 28: Big Hero 6 (PG)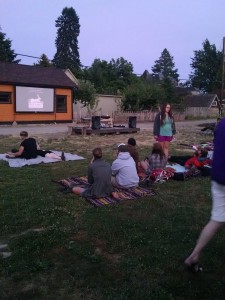 This West Olympia park on the corner of Division Street and Harrison Avenue shows an array of movies for watchers of all ages. Movies start at dusk on Monday nights and are free.
August 10: Ferngully (G)
August 24: The Sand Lot (PG)
August 31: Willow (PG)
Late night (PG-R)
These shows are perfect for teens, film buffs, and night owls of all ages. Who says the party stops at midnight?
For the die-hard movie-goer, these double features rock the night. Doors open at 8:00 p.m., seven days a week. No outside food or drink is allowed but a generous snack bar is available for midnight munchies.
Find the list of what's playing on the Skyline Drive-In website and what's up next in the Coming Soon section.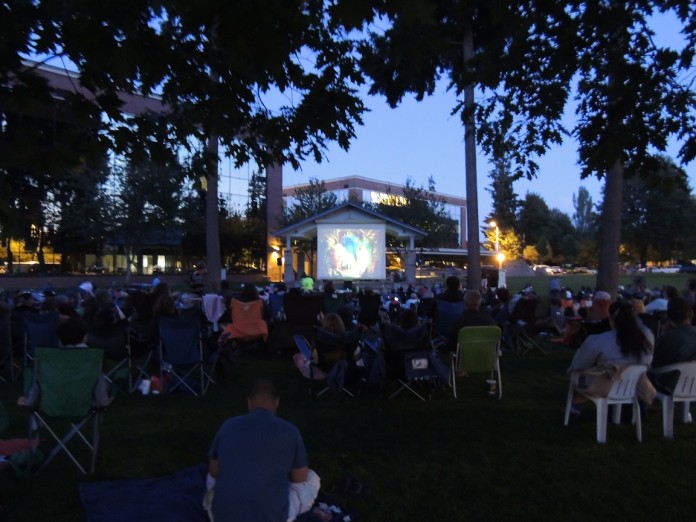 Lacey's Huntamer Park rocks out with free concerts at 7:00 p.m. on Saturdays in August with movies beginning at dusk.
August 1: Muppets Most Wanted (PG)
August 8: All three Back to the Future Movies! (PG) It'll truly be back-to-back-to-Back-to the Future!
All noir long (art & classic films)
Proving that the classics are better under the stars and twilight showings can be enjoyed by grown-ups as well as kids.
Friday nights at 8:45 p.m. the Washington Historical Society offers a month of free classic films on the grounds of the State Capitol Museum.
August 7: Some Like it Hot (NR)
August 14: East of Eden (PG)
August 21: Sabrina (G)
August 28: Notorious (NR)
These movies begin at dusk (around 9:45 p.m.) on Monday nights on Olympia's West Side.
August 3: The Sting (PG)
August 17: The African Queen (PG)