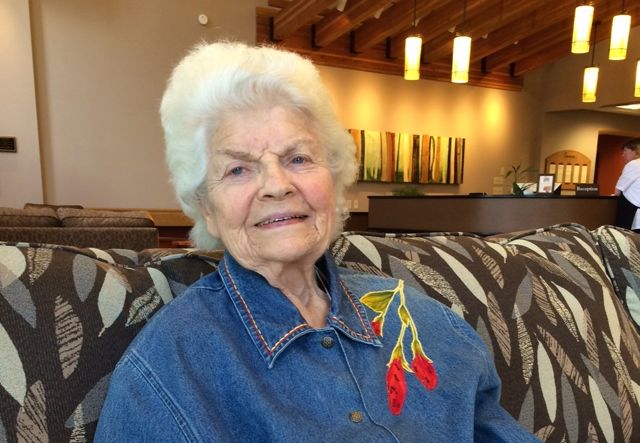 By Leslie Merchant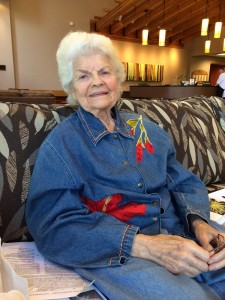 The Merriam-Webster Dictionary defines serendipity as "luck that takes the form of finding valuable or pleasant things that are not looked for." For Panorama resident Marg Anthony, serendipity has defined her entire life. I recently met with Marg to talk about life, luck, and all things serendipitous at her Panorama home in Lacey.
Marg has led such a fascinating life that I was compelled to ask her why she hasn't written an autobiography about her experiences. She says with a laugh, "I know it's important why you want me to explain about my life, but I'm not going to write it because I just read what you people write."
Anthony immediately defines the term serendipity and launches into a historical account of how the word has played a role throughout history. "Dr. Fleming in the 1940s was working with bacteria because so many of the soldiers had bacterial infections. He came back from the weekend and one of his petri dishes was contaminated with mold. He had smarts and knowledge and realized the mold was spreading and the bacteria was dying." Serendipitously, Dr. Fleming discovered the first antibiotic.
Next Marg explains how the Hubbell telescope was modified to correct a blurred lens. "When the pictures first came on screen, everything was totally out of focus and blurred. Millions of dollars were wasted. Astronomers and physicists were trying to figure out how to fix it. One of them was taking a shower. There was something about that shower head that told (the scientist) how to fix the Hubbell telescope, serendipity."
"Now for a little background why I am so dedicated and interested in ecology and nature. My dad was a scientist as was his dad. I luckily have more of the genes than my brothers had (from my father)." Her grandfather was an independent naturalist and began exploring the islands off the coast of California. "His name is in the literature identifying new species off the coast, such as Anthony Liveforever and Anthony Green Heron."
Anthony's father eventually became the curator for the mammal department at the American Museum of Natural History in New York City. His hobby was orchids, which ultimately paved the way for Marg's destiny. "The University of Michigan was so enlightened in the 1940s. I was the only woman in most of the Botany classes. I had no particular destiny. I was just going to go to college and get my bachelor's degree because one should go as far as they can. I did odd jobs around campus (to earn money to pay for school) and by the time I registered for my senior year my advisor recommended that I go for my masters and then for my PhD." Not knowing what to do a thesis on, Marg's advisor told her about the opening of Big Bend National Park in Texas and how it would be a great opportunity to identify some of the cacti there.
Anthony was skeptical, how would she pay for such an expedition? Serendipity stepped in again in the form of a full ride on the University's behalf. Anthony would be provided with a car, gasoline and maintenance, lab assistantship, the works. "They were an enlightened university. The only thing was they would not let me go alone. I had to find another student to go along with me. I happened to know this gal named Arliss from Canada. I looked her up and told her I would provide everything if she would figure out a thesis. We became a little expedition of two, following in my dad's footsteps."
Imagine two young women, alone in unchartered wilderness, with only each other for company and protection – and this was back in the wild west of the 1940s. "My dad was a kindred soul and he realized it was my passion. He sent me a pistol with a holster because he knew we would be down along the border (of Mexico)."
Neither wild animals nor the possibility of encountering fugitives would keep Marg and her assistant from their expedition. "We would put our cots out in front of our car at night with loaded pistols under our pillows. One time we sat back to back on our cots, and Arliss said 'I'll shoot the first person who comes around that side and you shoot whoever comes around this side.'" Fortunately the car that had approached that night turned around in the dark and moved on to their great relief.
After two expeditions totaling about a year and a half, Marg had her thesis on prickly pears and cholla cacti. Her experiences and credentials opened many doors for a young woman in the 1940s. While most of her generation was busy raising babies and working typical secretarial jobs of the era, Marg set her sights on other opportunities. She took an offer with Chico State College in California which serendipitously turned into much more than a job. The modernization of the campus prompted her to act to save the trees, which turned out to be a lasting tribute to Marg's time spent there. She and her students took a year to identify and tag all the historic trees. The campus and surrounding wildlife refuge were then turned into an arboretum. Says Marg, "It was serendipitous that I made a campus because I wanted to save the trees."
Anthony's life continued along the course of excitement and adventure. Her parents wanted to move closer to her in the aging years, and a visit to nearby Sea Ranch ended up being another unlikely bonus in Anthony's life. She settled her parents into the retirement community, noticed a small community airport right next door, and took up flying so she could travel quickly between Chico's campus and Sea Ranch.
While living in California, Marg frequently piloted her own plane, traveling between Sea Ranch and Panorama.
During this time Marg continued blazing trails, literally, in her life and work. The Sea Ranch community was a steward of its' parks and Marg thought, "they are fascinating and people should know about them." She developed an interpretive trail system complete with rest and contemplation benches for people to experience the wonder and beauty of the area. Marg was honored with a Lifetime Service Award at Sea Ranch for her efforts.
"I have warm feelings because I made a difference and the recognition, while I am still living, is heartwarming. I never set out to do any of it, but it has been a very happy serendipitous life."
Marg currently calls Panorama, in Lacey, home.