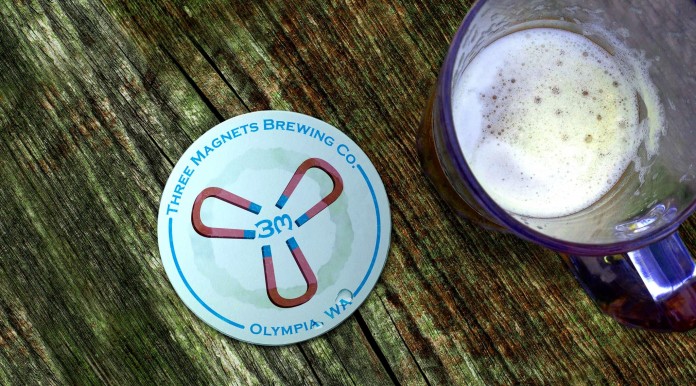 Submitted by Three Magnets Brewing Company
Chef Kyle Wnuk previously was the chef and co-owner at Marrow Kitchen and Bar. During that time, Marrow won awards such as Best Restaurant in the Weekly Volcano, Best Restaurant in the Tacoma Weekly, second place in Best New American Restaurants in Best of Western Washington/Evening Magazine, and Tacoma's Number One Burger and Dish of the Year in the Tacoma News Tribune.
Wnuk's Menu to Debut on Monday, August 3, 2015
As Three Magnets grows and matures as a restaurant, the menu will continue be a natural progression that sticks to its roots – gourmet housemade food served in a casual environment at approachable prices. With a baker, butcher, chef, brewer, and soda maker on staff, and by sourcing locally when possible, you can be sure to eat wholesome foods like your grandparents used to eat.
Growing off of existing menu items such as the Jamburger and Lamburger, Wnuk's expertise will turn the Olympia food scene on end by adding more fresh seafood options, terrestrial charcuterie, aquatic charcuterie, cheese plates, and oysters on the half shell. Over time, the menu will continue to have incremental changes, with quarterly overhauls to stay current with seasonal availability of product.
In addition to the menu changes, Wnuk will be rolling out a separate lunch menu, with lighter fare items designed for those on the fly. The lunch menu will be in effect Monday through Friday from 11 a.m. to 3 p.m., with the regular menu available Monday through Friday from 3 p.m. to close, and Saturday and Sunday open to close.
Introducing "Chef and Brewer's Dinners"
Wnuk will partner with Head Brewer Patrick Jansen to create monthly dinners with beer pairings. The dinners will be held in the barrel room, and have a limited number of tickets available (discounted for Supporters Club members). The first dinner open to the public will be in September. Follow Three Magnets on Facebook for more details: www.facebook.com/ThreeMagnets
About Three Magnets Brewing Company
Three Magnets Brewing Company is a 15 barrel brewery and restaurant located in the heart of Downtown Olympia, that self-distributes to Olympia area bars and restaurants and hand-picked locations outside of Olympia that take pride in offering quality beer. Three Magnets partners with local vendors such as Helsing Junction Farms, Calliope Farms, Wobbly Cart Farms, Olympia Coffee Roasting Company, Taylor Shellfish and Tunawerth Creamery. Three Magnets is owned and operated by Sara and Nathan Reilly, owners of Darby's Café.