Submitted by Adopt-A-Pet of Shelton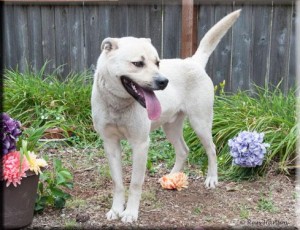 Hawk is a 14 month old cream colored Siberian Husky Mix who would like a home with an active family. Hawk has not had any formal training so he is currently working on walking on a leash and improving his manners. He is learning very quickly for an energetic puppy. Because of his size and his exuberance, we do not recommend young children at this point.
Hawk will do best if he is kept well exercised with active work on his manners as he continues to mature. He is a smart boy and is a quick learner that loves receiving praise when he does well. With lots of love, exercise and discipline, Hawk will grow up to be a loving, loyal family member.
We have lots of great dogs and always need volunteers to help them.  Visit our website at www.adoptapet-wa.org or contact Adopt-A-Pet, on Jensen Road in Shelton, at thedoghouse3091@hotmail.com or (360) 432-3091. Join us on Facebook at "Adopt-A-Pet of Shelton Washington".