Submitted by Erin Genia for The Evergreen State College Longhouse Education and Cultural Center
At the meeting site of waterways and trails, Budd Inlet, known to the Squaxin Island Tribe as Steh-Chass, has historically been a place of trade. Coast Salish tribes, including Squaxin and Nisqually tribes lived and traded here for thousands of years. After American settlement, Salish people continued to trade here with settlers. Today, the port is an economic generator for the city.
This year, the Salish Sea Native Arts Celebration aims to pay tribute to this history by bringing regional Native artists, canoe families and food vendors to the Port of Olympia's Swantown Marina at 1022 Marine Drive, NE in Olympia to revitalize Budd Inlet's Native culture and trading heritage.  The event will take place at June 27 from 10:00 a.m. – 5:00 p.m.
In 2012, the Squaxin Island Tribe hosted the annual canoe journey. Scores of Tribal canoe families hailing from across the region, Canada and Alaska paddled to Budd Inlet that brought an estimated 12,000 people together. Building off the excitement generated by the "Paddle to Squaxin," this year's Salish Sea Native Arts Celebration will bring traditional cedar canoes to Swantown Marina once more, share culture and honor past, present and future generations. Chris Sigo (Squaxin Island) said, "In upholding the Native tradition of hospitality and intertribal sharing, we are pleased to announce the participation of Coast Salish canoes from a number of neighboring tribes. This is a rare opportunity to see tribal paddlers display their renowned skill in canoe travel as they prepare for summer journeys to Potlatch with tribes throughout the Northwest and Western Canada."
The event will highlight contemporary Coast Salish artists who work in a variety of mediums. Some of the invited artists are: Patti Puhn (Squaxin Island) who is a master weaver and recently completed an artist residency in New Zealand, Dan Friday (Lummi), a glass artist who has taught workshops at Pilchuck Glass School and the Museum of Glass, and John Smith (Skokomish) a prolific wood carver and canoe maker and teacher based in Shelton. These artists and others will be on hand to show and sell their unique, high quality work. All artists are selling original works featuring their own artistic vision and designs.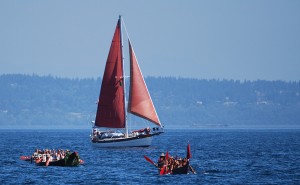 Visitors can also look forward to dining options from Native food vendors, sampling a variety of tasty treats as they browse fine art booths, watch a performance by the "Little Wolves" youth theater troupe and view canoes on the water. Canoe Familes will be sharing songs throughout the day and Lower Elwha Klallam artist Roger Fernandes will be sharing stories at 3:30 p.m. The event is family-friendly, open to the public and free.
The Squaxin Island Tribe and the Longhouse Education and Cultural Center are partners in the National Endowment for the Arts "Our Town" 2015 creative placemaking program. The program brings partners together to strategically shape the social, physical, and economic character of a locale around arts and cultural activities.
"We are pleased that Our Town gives the Longhouse an opportunity to build on and strengthen the long-term partnership that Evergreen has enjoyed with the Squaxin Island Tribe over the years. We always remember how strongly members of the Squaxin Island Tribe supported the dream of a Longhouse on the campus at Evergreen," says Longhouse director, Tina Kuckkahn-Miller. The NEA Our Town initiative also provided support during the 2012 Paddle to Squaxin Canoe Journey.