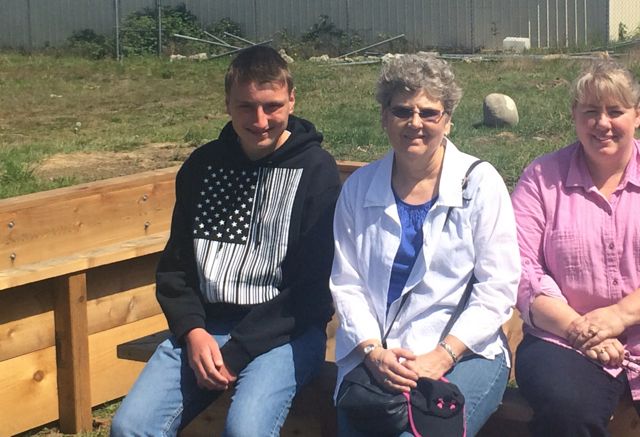 By Lynn West

When we first built our raised beds, neighbors stopped by to see what we were growing. Perhaps they envisioned receiving a nice basket of ripe strawberries or feared a huge zucchini!
Combining the vision of Sally Ritter Alhadeff, the knowledge of Geraldine Maxfield, and the enthusiasm of Matthew Rounsley, the Tenino FFA Community Garden has become a reality.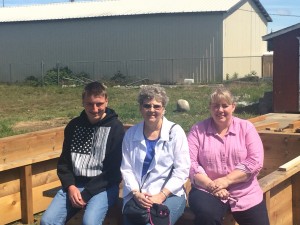 Sally Ritter Alhadeff''s family can trace roots in Tenino to Sidney S. Ford who left New York in the 1860s and made his way west to the Washington Territory. Sally, recently retired, just completed the Washington State Extension Master Gardener Program. One afternoon last fall while harvesting produce from her own amazing garden, Sally said, "This project started shaping in my mind. I knew my Dad wanted to see both the students and the community benefit from a piece of land adjacent to the high school, and a Community Garden was perfect."
Turning off Ritter Street, named for her Dad, Sally and I parked by the Tenino FFA Community Garden, which sits adjacent to the two greenhouses at Tenino High School. Built in the past few months, the new garden occupies land once used to raise pigs. Tenino High School Agriculture Science and Leadership teacher, Geraldine Maxfield, said, "It was a case of 'use it or lose it', so Sally gave us the impetus. A Community Garden will benefit students and so many in our community. We didn't need another paved parking lot."  The garden was built on a piece of property adjacent to Maxfield's classroom.
As a student in Ms. Maxfield's class and a member of Future Farmers of America, Matthew Rounsley, a sophomore, is one of the fifteen or so students "using" the garden to learn on a daily basis. "Thank heavens he is around for another couple of years," Maxfield said. "He has been intstramental in getting the garden off the ground."
As the backbone of the Tenino FFA Community Garden Steering Committee, this trio has written grants, fundraised, attended community meetings, and labored to build the existing ten raised beds. Asked why some of the beds were built with cedar, others with corrugated metal, and some with cement block, Maxfield explained, "This is a teaching opportunity, and we will observe and research the relative benefits and success of each type of bed." Students will also be comparing seeds and starts, sun and shade in addition to and pursuing their current research into other garden variables.
For Rounsley, the garden is much more than just a part of his classes. He has had an opportunity to work on this project from its inception.   I've moved equipment, hauled dirt, and filled beds, but I have also brainstormed with the committee on rationale for the grants, and I have even written sections," he said. The grant writing certainly has paid off.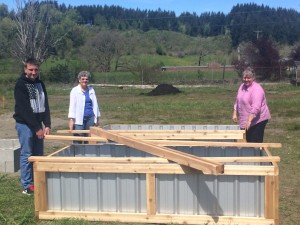 The Tenino FFA Community Garden has received grants from
In addition to the national and local grants, Rounsley is amazed by his own community's contributions. "Contractors have brought loads of supplies, licensed electricians and plumbers are working on the irrigation, farmers have promised straw bales for future beds," he said. "And some people send much needed donations."
The outpouring of support for the Tenino FFA Community Garden does not surprise Geraldine Maxfield. She closely observed the Rainer Community Garden project when it began four years ago, and modeled Tenino's after it.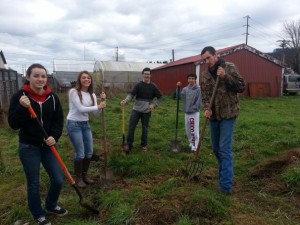 Tenino is smaller in size than most of the thirteen schools in its FFA District, but the students' hours of community service exceed many. Community service fits both the mission and the goals of the Tenino FFA Community Garden since in addition to being intergenerational, it is designed to provide an essential fresh food source for all members of the community.
The Tenino Food Bank will be a major recipient of the fresh produce grown.
At its busiest, the food bank serves 70-80 families. Fifty three percent of students in the Tenino School District qualify for Free and Reduced Lunch, which is the highest percentage in Thurston County. Learning to grow fresh produce and being able to harvest it will certainly help reduce the need.
In response to a survey completed by community members who rely on the Food Bank, the Community Garden will grow kale, small tomatoes, carrots, radishes, green beans, cucumbers, lettuce and green onions. In the future, when more beds are built, herbs and berries will be added.
In April, the steering committee and fifty to sixty community members gathered at the garden on weekends to work. On Saturday, May 9 from 9:00 a.m. – 12:00 p.m., during the weekend-long FFA Plant Sale, the new Community Garden will have its Grand Opening. The Tenino community will spend this May weekend celebrating instead of working.
When the Tenino FFA Community Garden celebrates its Grand Opening, the Steering Committee hopes everyone will visit because the harvest will be for the community.