By Gail Wood

Lap after lap, Alex Wright cuts through the water as he swims up and down the pool, switching his strokes from freestyle to backstroke to butterfly. Welcome to Alex's home away from home.
Six days a week, you can find Alex swimming up and down the 50-yard pool at The Evergreen State College. Three days a week, Alex, a freshman at Olympia High School, squeezes in two workouts, one in the morning before school and a second one in the evening.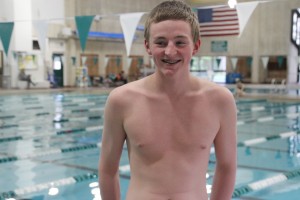 "It can get hectic," Alex said with a chuckle about his busy schedule. "But it's fun. I enjoy it."
It's not the seemingly endless workouts – he'll swim as many as 7,000 yards (about four miles) in a workout – that's so rewarding. It's the end result, the end goal. In December at the Pacific Northwest meet, Alex, who swims for the Evergreen Swim Club, won all six of the events he entered and broke five meet records. His meet-record time of 15:50 in the 1,650 meters was the fourth fastest in the nation for 14-year-olds at the time.
In late March at Orlando, Florida, Alex swam in 10 events at the National Club Swimming Association junior national meet, swimming against the top high school swimmers in the United States.
"It's amazing to spend that much time in the water and to really dedicate yourself to one thing. I think he sacrifices a lot," said Alex's mom, Tiffany.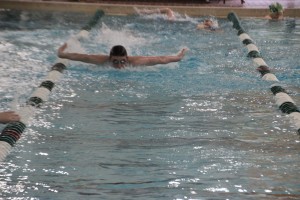 Alex, who just turned 15, isn't the only one making a sacrificial commitment. Add Tiffany, who doubles as her son's taxi driver. Besides the two-a-day workouts on Mondays, Wednesdays and Fridays, there's the afternoon workouts five days a week. Then on Saturday mornings, there's the early morning workout. When kiddingly asked if her son had gills, Tiffany said, "They're growing."
But Alex's blue-collar work ethic, his dedication to training, isn't his only attribute. He's a competitor. He doesn't melt under the pressure and challenge of a big swim meet.
"He's a very fierce competitor," said Tiffany, who for the past three years has coached on the Evergreen Swim Club and volunteered in other tasks. "It's very interesting if you look at Alex's splits. He's able to turn these 50s over and over again. A lot of kids can't do that. He's mentally a very strong kid too, which I hope for his sake that will carry him a long ways."
In Orlando, Alex swam a lifetime best in the 1,000 meters, finishing in 9:23 for 30th place. That ranks him 20th in the United States for his age group.
"The top swimmers in the country were there," said Randy Trowbridge, the Evergreen's Swim Club's coach. "And to be ranked in the top 20 is impressive."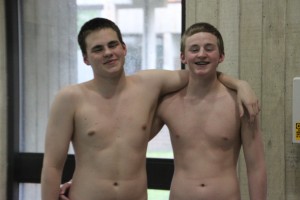 Trowbridge and Alex's dad, James, made the trip with Alex to Orlando, cheering him on. James grew up in Olympia and attended Olympia High School, graduating in 1989. But he played tennis and didn't swim. Tiffany, who attended high school in Port Orchard, was the swimmer. Both Tiffany and James are supporters of both their sons, Alex and Andrew, who is a junior and a state qualifier on the Olympia High School swim team.
"My parents are great," Alex said. "I love them."
Driven by his goal for national rankings, Alex has decided not to turn out for his school swim team. He's already swimming faster than his brother, who also swims for the Evergreen Swim Club, in nearly every event they swim.
"The only stroke Andrew is ahead of him is breaststroke," Trowbridge said. "I think it does motivate him to have an older brother who has done well. For a while they were competing, but Alex has surpassed him in a lot of events."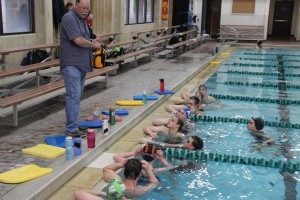 At practices, Trowbridge doesn't have to keep reminding Alex to push himself or to swim his laps faster. But the Evergreen coach might have to occasionally remind Alex to get into the pool.
"He's motivated and he gets in," Trowbridge said with a chuckle. "But he's not the first one in. Getting him in the pool is the hardest thing. During the workouts, he applies himself. He does a good job on his workouts."
Tiffany is proud of what her son has done as a swimmer. But for her, the real takeaway from swimming is the life lessons her son is learning.
"You learn a lot," Tiffany said. "You're learning how to get along with others. You're learning time management. You have to do your homework somewhere and study for that test. He does that."
At the meet in Orlando, Alex met some college swim coaches, which was another learning lesson for a young teenager.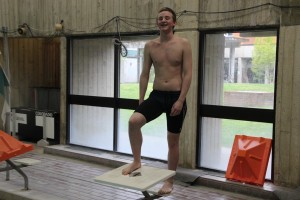 "He learned how to make that firm, steady handshake," Tiffany said. "Making eye contact and making conversation – those are some skills that will carry him far. There are a lot of things sports teaches you. And it teaches you a lot about yourself."
Swimming, Tiffany has discovered, not only builds endurance, it builds responsibility.
"We can get him to the pool, but I can't make him work hard once he's in the water," Tiffany said. "That's all him. We support him as best as we can. Once he gets into the water, it's all him."