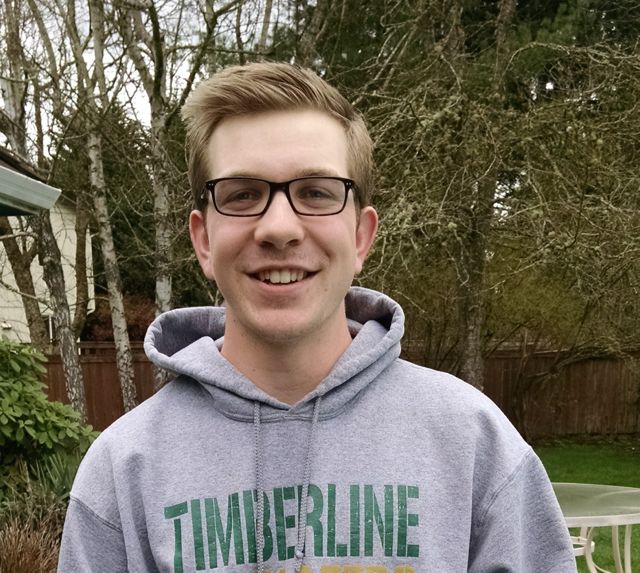 By Mary Ellen Psaltis
At the tender age of three, Ryan Connor played on his first baseball team. It was T-ball through the South Sound YMCA. He remembers having a good time. Now, as a senior at Timberline High School, Connor says that he still finds baseball fun. That's a good thing since has been playing non-stop ever since. He aspires to play baseball as long as he can, which means he's aiming for the major leagues.
In the early years, Connor played with South Sound Baseball and continued with the Cal Ripken League, where he has since donated time as a coach to the 'rookie' levels. Summers were consumed with travel teams. Playing for the Milltown Bombers select baseball team meant travel to Colorado (they came in second), Texas and the Tri-Cities. Of course, this was before he could drive. Parents Jemme and Joe Connor put more than a few miles on their family van. Connor also played with the Auburn Bombers. All this action was prior to starting high school.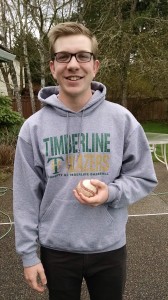 Connor will be graduating from Timberline High School this spring. He's been on the school team all four years, beginning on JV as a freshman. Even then he was called up at times to play on the varsity squad. Connor is recognized as a versatile player. Last year he was the varsity team leader with a .395 batting average. "I like short stop and middle infield," he says. But he pitches, too. At a recent Blazer game, he pitched the first three innings and gave up just one run.
Coach Mark Rubadue remembers seeing Connor play back in the baseball camp days when older brother Matthew also played. He was a "pretty good little athlete," said Rubadue. Now Rubadue appreciates the "tremendous young man" Connor has grown into. With Connor's demeanor and abilities, Rubadue is confident that as he continues to go through life, "he'll do something good for sure."
One of the challenges of being deeply involved in team sports is the time commitment. Practice is at least two hours per day, six days per week. Connor hits the field as soon as the school day ends. It's dinnertime when he gets home where he can fuel up before tackling a serious academic load. This semester includes four Advanced Placement courses in Calculus, Literature, Government and Physics. His fifth class is a digital photography class, which will satisfy his art credit. The last class is Leadership. He is serving this year at the Public Relations Officer. He's volunteered at HomesFirst! and was picked to be a Blazer Citizen. Last fall his classmates elected him as their Homecoming King.
There's not much spare time, but he enjoys hanging out with friends and bowling. Perhaps there is time to sleep once in a while! As the school year closes in, Connor is preparing for three AP tests. They are in essence the culmination of the year's work. High scores on tests translate into college credit, saving both time and money.
Along with teammates Taylor Adams and Zach Owens, Conner has been accepted to Tacoma Community College where two important things will take place. First, he's on the baseball team and being coached and groomed for continued success in playing ball. Because it is a two-year school, he will get more time actually playing than at many four-year schools. Connor will also earn an associate's degree, most likely in psychology or business, both possibilities for continuing in the sports field.
Success in professional sports takes a combination of hard work and fortunate timing. Ultimately, the only way to explore your options is to take the path. Matthew, Ryan's older brother said, "My bro and I loved baseball growing up. We both got to play for Timberline. We both dreamed of becoming professional baseball players. That dream passed for me a few years ago. But now I look up to him, because he has made it further along in this dream we shared."
Connor is a bright, conscientious and hard working young man who will have success. He uses visualization to get fully into the game. "I see myself hitting the perfect line drive into the gap." Now that's an excellent metaphor for life. We'll have to keep watching to see which path he takes.