By Melanie Kallas Ricklefs

Living near Puget Sound, the water is a part of who we are and what we do in our everyday lives. We are fortunate to have scenic beaches, bays, and coves to explore by boat, kayak, or paddle board. While paddling, we peer into the depths of the water looking for signs of the aquatic life that is so abundant beneath the surface. While Puget Sound offers many opportunities for recreation, it is also home to shellfish and salmon, which provide food and jobs for so many people in our community.
Puget Sound is a delicate ecosystem, and it is impacted by stormwater runoff. According to People for Puget Sound, a program of the Washington Environmental Council, stormwater runoff is the largest source of pollution in Puget Sound waters. In fact, Puget Sound Starts Here states that approximately 75% of the pollution that impacts Puget Sound comes from stormwater runoff that starts in our neighborhoods. Data from both of these programs comes from research by Washington Department of Ecology.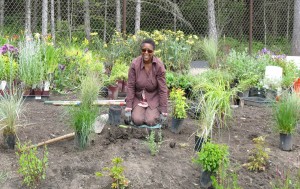 Stormwater runoff is rainwater that falls on surfaces such as sidewalks, driveways, yards, and roads, and flows directly into streams, lakes, rivers, and ultimately Puget Sound. As stormwater flows over impervious surfaces, it picks up pollutants, such as oil, grease, metals, fertilizers, pesticides, and pet waste, and delivers them directly into our waterways. These pollutants can impact marine life, decrease salmon runs, contaminate commercial shellfish beds, and diminish aquatic habitats.
Fortunately, there are ways we can help keep our waterways and Puget Sound clean. One of the most effective ways to reduce stormwater runoff from our own yards is to plant rain gardens. A rain garden is a shallow depression filled with a special soil mixture and planted with flood and drought-tolerant plant species. A rain garden is fed by a stormwater management system that collects stormwater from impermeable surfaces and directs it into the garden through a series of pipes or rock-lined swales. A rain garden is designed to allow water to pond for a day or two during storms to allow for maximum absorption, filtering and evapotranspiration of stormwater.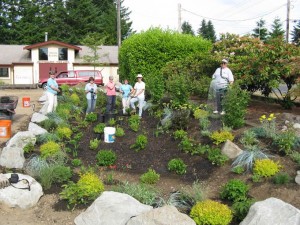 Erica Guttman, Senior Extension Coordinator and Educator for the WSU Extension Water Resources Program and Native Plant Salvage Foundation, explains that rain gardens are effective because the plants and soil work together to manage the quantity of stormwater and treat the pollution that comes with it. The soil used in constructing a rain garden is rich in organic matter (from compost) which helps to trap pollutants, and allows the filtered water to soak into the ground. "When rain gardens are created, the native soils are amended with about 40 percent compost, which introduces more healthy soil biota to process pollution and allow time for that filtering to occur before the water soaks into the ground," describes Erica.
The plants in a rain garden absorb and process pollutants, release water into the atmosphere through evapotranspiration, and prevent erosion along the sides of the rain garden.
According to Guttman, rain gardens can reduce the level of many pollutants in stormwater by 90% to 100%. Some pollutants are absorbed and broken down by soil microorganisms and mycorrhizae, while others are trapped in the soil structure, absorbed by plants, or evaporate through volatilization. Rain gardens allow the filtered stormwater to percolate into the groundwater, thereby recharging aquifers with clean water for streams and aquatic life.
Plants recommended for rain gardens include native and non-native species that can survive local conditions without the need for fertilizers or pesticides. All of the plants in a rain garden must be drought tolerant to survive our dry summers, while those in the deepest portion of the garden must also be able to tolerate saturation during the winter months. Rain gardens are mulched to prevent erosion and weed growth, conserve water during drought season, and provide a continual source of organic matter to the soil as the mulch breaks down.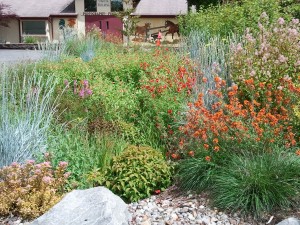 Many of the plants recommended for inclusion in a rain garden have beautiful flowers, and provide habitat for birds, butterflies, and other beneficial insects. These plants include trees, large and small shrubs, perennials, and ground covers. Using a mix of these types of plants can result in a unique landscape feature with layers of vegetation that create habitat zones around the garden.
No matter how far you live from a visible waterway, you can make a difference in the health of the Puget Sound ecosystem by installing a rain garden. All stormwater runoff eventually ends up in a local waterway impacting aquatic plants and animals. If you live on a property dominated by mature vegetation, such as forestland, you may not need a rain garden as the native soils and vegetation are already absorbing and filtering stormwater.
For more information on rain garden establishment, check out the Rain Garden Handbook for Western Washington. Additional resources include the Native Plant Salvage Foundation's website which has videos about rain garden establishment and Low Impact Development (LID) for more tips on protecting our waterways. Guttman will teach a free rain garden workshop on April 23 to educate landowners on proper rain garden establishment.