Submitted by Together!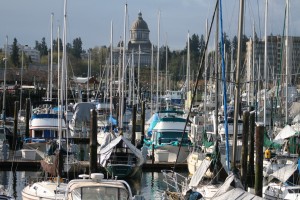 Good news about youth in Thurston County: Our community is doing a great job of supporting them and protecting them against risk factors, according to the just-released 2014 Healthy Youth Survey. Families, schools and communities are also doing a good job of discouraging underage drinking and substance use, especially parents. The Healthy Youth Survey covers students statewide; here are some results for Thurston County.
"Protective factors" are things that work like an immune system for the mental, social and educational health of children and teens. The survey shows that Thurston County does well in many protective factors; for example, most young people in every grade surveyed feel like there are adults they can talk to about important issues, and most feel that adults in their community would not approve of them using alcohol, tobacco or marijuana (between 74% and 83% depending on grade). Other positive results show most students feel their parents would not approve of them using tobacco, alcohol or marijuana. Almost 9 out of 10 8th and 10th graders have clear rules about drugs and alcohol in their families. This means families and parents are doing a great job of communicating their expectations about substance abuse with their teens; the effectiveness can be seen as these numbers coincide with declining usage rates of tobacco, alcohol and marijuana. You can see the school's effectiveness in the results showing about 9 out of 10 students in all grades in Thurston County feel safe in school, a number that has been improving in the past 4 years.
"When a young person has healthy support from their family, they are more likely to emerge from adolescence as resilient adults. Parents matter; they are one of the most influential voices in a young person's life," said TOGETHER! Program Manger Tina Johnson, who works with teens and parents on positive support projects.
While a reduction in cigarette smoking among youth since 2010 is encouraging, unfortunately it is outweighed by concerning, fast growth of e-cigarette use. Thurston County's use of e-cigarettes in all grade levels is trending upward quickly, and is even higher than the state average, especially among younger grades. In 2012, only 2% of 8th graders used e-cigarettes, but six times that number reported use in 2012 (12%). Other grades' usage is increasing rapidly as well; 23% of high school sophomores reporting using e-cigarettes in this survey, about two and a half times the number in 2012 (9%).
Marijuana usage among youth is increasing as well. Though the number of students using marijuana has held relatively steady for the past few years, more than one-third of those who do consume it are now doing so more than 10 times a month. This is concerning because students who use marijuana are more than twice as likely to get mostly Cs, Ds and Fs in school as those who don't use. Research also shows that marijuana interferes with learning and with healthy social and emotional development.
"Protecting youth and preventing youth substance abuse is important not just because it's the right thing to do; it's also important because it translates to healthier and safer teens, better graduation and post-secondary attainment, and a more robust economy in the long term," said Meghan Sullivan, TOGETHER!'s executive director. "While this recent data highlight some positives, many organizations from school, health, community and law enforcement sectors, including TOGETHER!, continue to work hard. A lot of work remains to improve and advance youth health, safety and success."
The Healthy Youth Survey is taken anonymously every two years by more than 200,000 students in Washington. It tracks health behaviors and attitudes, such as use of alcohol, tobacco and other drugs; bullying and gang activity; positive social activities; and more, in grades six, eight, 10 and 12.
The survey is a joint effort of the state Department of Social and Health Services, the Office of the Superintendent of Public Instruction, and the state Liquor Control Board. TOGETHER! works with the state Department of Health to distribute results for Thurston County. For more information or additional Thurston County statistics, contact Meghan Sullivan, Executive Director of TOGETHER!, at 360-493-2230, ext. 19.