By Nikki McCoy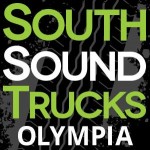 Downtown Olympia's only bottle shop and taproom is officially open. The historic site, located at 312 Columbia Street, rests on urban waterfront property and now hosts Oly Taproom that boasts 14 taps and 600 bottles.
Co-owners Levi Hendricks and Sanrica Marquez strive to be the best in the business, but the act of dreaming together, stripping something to its bones, and then building it back up again – a feat only good friends could accomplish – are the roots of what Oly Taproom is about.
"It began with seeing others do this, and loving beer," says Levi. "And then thinking, 'We can do this!' We began doing research and making a business plan and making sure we could do it and not affect our friendship, because we're best friends. That's the number one thing with this – we're friends before we're business partners."
"It's rooted in deep respect and mutual admiration," agrees Sanrica. "Things that make us different also make us great for each other."
The bond began more than eight years ago when the two worked for Thurston County Sheriff's Department.  Their friendship was cemented by a love of the outdoors, hard work and good beer.
Their concept of an on/off premise bottle shop and taproom is greatly inspired by a variety of locations throughout places like Portland, Seattle and Bellingham – one place, and one owner in particular, really encouraged Levi and Sanrica to reach for their goals.
"Levi and Sanrica asked to come up and ask me some questions, and I could tell they were ultra serious about this," says Patrick McEvoy, owner of Elizabeth Station in Bellingham. "It was a 'caution to the wind, win at all cost' seriousness about making their dream happen. I was very impressed by their friendship and partnership."
The friends were able to fulfill that dream from concept, to execution, in two years. Part of that dream was to have a huge selection of craft beers and ciders. In their first week, they went through 21 keg rotations. While you may not find the same beer on tap twice, Levi does take special requests and goes out of his way to find unique beer. (That being said, 99-cent cans of Olympia and Rainier will always be in the cooler).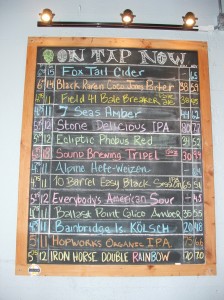 The remodel itself took only five short months (probably the longest five months ever for Sanrica and Levi) but the transformation is remarkable. Once a space that housed a handful of offices, it's now an open ceiling, multi-level space with beer coolers, seating and taps.
Wood trusses, lattice work in the rafters and wooden bar and benches give the place a cabin-like feel, but cool tones from corrugated tin, exposed concrete floors and grayish-blue paint that seems to reflect our Northwest skies, keeps the place modern.
The wood comes mostly from reclaimed demolition pieces and the corrugated tin that lines the bar is from a friend's old barn. Oly Taproom strives for a Pacific Northwest feel, with the logo highlighting the Olympic Mountains as its backdrop – The Brothers Peaks as the centerpiece – the same view one can enjoy from just outside Oly Taproom's door.
"We took all the things that we love from all the places that we love and we built our dream," says Levi.
"We joke that we built it for ourselves – like a clubhouse," laughs Sanrica, "And we hope that people come in and love it too."
And that's exactly what's happening – the friends are seeing support from the community, with new people coming in every day.
"Whether you're wearing a suit up on Capitol Hill or walking in with sleeved-out tattoos, we want everyone from all walks of life to be comfortable. When you see a 21-year-old kid talking to a 50-year-old businessman that just shows you that this type of social environment is for everybody, and it works."
One new customer, Kent Meneghin, was pleased he could find an imported selection in what he feels is a hop-heavy town.
"It's great," he says. "If you want an imported Belgian in a bottle, you can grab one from the case and drink it there."
On a recent Friday night, plenty of others were checking out the place too. A trio of 30-somethings perused the beer cooler, and other patrons saddled up to the bar. Upstairs, laughter and clinking beer glasses could be heard, and the owners were both there, slinging beers and having a great time – just like good friends should.
Up next for Oly Taproom is outdoor seating, flight samplers, occasional live music, and partnerships with local restaurants. A monthly Brewers' Night is also in the works, with the first one slated for Thursday, March 12, from 6:00 p.m. – 9:00 p.m. featuring Seattle's Georgetown Brewing Company.
Fun Fact: Levi has beer in his blood. His great aunt, Shirley Winkelman, once owned the 4th Ave Tavern.