Submitted by the Washington State Senate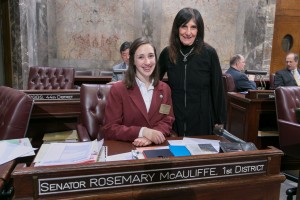 During the week of Feb. 23, Jillian Telnack of Olympia served as a page in the Washington State Senate. Sen. Rosemary McAuliffe, D-Bothell, sponsored Telnack's weeklong experience in the Legislature.
"It was a pleasure to sponsor Jillian this week," McAuliffe said. "She was a bright student and I hope she enjoyed her time here."
During the week pages assist senators and staff, attend lectures with guest speakers and go to page school where they create their own bills in a mock committee setting. Telnack drafted a bill affecting later school start times. The bill aims to improve students' health and awareness during school. "In my science class, someone did a study on how teens are sleep deprived, which is why I picked this bill," Telnack said.
Telnack heard about the page program in 5th grade, and had been interested ever since.
"You get to meet new people, and go to page school and learn about government more in-depth than in school," Telnack said. "You really learn about how everything works."
Running errands in the Legislative Building was one of the highlights of the week for Telnack.
"That's where you run the most errands. I really like working in there," Telnack said.
Telnack's favorite classes are Spanish and art. She wants to learn how to speak Spanish fluently so she can travel. She also likes taking pictures and is interested in photography.
The mother of a friend of Telnack's works in the photo department at the Legislature and Telnack has plans to shadow her and learn about careers and internships.
"I would recommend the page program to other people," Telnack said. "Do it. It's really fun."
Telnack, 14, is a freshman at Olympia High School. She also enjoys tennis, skiing and working with animals.
For more information about the Senate Page Program, contact SenatePageProgram@leg.wa.gov