Submitted by Nisqually Land Trust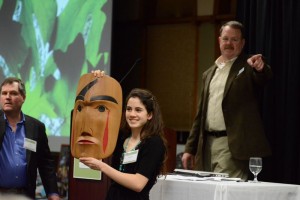 The Nisqually Land Trust will host its 23rd annual Conservation Dinner & Auction from 4:30 to 9:00 p.m. on March 21 at St. Martin's Worthington Center. The evening includes a three-course dinner and live and silent auctions with more than 150 items up for bid. All proceeds go to support protection and management of critical wildlife habitat in the Nisqually River Watershed, from the Nisqually Glacier on Mount Rainier down to the Nisqually Delta.
Auction highlights include a four-night stay at a resort-winery in Argentina, a Seattle Seahawks game-day getaway, a studio tour with local artists Nikki McClure and Jay Scott, an antique table and spindle-back chair set and a Salish Indian mask commissioned for this event to honor the late Billy Frank, Jr. Attendees will have the opportunity to bid on exciting recreational activities, exclusive tour packages, and goods and services from local businesses and talented artists.
The Land Trust will also present its President's Awards, which this year will go to South Puget Sound Salmon Enhancement Group and to the Nisqually River Education Project. The awards highlight the ongoing restoration of wildlife habitat in the Ohop Valley, near Eatonville, which includes over 5 miles of restored salmon-friendly shoreline.
South Puget Sound Salmon Enhancement Group has provided management and oversight on this multi-partner project for more than a decade. For many years the Nisqually River Education Project has made it possible to include students from across the watershed in habitat restoration through the planting of native trees and shrubs. In the most recent planting season, 2,500 plants were installed in the Ohop Valley alone!
The evening will include a tribute to Billy Frank Jr., the late champion of tribal rights in the Nisqually Watershed. Recent strides in protecting the disappearing Nisqually steelhead population will also be highlighted.
Auctioneer Cindy Schorno will preside over this year's event, which has become a must-attend for South Sound conservationists and is known for its fine Native American and Northwest art. "And for many folks, the attraction is that it's a great party," said Land Trust Executive Director Joe Kane. "It's a fun way to help protect some of the most important habitat in the Pacific Northwest."
Tickets include dinner with a choice of entrees and cost $75.  For reservations and information, call 360-489-3400, or register electronically at www.nisquallylandtrust.org.
The Land Trust protects 4,850 acres between Mount Rainier National Park and the Nisqually National Wildlife Refuge. "That includes habitat for salmon and threatened wildlife," said Kane. "With the help of our supporters, we are also protecting water quality, creating local jobs, planting trees to combat climate change and providing opportunities for children to experience nature. We're working together to protect an irreplaceable legacy forever, for everyone."
Kane said that funds from events like the auction are critical to the organization's success because they leverage grants and partnerships. Olympia Federal Savings, Hancock Forest Management, CalPortland, Conservation Forestry, Prairie Hotel and Re♦Solve are major sponsors for the event. The Trust's goal is to raise $70,000. Visit www.nisquallylandtrust.org to see this year's auction catalog.  Proxy bids will be accepted.