Submitted by Chris Jenkins
What does it take for high school athletes to break into the ranks of collegiate athletics? How about two athletes from the same team? Two volleyball players from North Thurston High School have the answer.
Elizabeth ("Liz") Colón recently accepted the top merit scholarship and an athletic scholarship to play volleyball for Saint Martin's University. Katie Sisson committed to play volleyball for Whitman College after receiving a generous financial aid package.
Is it a coincidence that two players from the same high school volleyball program broke into the college ranks? Not at all. In fact it was expected that both would achieve their dreams because their paths have been remarkably similar.
Katie and Liz have both been playing volleyball for years. Though only sophomores at the time, both were on the NTHS squad that made the historic run to the final round of the State tournament in 2012. And both finished their high school careers in the Elite Eight of the State tournament, bringing the 7th place trophy home to North Thurston.
That is just the first of many similarities.
Both Katie and Liz also play club volleyball. At times they were on the same team playing for the same coach. Other years they were across the net from each other playing on different teams with different clubs. Either way they were learning more about the game, perfecting their technique, and improving their volleyball skills.
"Playing club is a unique experience," relates Liz. "Some club teams travel extensively to play in national qualifier tournaments. This gives you the opportunity to play against teams from all over. I've played against teams from Hawaii, California, Oregon, Idaho, Montana, and as far away as Texas because they all come to the national qualifiers."
"It can be humbling sometimes," adds Katie. "Some of these travelling teams are so tall, it's hard to believe they're in high school. But you learn a lot."
Both of these college bound athletes also attended college volleyball camps during the summers. "Attending a resident volleyball camp is the best way to get a feel for what playing in college is like," says Katie. "You live in the dorms, you eat the cafeteria food, you get up early and play volleyball all day. You break for dinner then go back to the gym to play some more. The college coaches are right there giving you world class feedback. The college players are also running the camp, so you can talk to them about what college and college sports are like."
"I knew early on that I wanted to play volleyball in college," adds Liz, "and my college camp experiences helped to reinforce that goal."
It should be no surprise that physical fitness also played a major role in the success of these two athletes. "Volleyball at this level is physically demanding," says Katie. "You're a student first and foremost so that means you study and go to class just like everyone else. But you're also in the gym practicing, sometime until 9:30 at night or later. During the season you're also playing in tournaments so that means getting up very early if travel is involved."
"Insanely early," adds Liz. "If the tournament is in Everett and coach wants you there at 7:00 a.m. because the first match is at 8:00 a.m., well you do the math."
Katie adds, "If you don't take care of yourself, your body will break down under that work load."
That's why it's easy to find Katie and Liz in the gym working on strength and stamina training. In fact, both of them have been given rigorous work out regimes by their future college coaches because both are expected to report to campus next fall in the best shape of their lives.
Jokes Liz, "You might assume that it's time to relax now that I'm a senior and have signed, but it's just the opposite. I've got to put in some major hours at the gym between now and when I report."
Whitman expects the same from Katie. Although she is already very strong with an insane vertical, her future coach wants her jumping higher and hitting harder when she reports. So Katie will be "more of a gym rat than I already am" between now and next fall.
"There was never any doubt in my mind that Katie and Liz would play in college," says Jacqueline Meyer, Head Coach of the North Thurston volleyball program. "Both of these young ladies are committed to the point of being relentless. They both show up for every practice and every match ready to play."
Coach Meyer goes on to say, "What I am most proud of is that they are team players. They know that volleyball is a team sport, and that you succeed when your team works as one unit. When you watch Ram volleyball, you'll see that when one member of the team makes a great play, the team celebrates together. There is no 'me' with these girls, Ram volleyball is team volleyball."
"But when the team is struggling, for whatever reason, I could always count on Katie and Liz to rally their teammates," says Coach Meyer. "We came from behind to win several critical matches because these girls never give up. They are fighters and their grit and determination is infectious. That's what I love and admire about them the most."
The harsh reality is that the majority of high school athletes never break through to the next level. Too many good athletes with the talent and ability to play in college never get seen because college coaches and recruiters don't have enough time to go to every tournament or watch every video clip of game highlights. In fact, just 6.2% of high school volleyball athletes in the 2013-2014 school year actually went on to play women's volleyball in college, according to ScholarshipStats.com.
Katie and Liz both understood that it was up to them to aggressively market themselves to prospective coaches.
"I was so impressed with Katie's organization," says her mother Heather. "She developed a spreadsheet to keep track of the coaches she contacted, when they would come to see her play, what additional information they requested." Katie's father Ron adds, "I'm not sure she realizes it, but she utilized classic project management tools to achieve her goal."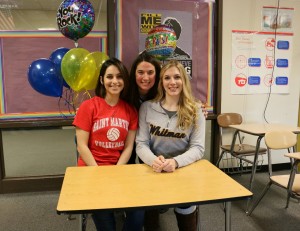 Liz's father agrees. Rafael Colón works with professional sports programs on a daily basis. "Head coaches are insanely busy," says Rafael. "Recruiting is only part of what they do, so it's up to the athlete to provide them the information they want when they want it. Liz was on top of the process every step of the way, and that is why she was ready to sign her National Letter of Intent in November."
Since both athletes had multiple choices, how did they select which college to attend? Once again, Liz and Katie are on the same sheet of music.
"I love the Saint Martin's campus, it's so beautiful" says Liz. "And I know that Coach Peterson will push me to become a better player." Although Liz considered other prestigious schools in the area, Saint Martin's was always at the top of her list because of its strong academics, small size, and close proximity to home.
Katie echoes those comments. "Whitman and Walla Walla are gorgeous, and I really connected with Coach Helm. I had other offers, but after visiting Whitman I just knew that's where I wanted to go. When their offer came through I literally jumped up and down screaming."
Now that they have achieved their goals, what advice do these two college bound players have for young athletes hoping to play in college? Again they are in sync. "Listen to your coach," says Katie, as Liz nods in agreement. "Push yourself, play at the highest level, even if it means getting beat," says Liz. "That's right," adds Katie. "You get better by playing against good athletes and good teams."
Katie adds, "Work out and eat right because college athletes are bigger and stronger."
"That's right," says Liz. "Take care of your body because injuries can derail even the best athlete."
Katie insists, "Above all, keep your grades up. If you don't have the grades, some doors won't be open for you."
"School comes first," adds Liz. "If you want to play in college, you first have to be accepted. Strong academics are also important because college coaches want to know that a recruit will also be successful as a student."
Sound advice from two North Thurston volleyball players who set goals, focused like laser beams on the objective, and achieved their dreams.
As their focus switches to playing in college, have they considered the inevitable? Although Saint Martin's and Whitman are in different conferences, they will play each other in non-conference tournaments. That means that these former teammates, who have played together for so long, will soon be facing each other across the net as members of different teams.
"Can't wait," says Liz. "Go Saints!"
"Bring it on," adds Katie. "Whitman rules!"