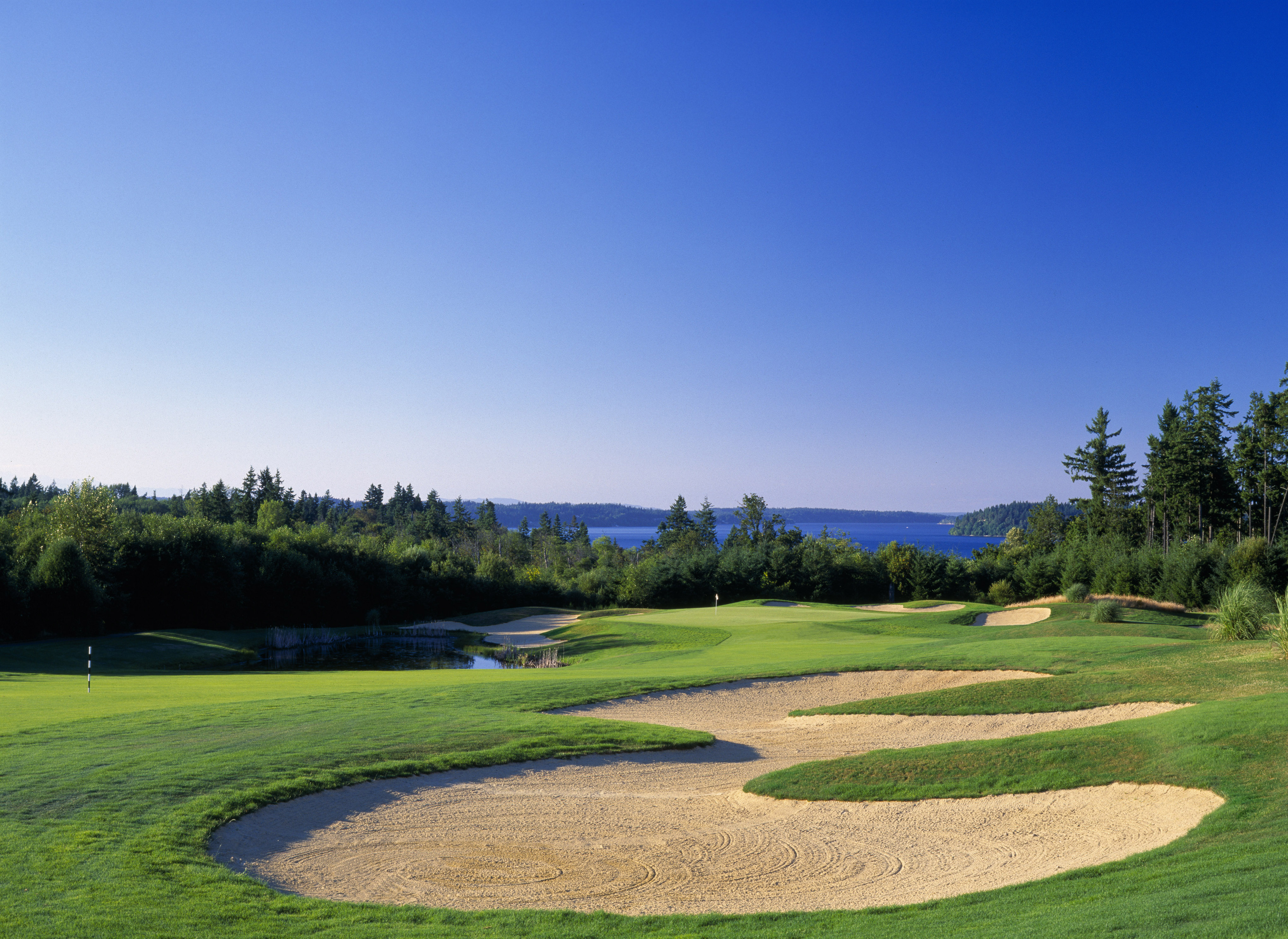 I remember my dad encouraged me to take up golf as a lifetime sport. As a child, I had no idea what he meant by a lifetime sport. At that age I felt like I could climb trees and play tag forever. I do still play tag upon my children's request. Recently, I have noticed my dad, now a grandparent, opting out of the backyard game of chase. Yet he still plays golf nearly every day. Mostly he plays with his friends but given the opportunity, he would prefer to play with family – me, my sister, his sons-in-law and mostly his grandchildren. Passing on his love for the sport is gratifying but the real reward is spending time with family in a shared activity.
My dad's philosophy to teach me an activity that I would be able to enjoy throughout my lifetime is the same goal that the Golf Club at Hawks Prairie espouses to the community. Kevin Myers, former General Manger and Head Golf Professional of the Golf Club at Hawks Prairie and currently at Indian Summer Golf and Country Club, both of which are Oki Golf courses, shares "we want to be THE gathering place for families in the community. We want families to consider us the place to go for family golf, junior golf programs and of course even beginning adults, especially women."
The Golf Club at Hawks Prairie has noticed a considerable increase in its participation from junior players, women and beginning adults in the last year. Myers contributes this increase to the focus they have placed on new programs targeted towards these players as well as the new family homes being built along the Woodlands course. The Golf Club at Hawks Prairie consists of two distinct, public 18-hole golf courses, the Woodlands which is distinguished by fairways winding through a dense forest and the Links which boasts spectacular views of Puget Sound and Mount Rainier. Both courses are just minutes north of downtown Olympia.
Myers explains, "Oki Golf, in general, and the Golf Club at Hawks Prairie, specifically, are changing its programming to make golf more accessible to more people." Last year, PGA Professional Trent Henning created a Four Hole Ladies Club at the Golf Club at Hawks Prairie to include a half-hour of instruction by one of the golf professionals followed by playing golf with the pro and receiving instruction on specific skills. According to Myers, the female golfers loved this program, as it created an opportunity to play in a non-intimidating setting and in a manageable amount of time.
Additionally, encouraging youth to play golf has been an important effort by the Golf Club at Hawks Prairie. A traditional golf course is not set up to be conducive to families enjoying the game together because most of the regulation golf holes are too long for kids and beginners. The Golf Club at Hawks Prairie adapted the Links course with a family set of tees, meaning the golf course can be played shorter.
Kids can tee off from 150 yards or closer from the forward tees. The junior links course is designed to inspire play by kids and make the golf experience more inviting and fun for the whole family. Shorter course yardages reward improvement and reduce frustration that inevitably occurs with a beginning golfer. "We really want to make golf fun and affordable for the entire family. Last year we added a community golf pass to lower green fees during the week as well as a family golf club pass with discounted fees. Families continually commented on what a great value it was for the amount of entertainment together out on the course," Myers comments.
The instructors and courses at the Golf Club at Hawks Prairie want families to hit the links together and provide different programs to learn and play the game in a structured yet casual atmosphere. The Golf Club at Hawks Prairie is providing an affordable opportunity for new players with limited or no golf experience to access some of the finest playing conditions in the area.
Oki Golf is a collection of eleven premiere Puget Sound golf courses, including the local Thurston County courses of the Golf Club at Hawks Prairie and Indian Summer Golf and Country Club.
The Golf Club at Hawks Prairie
8383 Vicwood Lane
Lacey, Washington 98516
800-558-3348