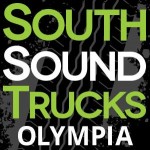 Imagine this: You're environmentally conscious, donate to green groups, and actively work to minimize your carbon footprint. You've heard about the steady decline of honey bees over the past few decades and want to help, but maybe your job and family duties keep you occupied. It's unrealistic for you to tend a hive yourself. What to do?
Enter Thomas Mani, beekeeper for hire. He resolves this challenge by supplying hives for clients on their property and providing care and maintenance through his business, Bee Forever Apiary. "Now people can own bees without doing the work themselves," he explains. "It just widens the spectrum of who can participate."
Margo Mansfield has used his services for years.  "I was traveling and I was so busy that I didn't have time to deal with the maintenance aspect of the bees," she says. "Thomas would come by and if there was a problem, we would talk about it. He continually educates. When something comes up, he doesn't just take care of it, he helps you to understand it." Mansfield first became interested when she heard about the disappearance of bees. "I'm really clear about the role they play," she says.
Megan Lane took it one step further. After taking a class Mani offered several years ago, she began tending to hives herself, with his advice and support. "I've had him come out the first time I needed help with replacing a queen," she says. "I call him and ask questions. He's been very gracious about providing information."
Keeping bees has reaped benefits not just for Lane, but for surrounding households. "I've come to understand how much bees do in our environment in terms of pollination," she says. "Our fruit trees have been really robust since I've had the bees and our neighbors say the same."
Historically, the main habitat for bees was farms and undeveloped land. Those days are gone, says Mani, at least for now.  "Modern industrialized agricultural land is no longer bee habitat," he explains. "This has slowly changed since the '50s. Bees can no longer live on a farm today." Honey bees struggle with not only disappearing habitat but also insecticides and parasitic mites that shorten their lifespans. "It's up to us to provide bee habitat in our environments – rural, suburban and even urban," he contends.
While hobby beekeepers can make an impact, Mani believes relying solely on that group to maintain pollination levels is a mistake. "It's a challenge," he says. "Everyone I know has lost bees. You have to face the loss and be able to overcome these challenges." As a result, not many stay with it. When Mani started his business, he offered classes and nearly eighty people in the Yelm area became beekeepers. Today, he says, not many of them still do.
Mani was originally inspired by his brother back in Switzerland. "He was carrying a beehive up to an alpine meadow when I was hiking with him, and I thought, 'That's hard work,' but it got me interested," he explains. Still, after moving to the United State, he was just a casual beekeeper until he attended a retreat at Ramtha's School of Enlightenment in 2007 that shifted his thinking. "We were told that colony collapse was coming and we should contribute to the return of the honey bees," he says. "That was the moment I said, 'I can do that.'"
His vision was to create an area with plenty of bee coverage. "That was my dream and it became realized," he says. "If I look along the highway 507/702 corridor, I cover almost the whole region between Eatonville and Rochester. I cannot speak highly enough of my clients. They pay for my service, but they provide that service for a vast area."
Along the way, the bees have taught him many lessons. "I always learn from them," he says.  "They reflect my state of mind. When I am in a hurry, I totally see how they behave differently and respond to my emotional mindset. That's always an interesting journey."
For anyone considering becoming a beekeeper, he warns, "People have to be willing to commit to a higher point of view.  Economically, if you calculate the honey you get out of it in one year and what you pay for my service, you'd better go to the store." It's not about making money but rather supporting the return of the bees and providing habitat that in turn enriches the whole community. Most hobby beekeepers actually pay money to keep bees. "It is well worth the money and the time that it takes," says Mansfield. "If someone really wants to get into it, I would immediately suggest that they call Thomas."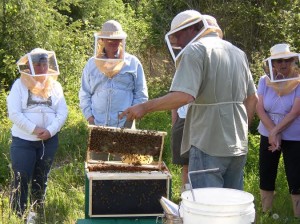 If you want to help but are not in a position to tend a hive, here are his tips on Bee-Friendly Behavior:
Plant bee-friendly plants such as fruit trees, vegetable gardens, herbs, spices, and berries.
Let dandelions and clover grow in the grass and stop pulling them out.
Don't spray anything. If you do, use a natural product and not hard core chemicals, especially not insecticides.
If you know a beekeeper in your neighborhood, support them. Buy their honey instead of going to the stores that have adulterated honey that includes ingredients like corn syrup, molasses and up to 25% water content. Every beekeeper is happy to earn something.
Thomas Mani can be reached via email at bee4ever@fairpoint.net or by phone at 360-894-6038.