"A lovely thing about Christmas is that it's compulsory, like a thunderstorm, and we all go through it together," said funnyman Garrison Keillor. Though the storm is past and life has returned to normal, the gift-giving part of our brain often takes longer to recover. Inspiration, drained dry by the holidays, fizzles when Valentine's Day rolls around.
Why settle for chocolates and roses when there are so many other wonderful opportunities? On February 7, the dedicated staffers at 95.3 KGY Radio do all the hard work leaving you to reap amazing rewards for pennies on the proverbial dollar.
February 7 marks the sixth annual Big On-Air Auction at 95.3 KGY, showcasing a wide assortment of local and regional treasures. This is the first time the auction falls before Valentine's Day to help eager shoppers wow while they woo.
The Big On-Air Auction is a business arrangement between local merchants offering over $100,000 worth of items. General Sales Manager Heidi Persson explains that items from food to hot tubs "traditionally sell for 50% of their retail value with no minimum bid and increments as little as $1".
Persson's philosophy on the auction is simple; you never know what will be the year's hot item so there is always a great variety of items for listeners to bid on. Long time supporters include Mercato Ristorante, Panowicz Jewelers, Northwest Harley-Davidson, Cut Rate Auto Parts, Mt. Rainier Scenic Railroad, and JnL Stoves and Spas. With a tremendous array of merchants participating, bidders spend the entire day listening to stock up on everything from diamonds to pellet stoves. For those out of 95.3 KGY's coverage the auction is streamed worldwide at www.kgyradio.com.
Items are listed online prior to the big day. Merchants receive the full market value of all items in radio advertising on either 95.3 KGY or 96.9 KAYO making it a win/win event.
The big day is truly that for station staff. With all hands on deck, the auction is on air live at 8:00 a.m. non-stop until 5:00 p.m. By the time bids are tallied and paperwork sorted, it's often as late as 10:00 p.m. before stragglers head home.
Locally, repeat bidders become like friends to station staff. Many rearrange their schedules to be available; one even called from the airport…in New York.
For bidders, Persson suggests having a strategy in advance, to avoid being like a husband and wife who spent the day unknowingly bidding against each other. Another long-time fan is legally blind and loves the freedom to shop based on the announcer's detailed descriptions of so many varied objects and experiences.
While Persson admits that "the interplay on the phone is part of the fun and theater" of the auction, 95.3 KGY keeps the bidding and sales organized via hard-copy, pen and paper recording. To streamline this, bidders are encouraged to pre-register online, reducing the amount of information collected with each call. Callers can simply provide their unique bidder ID, the item number, and their bid amount.
Any items left unsold will be listed at the station's scenic 1700 Marine Drive NE offices on a first come/first served basis. The station accepts cash, checks, and major credit cards for purchases.
Lucky winners can pay for their treasures at the studio starting Monday, February 9. Persson and her staff encourage buyers to pick up physical items as soon as possible and redeem gift certificates within one year of purchase. Overall, Persson says that while tangible items are a hot seller, experiences and dining gift certificates are equally popular. Whether it is tickets to a Tacoma Rainiers game or experiencing one of our region's many fine restaurants, Olympia residents love to be out and about.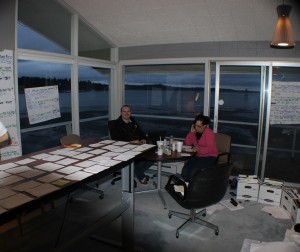 Interested bidders can pre-register now on 95.3 KGY's website. You can follow their Facebook page for current news and updates. Local businesses wanting to participate should call or email the station as soon as possible to be included in advertising for the big day. The vendor contact number is 360-943-1240, extension 701 or through their Contact Us page online.
"Radio is the original social media," explains Persson. "This is meant to be fun and an opportunity for listeners to get a good deal and experience the best our community has to offer."
Tune in to 95.3 KGY Radio or stream at www.kgyradio.com on February 7 to partake in this amazing whirlwind of bargains, delights, and local treasures.