Submitted by Olympia Family Theater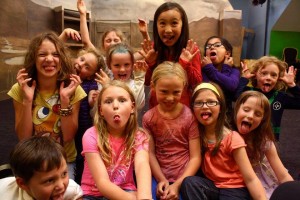 Olympia Family Theater is your community partner in raising imaginative, loving, joyful and confident children. Our educational programs provide opportunities for personal development for young people, teaching creativity and responsibility, encouraging teamwork and personal integrity, and fostering self-esteem and appreciation for the performing arts.
Our education programs are divided into camps (mostly 1 week long, during school breaks) and workshops (typically 4 weeks long, throughout the year). Below is our offerings for Winter 2014-15.
Winter Wonderland Musical Theater Camp (Ages: 7-13)
SESSION 1: Dec 22 / Dec 23 / Dec 26    9am-3pm
SESSION 2: Dec 29 / Dec 30 / Jan 2    9am-3pm
Description: These will be adventurous days of fast-paced musical theater fun. Kids will experience acting, singing, dancing/movement, scene study, and improvisation in the morning and will rehearse each afternoon as they prepare to perform selections from Broadway musicals arranged specifically for kids! Selections may include pieces from Frozen, Into the Woods, Bye Bye Birdie, Once on this Island, AND MORE!
Workshop Teacher: Vanessa Postil
Schedule: 3 days each week (Monday/Tuesday/Friday) 9am-3pm
Cost: $110/session
From Page To Stage (Ages: 10-16)
SESSION: January 5 – 25
Description: Using favorite children's books, poems and literature, we'll write, direct, cast, act, costume, build props and design a play! After performing on the OFT mainstage, we'll take our show on the road and perform for local children and their families.  We're going to do it all in 3 weeks!
Workshop Teacher: Kate Ayers
Public Performances: January 23, 24 and 25
Schedule:  January 5 – 25, 4-6pm (M-F)
Cost: $190 (sliding scale available)
A Monster Tale (Ages: 7 – 13)
SESSION: February 2 – March 1
Description: Ack! There's something in the closet!  Eeek!  Something's under the bed!  Maybe it's a monster… Ack?  Somethings peeking out of the closet!  Eeek!  Something's up above our heads!  Maybe it's a person…  Is something…In there?  Under there?  Out there?  Up there?
Come find out in "A Monster Tale", an Original Production written by Kate Ayers.  This 4  week workshop is designed for kids to have fun and gain performing arts skills and experience while rehearsing a play.
Workshop Teacher: Kate Ayers
Schedule:  February 2 – March 1, 4-6pm (M-F)
Public Performances: February 27, 28 and March 1
Cost: $250 (Sliding Scale Available)
Registration for all of our programs is available on our website. Registration forms are available on our website for those that prefer to pay by check. We offer sliding scale tuition for our after school workshops.  Sliding scale is applied during online registration. We offer scholarships for our break camps. Applications are available on the camp registration page and must be received 1 month before the camp begins.