By Gail Wood

At the same moment, it was Darren Harris' worst nightmare and most inspirational moment in wrestling.
Nearly two years ago, Harris, then a sophomore at Yelm High School, lost in the 4A state finals, placing second. He called it his worst moment because he placed second, not first. But that moment of disappointment, that defeat that hurt so bad became his best moment because that loss was his driving force, his ultimate pep talk.
He didn't want to lose again. And he hasn't.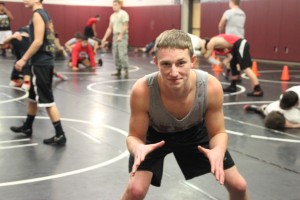 "After that loss my sophomore year, it was built up in me," Harris said.
With an intense, unrelenting focus that pushed him in the off season and during the season, Harris went 35-0 last year, pinning 34 of his opponents. His only opponent to escape being stacked up and pinned by Harris came in the 4A state finals.
"I was prepared. I was ready," Harris said. "No matter what, I was going to win. Noting was going to stop me. I was just going to pin every match as fast as I could. And just get it over with. I meant business."
Harris has had a headline grabbing high school wrestling career. Three years ago, he became the first freshman at Yelm to win a state championship, placing first at 106 pounds and finishing with a 29-2 record. As a sophomore, he finished second in state with a 32-3 record. Then last year as a junior Harris won the 4A state title at 120 pounds, going undefeated. Now, he's shooting for his third state championship.
"He's a good technician, really wise," said Gaylord Strand, Yelm's head wrestling coach. "He's a real good scrambler. He's got some wicked moves. He's a lot stronger than he looks."
From Harris' perspective, moves and technique trump strength and power.
"Technique will beat strong every time," Harris said.
It's a matter of having the counter punch.
"They might try to out strengthen you, but if you know counter moves you're going to win that match," Harris said. "Strength is always going to help. Technique helps me a lot more."
Harris and his brother, Dillon, started wrestling when they were in grade school. Darren was seven and his brother was nine. From the start, they both showed a knack for wrestling, placing high at state, regional and national meets.
"For the first couple of years, I was top dog," Harris said. "That's when I realized I like wrestling."
While growing up, Harris' father, Christopher, drove his two sons to wrestling camps and tournaments in Oregon and Washington. Harris had a live-in wrestling buddy – his brother, Dillon.
"We wrestled all the time," Harris said about his brother. "He was always bigger, so he'd usually win."
After winning state last year, Darren Harris qualified for nationals and placed fourth, earning him All-American honors. His dad was always the encourager, not to mention chauffeur.
"He was a great role model," Harris said about his dad. "He drove us everywhere."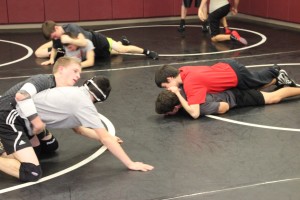 Now, with his final high school season nearly in his rearview mirror, Harris is looking at what's next. Where will he wrestle next year? He's not sure, but he's hoping to wrestling at a Division I program. He's looking at Oregon State, Arizona State, Boise State and Grand Canyon University. Harris, who took his SATs Saturday, has only talked with Grand Canyon.
"We'll see what happens," Harris said.
Dillon is turning out for wrestling at North Idaho College as a freshman, but he's decided not to wrestle any matches to preserve his year of eligibility. He wants to transfer to the school his brother attends next year.
"Then we'll have the same amount of years together," Darren said. "We'll be able to wrestle together."
Besides Harris, Yelm is again loaded with talent. Of the 16 wrestlers that qualified for state last year, 12 return.
"I should have a state wrestler at every weight class come time except my unlimited," said Strand, who is in his 41st season as Yelm's head wrestling coach.
State qualifiers returning for another run to state include sophomore Mason Harrison (placed second at regionals and went 1-2 at state), James Page (placed fifth at regionals), Thomas Munoz (went 18-10 and didn't place at state), Dakota Benson (went 1-2 at state and was third at regionals), Jacob Nolan (sixth at regionals), Jacob Rash (second at regionals), Tanner Page (regional champ and went 1-2 at state), Riley Hallman (went 1-2 at state), James Rodeman (eight at state at 160 pounds), Greg Bowers (fifth at regionals), Bo Campbell (second at district, sixth at state at 182 pounds), and Holden Miller (sixth at state). Brian Rodgers hurt his knee in football.  Rodgers is expected to return next year.
For the past two years that Yelm has been in the 4A classification, the Tornados have placed sixth at state.
"My goal is to be in the top three this year," Strand said. "You just never know what's going to happen at state. If we get a lot of people through regionals we can overload those brackets and that will really help us."