By Gail Wood

As they marched across the football field, precisely moving through synchronized motions, as they remembered each note, each step, each turn, they played their instruments with precision.
And Darren Johnson, the North Thurston High School's band director for the past 19 years, looked on with satisfaction. It was a moment to cheer.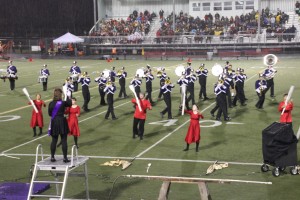 At North Thurston's homecoming game – a 36-7 loss to Capital on Friday night – the Rams' marching band put on a halftime show at South Sound Stadium worth remembering. But Johnson wasn't surprised. That's what they've done all year. In three competitions this fall, North Thurston has won numerous awards, which include firsts for their division at both the Tumwater and Silverdale competitions. Then on Oct. 18 in the Tacoma Dome, North Thurston placed 12th in the prestigious Bands of America Regional Championship, where 19 bands from Washington, Idaho and Oregon competed.
"That was our goal, to finish in the top 12," said Johnson, who has 78 students in his band. "For a band our size, we felt pretty good about that."
Their show in competition is called Parting Glass, which is a medley of songs from Ireland and Great Britain that includes a bit of "Danny Boy."
But it's not just how a band sounds that is judged.
"You're judged on your music performance, on marching technique, on general effect," Johnson said. "You're judged on the dynamics and how well the music and marching coordinate. The wow factor."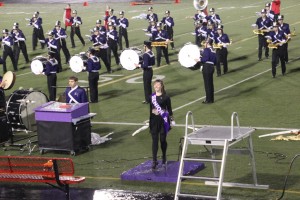 Getting that desired "wow factor" takes practice. And it takes leadership from band members.
"It would be impossible to do what we do if we didn't have good leaders," Johnson said. "We have conductors, and we have section leaders that take charge of their group and make sure all the little details get taken care of."
For the past two school years, Emily Arend, a senior who bubbles with excitement as she talks about being in the marching band, has been a drum majorette, a marching band conductor who has helped give that leadership. She's the one that stands on a platform conducting, moving her hands in time of the music and keeping everyone on beat as they march across the field.
Johnson oversees the design of the show. He runs the rehearsals, coordinates the music and marching. But when it's performance time the student conductors take over.
"I show dynamics. I do all the fun stuff," Arend said.
At competitions, the conductors, the dynamics and enthusiasm of their conducting, is judged. Arend has won two firsts for conducting this year.
"That's always exciting when you do get that because you work so hard," Arend said.
Along with playing at every home football game and every home basketball game, the Rams' marching band practices routinely. In late July, they begin practice, working with Johnson individually by instrument. Then in the first week of August, they have their main camp and practice six hours a day. For the rest of the summer until school starts, they practice on Monday and Wednesday evenings for about 2.5 hours.  When school starts, they practice every day in class and for 2.5 hours on Wednesday nights in the stadium.
Eli Moffatt, a junior who plays drums and is a sectional leader, doesn't mind all the practice. He looks forward to it.
"It's really a fun activity," he said. "It's really exciting. I get pumped about it every time I listen to it. It's really demanding. But I love it because it gets everyone passionate about what they do. It gets me passionate about what I do."
This is Arend's fourth year in the marching band. She played the flute and marched in it the first two years. Last year, she tried out and won the spot as the drum majorette after going through an audition.
"I love our marching band," Arend said. "If I didn't have marching band I'd probably would have gone to South Puget Sound Community College for running start or something like that."
As a section leader, Moffatt is obsessed with precision, with everyone being in sync.
"I'm really sensitive to everything being really tight and precise," Moffatt said. "I just want everything as perfect as it can be. There's no such thing as good enough. That's my philosophy. If I hear something, I stop."
Of course, he stops performing only in rehearsal. In a show or at a halftime performance, it's grit and go.
"I really want to strive to be the best I can be and teach everybody all this complicated stuff," Moffatt said. "Just to be very precise and clean. Our goal is to be clean and to be dynamic."
But all the practice, all the tension at competitions add up to one thing for Moffatt – fun.
"It's the most fun thing ever," Moffatt said. "It's a lot of hard work, but it pays off in the end when you get a trophy. You get recognized for all the hard work that you put in. That's what I love about the activity."
During competitions, Arend admits she gets nervous, but she's learned to mask those feelings.
"If I go, 'oh my gosh I'm so nervous,' everyone else gets nervous," Arend said. "She's nervous, I have to be nervous. So I'm always just like we're going to do it (claps hands) we're going to do great. But on the inside I'm freaking out. But we always do great. I'm always really proud of our band."