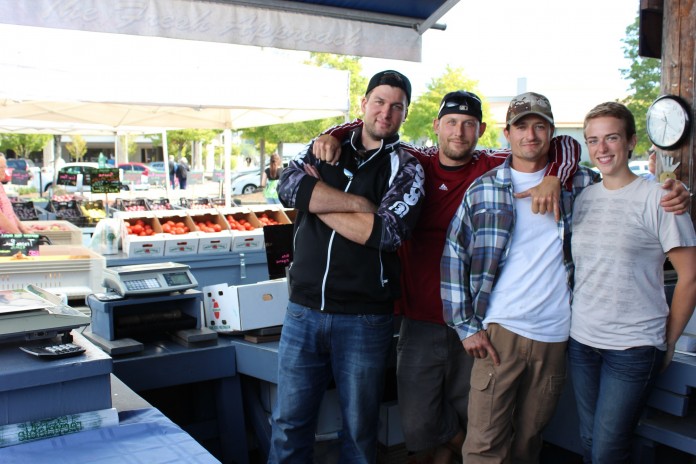 By Kelli Samson

The women around Olympia may not know the names of all of the vendors at the Olympia Farmers Market, but we sure know "the guy at the Fresh Approach stall."
Come on, ladies. You know. The cute one. Don't be coy. You can all tell yourselves you insist on buying your fruits and some vegetables from The Fresh Approach because the folks there are knowledgeable. They are.
You can tell yourselves they have gorgeous apples. They do.
You can tell yourself that it's the fact that their organics are all together under a clearly marked tent, making it really easy to shop quickly. It's true.
Maybe you have convinced yourself that you insist on shopping that stall each week because they are super-friendly. Because they offer to take a little off of your price since you brought your own produce bags. Because they joke with your kindergartener.  Because they are always laughing with one another.
But, come on. You're not fooling anyone. I'm calling you out. You ladies have told me time and time again that the real reason you keep going back to the Fresh Approach is that smile. And those twinkly eyes. You've begged me to pitch this story.
If you're among his sea of admirers, to you I say, "You're welcome."
Meet contract vendor Michael Kinnick. He does have a name, see?
He is a real person. And he is genuinely nice. He had no idea we have all been whispering about him, so I broke it to him gently.
Kinnick is a transplant from Massachusetts. He came out to Olympia in pursuit of a lady (you can all sigh) fourteen years ago and attended The Evergreen State College (TESC). It was at there that he began what would become The Fresh Approach.
He never planned to own a business. He never planned to sell produce. "I wanted to work for myself, but, honestly, I was thinking more about a career in law," says Kinnick.
Instead, Kinnick has found himself with a contract at the Olympia Farmers Market that allows him to sell things that aren't readily available here on the western side of the state. He makes a trip to the Yakima area each week to bring you the best goods from eastern Washington.
"My job is to bring stuff in from family farms outside of the usual boundaries of the market, things that don't compete with what our local growers do well here," explains Kinnick. "I deal with about forty family orchards in eastern Washington, and I actually really enjoy tracking down the interesting different varieties. It's like a scavenger hunt for me every week."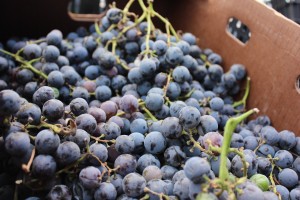 The Fresh Approach has several accounts with area restaurants. Olympia stand-outs like the Water Street Cafe, Acqua Via, Ramblin' Jacks, and Mercato are the main ones to which he supplies.
"It's cool having a community-based business and selling something I feel good about," says Kinnick.
The work of owning a business like this can be grueling. During the harvest months of July through October, Kinnick often finds himself and right-hand-man Jeremy Dawes working seventy-hour weeks. "And we don't even grow the stuff," he laughs.
There are the drives east (they each make a separate trip weekly), the storing of things in their warehouse, the building of crates and displays, the set ups and tear downs at the market, and often the repairs of the things that break. One week it's a cold storage unit, and the next it's one of his two trucks.
Now that fall is here, Kinnick's produce is changing. "I just got the first of the cranberries from the coast, and now I'm on to apples, pears, and mushrooms. I'm on the home stretch."
Come November, the Olympia Farmers Market remains open just on the weekends.
By the time the market closes down all but Saturdays after the holidays, Kinnick often takes a vacation. A well-deserved one, I'd say.
All those ladies coming by to chat has got to take a toll on a guy.
Stay up-to-date with The Fresh Approach at www.thefreshapproach.com or via Facebook.