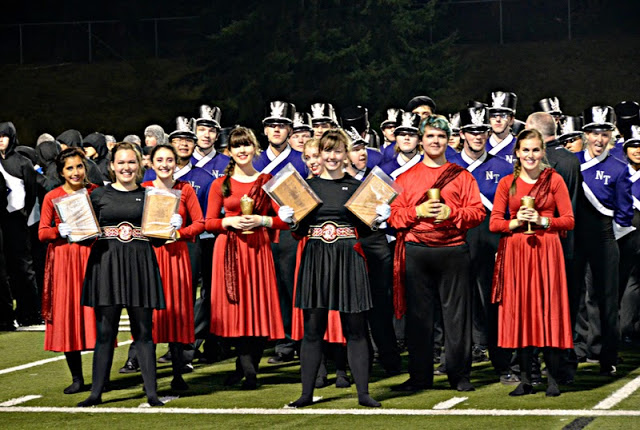 Submitted by Dennis Longnecker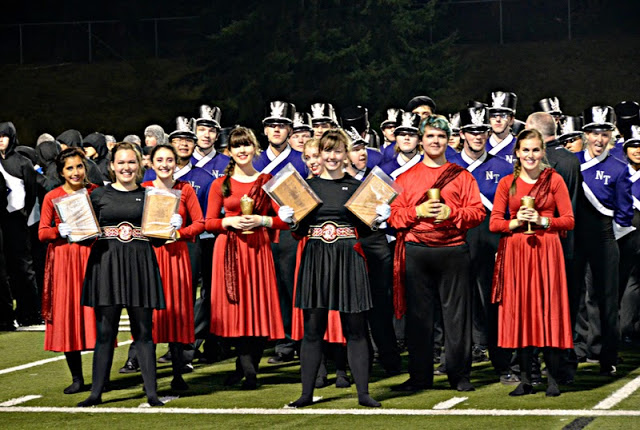 The North Thurston High School Marching Band took first place in the AA Division at the Tumwater Marching Band Festival on Saturday, October 11.  The festival, held at the Tumwater High School Stadium, drew fifteen bands from across the state.
The Band and the Solstice Color Guard presented their show, "The Parting Glass", which is drawn from an early 17th century Celtic song.  Since days of old, guests at a party or an Irish wake would honor their host and departing friends with a toast and a song, and the music honors that custom. The show includes numerous references to traditional Irish and Scottish themes.
Band Director Darren Johnson said, "We started working on this show the first week in August.  The kids really took to the music and it became part of them, making the entire program flow well.  The performance is presented in four different movements, with each one having its own unique flavor."
"Putting on an award-winning show requires lots of hidden help," said Susan Veis, one of the many parent volunteers. "The Band Parent Association is a dedicated group of parents that supports the band during these events.  Parents load and move equipment before and after the performance, and feed the hungry students lunch and dinner.  But it's all worth it the moment you see them step onto the field and perform this amazing show that they've put so much time, energy and passion into. We are so proud of these incredible students."
At the Tumwater show, the band also won awards for Best General Effect, Best Music, Best Marching, Best Percussion, and Best Drum Major.  This follows the band's first place finish at the Peninsula Classic in Silverdale in September.
The band will be ending their marching season at the Auburn Veterans Day Marching Band Competition on November 8.  The Auburn competition features 30 of the finest high school marching bands from Washington and Oregon.
More information on the band can be found at the Band Parent Association's website.
Band Director: Darren Johnson
Drill Designer: Darren Johnson, David Wilson, Rod Andrada
Drill Instructors: Thomas Mettler, Jeff Storvick, Jackie Vandeman, Andrew Brown
Visual Designer: Rod Andrada, David Wilson
Visual Instructors: Rob Andrada, David Wilson
Percussion  Instructors: Darlene Jones, Annika Veis
Drum Majors: Emily Arend, Snow Christensen
Guard Captains: Nicole Kurtz, Sophia Veis
Drumline Captain: Eli Moffattt