Submitted by The Evergreen State College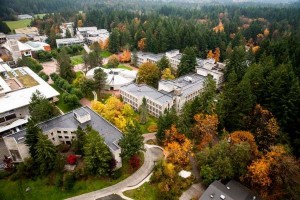 Washington Monthly magazine has ranked The Evergreen State College #14 among nearly 700 master's universities in the country.
Posing a question unique among publications that produce college rankings, Washington Monthly asks, "What are colleges doing for the country?"  The answer for Evergreen is quite a lot.
In its explanation of its latest rankings, Washington Monthly noted, "We all benefit when colleges produce groundbreaking research that drives economic growth, when they put students from lower-income families on the path to a better life, and when they shape the character of future leaders."  With that in mind,Washington Monthly ranks schools based on their contribution to the public good in three broad categories: Social Mobility (recruiting and graduating low-income students), Research (producing cutting-edge scholarship and PhDs), and Service (encouraging students to give something back to their country).
Evergreen received several prestigious accolades this year: the college ranked #4 among public regional universities in the West in US News & World Report. The magazine's definition of the West reaches to Texas. US News ranked Evergreen #1 in the same category for best undergraduate teaching as well as #11 best for veterans. Evergreen was also listed in the publication as top 15 nationally for best first-year student experiences and top 12 best for "learning communities – engaging students in learning, including outside the classroom."
The Fiske Guide to Colleges praised Evergreen, notably, as the only public institution on the West Coast to be a "Best Buy" college. Evergreen has made that list every year since 2010.
The Princeton Review ranked Evergreen as one of the Best 379 Colleges in America and Militaryfriendly.com lauds Evergreen as a friendly college for veterans and active duty military personnel.
"Because no single ranking can paint the entire picture of an institution," explained Evergreen spokesperson Todd Sprague, "it's helpful to have a variety of measures to assess the value delivered to students and society.  Washington Monthly's focus on social mobility, research and service provides a lens that's different from most other rankings and a perspective that's especially valuable for a public institution like Evergreen."
The Evergreen State College in Olympia, Washington is a nationally recognized public liberal arts and sciences college known for its distinctive interdisciplinary curriculum, high level of student-faculty engagement and strong emphasis on putting learning into action. www.evergreen.edu