By Gale Hemmann
Fall Arts Walk is an ideal time to visit Olympia. This free arts event, held throughout downtown Olympia, showcases the city at its best. The streets are alive with music, dance, and art of every kind. Nearly one hundred local businesses participate, turning the downtown area into a giant "art gallery." From blues bands to oil paintings, browsing local businesses to hands-on art projects, there is something at Arts Walk for everyone.
This year's Fall Arts Walk happens Friday, October 3 and Saturday, October 4, 2014. Whether you are planning to visit the area for Arts Walk, or you are a local who will be hosting family or friends, this article aims to give you this year's highlights and some useful planning tips to get the most out of your experience.
Planning Your Arts Walk Outing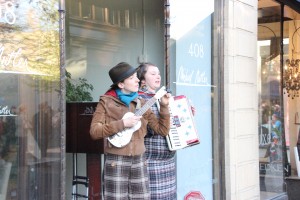 There are a couple of ways you can plan your Arts Walk visit. You can view the handy Arts Walk digital map here (tip: be sure to print a copy to bring with you). Or you can also pick up a paper copy of the collectible maps at locations around downtown Olympia (at any of the Arts Walk participating businesses, the Olympia City Hall or the Olympia Center). Use your map to select which shows, events, and artists you want to make sure to see.
Once you arrive in downtown Olympia, the Arts Walk area is very walkable. However, parking is limited for this major event, so I recommend parking outside of the downtown core and taking the Intercity Transit bus, carpooling or walking to the hub of activity. And since Arts Walk is very popular with both visitors and locals, you'll want to pick an easy meet-up spot for everyone to gather.
Olympia is beautiful in the fall. The weather is usually mild and not too cold. However, there is always a chance of autumn showers, so you'll want to bring a light jacket and an umbrella just in case. Wear comfortable shoes for walking. And most importantly, take on the upbeat attitude of the locals – the rain never stops the fun, only adds to the sense of adventure.
What to Do: Arts Walk Highlights
Where to Eat: Choices Abound
Downtown Olympia is known for its terrific range of restaurants. Whether it's Asian, Italian or classic American pub fare you're after, there are several tempting options in every price range. Olympia restaurants are also known for having many vegetarian, vegan and gluten-free options (check out this ThurstonTalk gluten-free dining guide).
Choose a casual, family-friendly dinner at Darby's Café (featured on the Food Network). Or for a more upscale experience, savor the organic local fare paired at The Mark or the lakefront Waterstreet Café and Bar. (Bonus: both these restaurants have art on display for Arts Walk.) Each locally-owned restaurant offers something unique and different – you're bound to find a new favorite.
And it wouldn't be a visit to Olympia without trying some of our locally-roasted coffee. Several downtown coffee shops will be open for Arts Walk. I recommend checking out the Olympia icon Batdorf and Bronson– their expertly-crafted espresso and bright, airy atmosphere are a treat.
Exploring Downtown Olympia
Whether you're spending a day or weekend in Olympia, you might want to take some time to check out the local outdoor treasures within a few blocks of Arts Walk. Take a stroll around Capitol Lake or pick up some locally-made gift items at the Farmer's Market of Olympia. You can also stroll the Percival Landing boardwalk nearby, which features a kids' playground and a beautiful view of the Puget Sound. And just a few blocks away from the downtown bustle, Yashiro Japanese Garden also makes a great place for a quick walk to recharge. All of these destinations are within easy walking distance of the heartbeat of Arts Walk.
A final planning tip? Bring your sense of fun and spontaneity – you will soon find yourself caught up in all the sights, sounds and energy of this vibrant event.
For More Information
For great local visitors' information, check out the "Visit Olympia" website of the Olympia Lacey Tumwater Visitor and Convention Bureau. You can find information on lodging, dining, and more (check out this "Top 10 Area Attractions" list).
Arts Walk is sponsored by the Olympia Parks, Arts and Recreation Department, with support from the local business community.
At locations throughout Downtown Olympia
Friday, October 3, 2014 from 5:00 p.m. – 10:00 p.m.
Saturday, October 4, 2014 from 12:00 p.m. – 5:00 p.m.