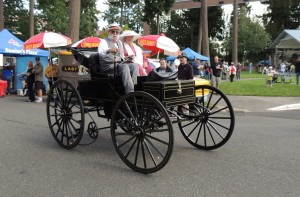 As the end of summer approaches, so too does the 13th Annual Summer's End at Lacey Car Show. Set for Saturday, September 20 from 9:00 a.m. to 3:00 p.m. at Huntamer Park (618 Woodland Square Loop SE), the show is open to all years, makes, and models.
The car show will host an array of vehicles from every era. Past entries have included vehicles ranging from a 1906 Holsman Horseless Carriage to a 2013 Tesla, and have also included motorcycles. In addition to the many cars on display, enjoy vendor booths, have lunch in the park, and have fun with games and activities for the family. Lacey Sunrise Lions will provide the car-themed games including the piston toss, lug nut challenge, and fan belt toss. Live music will be provided by the local band Backlash from 10:00 a.m. to 2:00 p.m. Admission is free to the public.
The first 200 entries will receive a "goody bag" with a commemorative dash plaque and all entries will receive a photo of their car taken at the entrance. In addition, entries contend for 50 different awards! The cost to enter a vehicle is $20 at the gate.    Summer's End at Lacey Car Show is sponsored by Lacey Parks & Recreation and various community partners. A portion of the event proceeds will be used to purchase defibrillators for local emergency response agencies.
Visit www.ci.lacey.wa.us/events for more information.