By Gail Wood

For Will Berghoff and Kyle Wooten, their quest to qualify for state in tennis had a similar beginning against a similar opponent.
Their tennis genesis for these two Olympia High School seniors was against their moms.
"I was like 10 or 11," Kyle explained about his start in tennis. "My mom liked to play. She was a big tennis player."
Kyle's mom, Huong Lakin, played at the University of Texas. And Will's tennis heritage is also from his mom, Linda, who played at Capital.
"Both my mom and dad played in high school," Will said. "I got started playing when I was younger against my mom. Like five or six."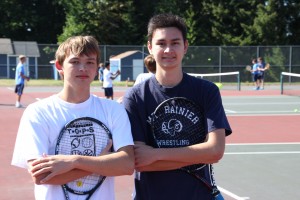 Now, Will and Kyle, linked by their tennis heritage, hope to return to state their senior year at Olympia. As doubles partners for the fourth season, Will and Kyle placed fifth at 4A state last year. To take that next step, to finish even higher in state and move ahead of Bellarmine and Newport, Bears coach Denny Bailey has some must-do tips for them to follow.
To advance higher, they're going to have to follow a strategy of moving an opponent, hitting it to the open spot. Then they'll have to hit and not smash, play finesse and not power tennis.
"They both can hit it a ton," Bailey said. "And they can serve it a ton. But when you're hitting it a ton on everything sometimes your consistency goes down."
It's about finding space and hitting the ball where the opponent isn't, forcing them to chase and hit on the run.
"Against the Bellarmines and the Newports, you don't hit the ball through them," Bailey explained. "You can hit the ball as hard as you want and they're going to return it. It's about moving an opponent around, creating space."
Kyle has never played his mom in a match. They've hit the ball back and forth for hours as he was growing up. But they never played a winner-takes-all match. Two years after Kyle first started hitting tennis balls with Huong, he began taking tennis lessons from Doug Ruffin at Valley Athletic Club. Then after a little while Kyle started playing in tournaments, finding out he had a game as he began winning matches.
"It was fun," Kyle said.
He played baseball and soccer for a while, before dropping the other sports to focus on tennis year around.  He resumes his lessons when the high school season ends. Like Kyle, Will has committed to tennis year around, participating only in snow skiing as his other sport.
"I enjoyed baseball because it was fun hanging out with friends and the team," Will said. "But I enjoyed playing tennis more and I was just getting better at playing tennis."
Will and Kyle realized that in order to be state qualifiers they had to commit to tennis year around. They realized they couldn't just pick up a tennis racquet in September and expect to be able to qualify for state.
Besides their year-around commitment, Kyle and Will make good tennis partners for another reason. First, they get along. They don't cuss each other out when a backhand down the alley sails out of bounds. They're friends, on and off the court.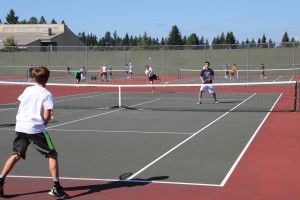 They have similar games.
"We both prefer to stay on the baseline," Kyle said. "But we can go to the net and put it away sometimes."
Both Kyle and Will started out as singles players their freshman year. But following Bailey's suggestion, they both went to doubles and by the end of their freshman year they teamed up.
"I realized I wasn't really that good at singles," Kyle said.
At least, not good enough to make it to state in singles. Now, as seniors, they've come a long way. Bailey said that Will and Kyle have similar games and similar personalities.
"They're actually very quiet boys," Bailey said. "They have all the energy. They're very smart guys. Academically, they understand the game. They love it, but working together as a unit and getting better takes time no matter how good you are."
Now, after being partners for three years, Will and Kyle not only have the individual skills – hitting baseline blasts and overhead winners. They play together as a team.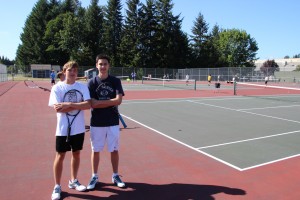 "Their individual skills are really good," Bailey said. "They're really good volleyers. They have power. If there is one part of the game we've been really working on, it is strategy." Bailey said. "You've got to be a volleyer. You've got to love to be at the net and not on the baseline."
Out smashing an opponent isn't as successful as out strategizing them. That has come along really well for Oly's two seniors.
"The last hurdle they have is really making a total commitment to that doubles strategy of owning the net," Bailey said. "And not trying to overpower an opponent from the baseline."
Will and Kyle are both committed to the serve and volley game. Their ambition is to play in college. Will is looking at Gonzaga, Western Washington and Washington. Kyle is looking at Seattle University, UW and one more school.
"Texas," Kyle said. "That's because my mom went there. But if I went to Texas, I don't think I could play there. The team is too good."