By Tali Haller
Since its opening in May 1993, the Centennial Train Station, servicing Olympia and the greater Thurston County area, has operated entirely through the efforts of volunteers. And these volunteers are far from ordinary – they are some of the most dedicated, caring, happy individuals I have ever met.
As a writer from a popular travel website put it, "No one travelling by Amtrak arrives in Olympia to a closed station." Even in the dead of the night, a devoted volunteer or two will often rise from his slumbers to open the station for a late train.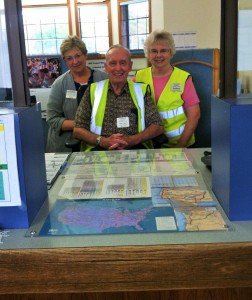 What's more, these volunteers know they're special. "We believe that this station provides some of the best service, if not the best service, in the U.S." said Wally Fisher, one of the nine original volunteers who is still servicing the station over 21 years later. Talk about low turnover.
"I'm actually having more fun today than when I first started," he said with a grin, his volunteering efforts still going strong. Wally confessed that he's never really been a "train buff." Instead, he got involved because he wanted to help the community after he retired in 1987 from the U.S. Postal Service. In his words, he needed "something to do other than watch the boob tube," a U.S. slang word for the television.
There are 42 total shifts in a week – three shifts per day (two four-hour morning shifts and one five-hour evening shift, which occasionally extends into the night), seven days a week, with two volunteers working each shift. "In the ideal world, everyone would only work one shift," said Audrey Skaugseth, another long-time volunteer and volunteer coordinator. But due to a shortage of volunteers, some people, like Walter, who comes in every Wednesday for two four-hour shifts (8:00 am to 4:00 pm), take on double or even triple shifts.
With just under 30 volunteers (and a few in processing), the Centennial Train Station is in desperate need of more volunteers. Luckily, the volunteer work they have to offer is quite enticing. For one, volunteers have almost complete freedom in picking a shift and day of the week. However, once committed to a time slot, the responsibility needs to be upheld, emphasized Audrey.
"This is the perfect volunteer opportunity for college students – especially the ones who love trains," mentioned volunteer Karen Keller. "They can bring their laptops or books and study in periods of low-activity, usually in the one to two hour gaps between train arrivals." Karen also stressed the variety of things volunteers can learn. "One can improve their public relations and speaking skills, and learn about public and intermodal transportation," she said.
Plus, you get to meet interesting people coming and going from all over the place. "One man who came in recently was traveling from Vancouver B.C. all the way down to South America on his bike to meet his wife. However, he had to hop aboard at the Centennial Station for a quick train ride to stay on schedule," said Audrey.
Unfortunately, volunteers must be at least 18 years of age, rendering most high school students unable to take advantage of this awesome volunteer opportunity.
As far as responsibilities go, volunteers are expected to help people as best they can with their travel plans, offer advice, and maintain control over the station. They are not Amtrak employees so they can't sell tickets (there is a Quik-Trak Ticket Machine available on site daily for that) or quote the ever-changing prices.
Not surprisingly, the idea of a volunteer-run station was first viewed with skepticism. However, the volunteers love for what they do and their community has kept the station running better than imagined. In some cases, the station may even provide better service than stations with paid employees. What's more, Lacey's Centennial Station may be starting a trend. Since its opening, two other volunteer-run train stations have sprung up around the U.S. and a myriad of other cities seem to be considering the idea, using the Centennial Station as a model.
To read more about the Centennial Train Station's history see Lacey's Centennial Station: A Train Lover's Dream Come True.
A final story that truly brings home the dedication and compassion of the station's volunteers was told by Karen: A while ago, one volunteer got a call from a train conductor, "Call an ambulance! We believe a passenger is having a heart attack," the conductor exclaimed. The volunteer quickly dialed 9-1-1 and the passenger was taken off and quickly driven to Providence St. Peter's Hospital. However, in all of the excitement, his scooter had been left at the train station. The volunteer made it his job to get the scooter over to the hospital so that when the patient recovered he would have all his belongings.
"We're very proud of what we do here," the three volunteers I met with said repeatedly. Clearly, they are. It's evident not only in their glowing faces, comfortable camaraderie, and appreciative voices, but in their actions and long-time dedication. To keep this wonderful service alive, they need help from the community. If interested in volunteering, contact Audrey via phone at (360) 459-0364.