By Gale Hemmann

Donna Killelea is proof that you can do anything you set your mind to, at any age. The Olympia resident decided to take on a life-long goal for her 70th birthday: learning to swim. With the encouragement of staff at Discover Aquatics Swim School, she was able to make this dream happen.
Killelea wrote a moving letter to the Discover Aquatics staff about her experience. She writes, "Six months ago, I resolved to check an item off my 'bucket list,' to acquire a skill I had always thought unreachable. I vowed I would learn how to swim. For nearly 70 years, my relationship with the water has been tentative, tinged with trepidation, conditional:  If I could stand up or use the aid of a life jacket, I was fine. Now I longed to delve deeper, to gain the confidence of a true swimmer."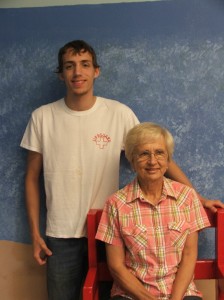 Killelea got the spark of inspiration from an adult education class she was taking at her church, where she participated in an exercise about manifesting your dreams. When she thought about goals she wanted to accomplish, conquering her fear of water and learning to swim was at the top of her list. She also wanted to overcome her fear so she could share a positive attitude about water with her grandchildren.
She approached the staff at Discover Aquatics and immediately felt encouraged by how warm and welcoming they were. She enrolled in weekly one-on-one swim lessons, and step by step (or rather stroke by stroke) worked toward achieving her goal. Her biggest triumph: the moment she was able to cross from the shallow end into the deep end fear-free.
She writes in her letter, "At Discover Aquatics, I met Peter and Curran, who were more than swim teachers – they taught me that the simple act of blowing bubbles could cause panic and fear to melt away. They did more than teach technique: they provided a safe, secure place for me to cultivate confidence and skill. They showed me that with patience, determination and lots of practice, I could leave the safety of the shallow water and explore the depths (and my own abilities) in the deep end. I could swim!"
Killelea's story is truly inspiring. I met with her and several staff at Discover Aquatics who were involved in her journey. Killelea and I joined owner Holly Nichols, Event Coordinator Debbie Williams, and one of Killelea's swim instructors, Peter Emmons. Everyone was friendly and positive – it's no wonder Killelea immediately felt comfortable here.
The staff were all elated to watch Killelea reach her goal. She worked with Emmons for about two months, and then with instructor Curran Colins. Emmons was a competitive swimmer at Timberline High School and combines his strong knowledge of swimming with the ability to relate to people to help put new swimmers like Killelea at ease. He says they moved in steps with the lessons, going a little further in the water each week. Colins swam while at Capital High School and originally learned to swim at Discover Aquatics years ago. While Killelea is quick to praise her teachers, Emmons says she really deserves the credit for her determination.
Killelea describes the process eloquently: "In the last several months, lesson by lesson, I have witnessed my own miraculous transformation from a floundering novice to someone who could venture from one end of the pool to the other. I can do what I never imagined possible: I can tread water. I can float on my back. I can breathe. I can kick. I have options. The pool has become my playground, the warm water my dear friend."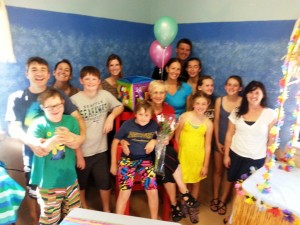 The final touch to celebrate Killelea reaching her big goal? Hosting an official "Splish Splash" birthday party at Discover Aquatics earlier this month. Killelea notes in her letter, "Yesterday, I turned seventy years old. Over the weekend, my family and I celebrated more than seven decades of a life well lived. I invited them to join me at my very own 'Splish Splash' party at Discover Aquatics and witness my new and improved water-capable self as I swam – truly swam – from one end of the pool to the other. It was beyond wonderful. Afterwards, we enjoyed a sweet celebration in the party room orchestrated by a very attentive hostess, Debbie, complete with beach decor, music, cupcakes, and a beach ball for guests to autograph. I will keep that beach ball as a reminder of this unforgettable birthday – a symbol of the not-so-small 'bucket list' item I tackled with the help of Discover Aquatics."
I asked Killelea what words of inspiration she would share with others who want to take on a big goal, whether learning to swim or tackling another dream. She says, "If you have a goal, just try it. Jump in. It's never too late." Nichols notes that Killelea was very focused in reaching her goal, which also contributed to her success.
So what's next for Killelea? She will be continuing swim lessons at Discover Aquatics in the future. She enjoys the senior swim time on Tuesdays and Thursday mornings. She says in her letter, "Who knows what new challenges and depths I'll reach this year at the pool? I can't wait to find out."
Killelea has already talked to other adults who want to learn to conquer their fear of water, and shared her story with them. In fact, if you're considering learning to swim as an adult, Killelea's happy to talk with you (contact the Discover Aquatics office to get in contact with her).
Discover Aquatics offers lessons for all ages, as well as open swim times and special events. One thing that makes their pool unique is that it is saline-based. Many people, including myself, find this a more pleasant alternative to chlorine-based pools. The pool is also kept at a comfy 89 degrees, ensuring that you are comfortable in the water. To learn more about swimming lessons, hosting a Splish Splash birthday party, and pool schedules, visit their website. Adults interested in private swim lessons can also call the office and talk to staff, who will be happy to help them get started.
Killelea says she feels an increased sense of self-confidence now that she can swim and feels more comfortable in social settings where swimming is involved. She says it's fun to be in with the other swimmers at the pool.
Nichols also notes that swimming is an important life skill. She says six out of ten Americans adults are uncomfortable in water where they can't touch the bottom. Nichols says it's a wonderful thing to be able to enjoy the relaxation, therapeutic and exercise benefits of swimming. She says it is very empowering for adults to learn to feel in control and skilled in the water. Nowhere is this more evident than in the joy Donna Killelea exudes when talking about her experience.
As Discover Aquatics reminds us, "Life is great…swimming makes it better."