Submitted by The Port of Olympia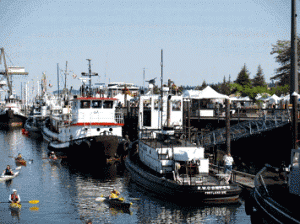 Vintage, working and retired tugboats return to the southernmost tip of Puget Sound for three days of fun at Harbor Days, Aug. 29-31. Experience it all at Percival Landing and Port Plaza on Olympia's downtown waterfront.
The tugs leave shore on Sunday at noon for the annual Tugboat Races in the deep channel of the Budd Inlet. Many of the tugs offer tours on Saturday.
Port Plaza features Kitsap Live Steamers model trains and a mini Steamer that kids can ride along a 100-foot track! Model tugboat demos, Dragon boats, robotics, Tacoma Railways Centennial celebration, and the Port's giant-sized building blocks add to the fun.
Browse over 200 arts and crafts booths and enjoy entertainment, festival food and a special area just for kids.
Port of Olympia partners in Harbor Days to celebrate the maritime heritage of our community. For more information: http://harbordays.com/