By Alyssa Ramsfield

An advocate and shelter for survivors of domestic violence, SafePlace has been a staple in our community since 1981. It is the only agency of its kind in Thurston County and is one of the oldest programs for sexual assault in the nation. As the need for assistance grows, so does the need to expand this vital community resource.
"SafePlace is Thurston County's accredited agency for sexual violence," describes Development Director, Thomasina Cooper. "We have a 24-hour phone line for assistance and we run a 28 bed shelter. We are constantly trying to get survivors all of the help possible and we keep our shelter full with survivors and their families. Our community services include working with survivors one-on-one, case management, healing processing, setting up DSHS appointments, making legal appointments and assisting them in the next steps necessary."
"It's really important to us for the community to know that we are available to anyone who needs it," explains Cooper. "We will provide help in any way possible. A lot of the time, people are looking for legal help. While we can't give legal advice, we have an advocate who will assist survivors in getting the information they need. We also have free legal services available the first and third Thursday of every month. Community members can talk to a lawyer about their legal proceedings in regards to sexual violence. Our community outreach program also helps survivors with daily struggles such as finding a place to live or affordable daycare."
SafePlace is taking on an expansion of their current Community Service Center to make their services readily available to Thurston County citizens. "We are really trying to create a safety net for people who need to leave their situation," says Cooper. "It's complex to leave a life of domestic violence. Currently, our facilities limit our client services. We can only hold small meetings and serve members of community a few at a time. The new facility is going to give us sufficient space to make a difference in survivor's lives."
Some of the smallest victims of domestic violence will be taken into account in the new building. "The renovated center will have a kids program and playroom," continues Cooper.  "Play is so important to children. It's a simple thing, but a powerful one. Parents will be able to meet with advocates and get the help they need while separating their children from conversations about issue. Instead, kids can come in and enjoy some play time. We will even have a teen room for older children to enjoy."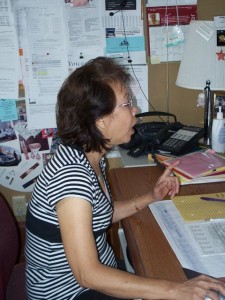 The new center will also add more capacity to SafePlace's standing services. "We can hold large meetings in the new building as it is triple our current size," explains Cooper. "We can also complete more trainings for volunteers. Our volunteers help to facilitate support groups. They are a very important aspect of SafePlace. We also do outreach to schools through out teen group. It allows for teens to come together to find out about dating, consent, and prevention. Our new facility will allow that group to be trained as facilitators and allow help for their peers.
"SafePlace is branching out and we want to make sure that the community not only knows we exist, but that our resources are available to them 24/7," describes Cooper. "We are all working together in the community and we want to increase the conversation around sexual violence so we can really start engaging people and find ways for prevention. Perpetrators thrive in silence. Our job is to make connections with people and get them talking."
"Come in and engage with us," exclaims Cooper. "We are trying to be a proactive part of downtown Olympia. The building that will be our new community center is a renovation project. We plan to turn this ugly duckling into a beautiful swan of a building. We want to bring a much needed spark to the area. We hope to be at the forefront of our community."
Learn more about SafePlace's Capital Campaign by clicking here. Celebrate SafePlace's groundbreaking of their new facility on September 5 from 5:30 p.m. – 7:30 p.m.