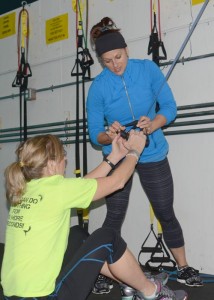 You have worked hard to achieve your fitness goals and all is well—but what now? How do you maintain it?
Amanda Price-Salazar, a certified personal trainer and owner of Edge Fitness in Tumwater, says that often when people make huge body transformations though diet and exercise programs, they eventually end up going back to the same place they started due to lack of motivation to stay on track.
How can you combat that cycle of regression? The secret is getting to the heart of the matter and looking at what contributed to your initial lack of fitness in the first place.
"Any person who has struggled to achieve a body transformation goal of any kind, whether struggling to lose weight gained over a period of years or recovering from an accident and trying to get back your body back into shape, can use some help," shares Price-Salazar. "Seeking counsel from a therapist or someone who specifically works with individuals on stress and anxiety management, body image and self-esteem issues, eating disorders and addiction management and recovery, can really help."
Price-Salazar is speaking from personal experience. In August 2006, a motorcycle accident added a new dimension to Price-Salazar's life. Almost losing her life and coming out of it with a broken back, hip, and pelvis, she was determined to recover and stay in shape. Working diligently with a physical therapist and mental well-being therapist for several years, she gradually regained her strength, surpassing her fitness level from before the accident.
"You cannot do it alone. Your friends and family won't always tell you the whole truth, trying to be sensitive to your feelings or they may not understand fully what you are going through," she shares. "You need to find someone who is an 'out-of-the-box' thinker, who will listen and guide you positively and honestly along the way and who truly specializes in the areas you need."
She also hired a life coach. "I have accomplished more in the last seven years than I have throughout my entire life," explains Price-Salazar, crediting her therapist and life coach.
If you want to stay on track, remain motivated with your health and fitness goals, and ensure your continued success, invest in a mental health professional, coach or therapist.  This individual will help you address any underlying issues that might keep you from achieving your goals.
"You can take care of your outside and constantly tell yourself you are just fine on the inside, but you will soon realize that until you get to heart of your issues, identify them, and face them head on, it will be difficult to see success in the future," she explains.  "Once you can work through your issues and finally move past them, you will achieve greater things and see more changes than ever before, but you truly have to have someone to help you get through it."