By Gail Wood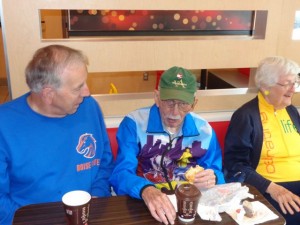 They've become regular Saturday morning customers, eating as they talk.
Since 1998, a group of friends from Panorama, with John Clarke usually leading the way, have ridden their bikes three miles down the Chehalis Western Trail to the McDonald's restaurant on Yelm Highway. They have breakfast, talk and have a good time.
"It just sounded like a fun thing to do," Clarke said. "It's good exercise."
Depending on the time of year and the type of weather, the number of gray-haired bikers peddling up to McDonald's from Panorama can vary from two or three hearty souls on a rainy fall morning to as many as 20 riders on a blue-sky summer day. But if it's too rainy, too snowy or just too cold, they'll drive their cars there instead.
Clarke, now 94, no longer rides his bike to meet with friends at McDonald's. But he still drives with his wife, Bernie. Up until last year, Clarke, who started the weekly bike ride 16 years ago, was still peddling his 3-wheeler up there.
"Our group ranges in age from early 60s to mid 90s," said Kris Bartruff, a frequent rider with the group who helps coordinate the event. "I say this is about 70-percent socialize and 30-percent exercise."
In a 12-year span from Sept. 15, 2001 to Sept. 28, 2013, there were five people from Panorama who had ridden their bikes to McDonald's on Saturday mornings 174 times or more. Frank Johnson led everyone with 379 Saturday morning bike rides, equaling well over half of all Saturdays within the twelve year span. Clarke was second with 283 rides, Carol Horner was third with 196, Bob Smith was fourth with 186 and Jack Faris was fifth with 174.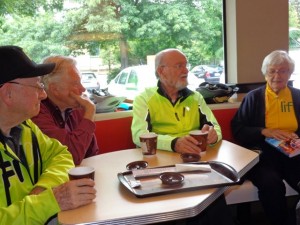 Counting riding, walking and driving, Johnson led everyone with 453 Saturday morning trips to McDonald's.
Of the 624 Saturdays from 2001 to 2013, there was a group from Panorama there 575 of those Saturday morning breakfasts, missing only 52.
On the day I visited in late June, there were 14 friends from Panorama at McDonald's eating breakfast. Five rode bikes, seven drove cars and two walked.
There's one Saturday every year that the ride is canceled no matter what the weather. That's Patio Sale Day, a yearly event at Panorama that happens every third Saturday of July.
"We don't do it that weekend," Bartruff said. "And there are times when it's extremely rainy or cold or miserable in the winter that no one will bike. But usually there are people who will drive."
Bartruff's husband, Dave, has another extenuating circumstance that prevents him from riding his bike on Saturdays to McDonald's.
"His rule is that it has to be at least 50 degrees before he gets on his bike," Kris said.
The Saturday morning bike ride starts at 8:30 a.m. The group congregates on the Chehalis Western Trail on 21st Street.  It takes them 20 to 30 minutes to reach McDonald's.
"It's not a race," Bartruff said. "We don't try to go fast. We try to accommodate people who go slower. We have some people who ride three wheelers."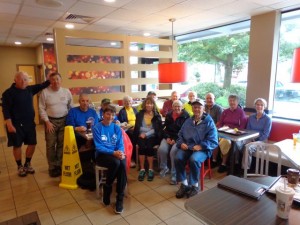 The Bartruff's moved to Panorama three years ago and Kris, who is now 66, volunteered to be a trail greeter, committing her to the weekly ride.
"It's socially driven," said David, who recently retired from Washington State Department of Health. "Everyone has a good time getting together."
Last November, the Saturday morning bike group had a reunion for people who had participated in the ride during the last 15 years. The luncheon at Panorama drew over 60 people.
"A lot of them hadn't ridden in 10 years or more because of failing health," Kris said. "But they had fond memories of when they did ride and enjoyed the experience."
Essie Faris was among the original bike riders. She got a bike when Clarke started the group ride and joined the Saturday Morning Bike Group. On one of her early rides, it began to rain on their ride home.
"As we neared our home, I turned up onto our yard," Faris wrote in a diary kept by the group. "There was wet grass, a slight incline and swoosh – my bike slid out from under me."
With her arm in a sling, Faris got rid of her bike. But she didn't stop going to the Saturday morning breakfast at McDonald's. She walked with her husband. Faris and her husband have moved to Arizona. But she remembers her Saturday outings fondly.
It's a day friends get together.