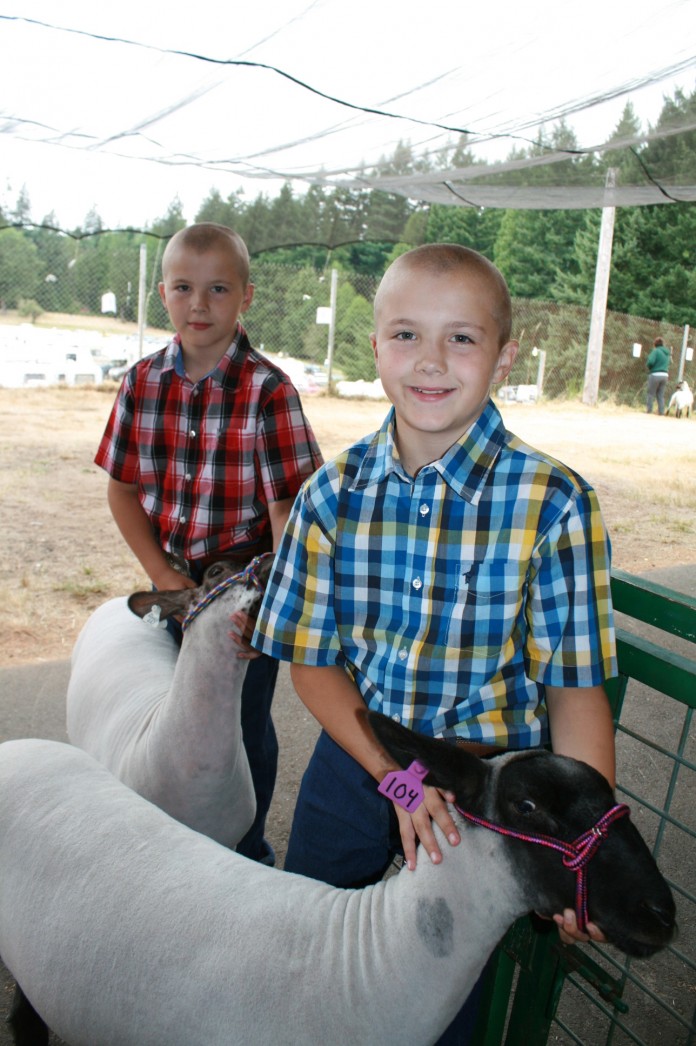 Submitted by The Thurston County Fair
Live and Local concert series, Savor South Sound tastings part of 2014 highlights
This year's Thurston County Fair is chock full of sights, sounds and tastes to entertain the whole herd from Wednesday, July 30 through Sunday, August 3.
Savor South Sound Beverage Tastings
The Savor South Sound beverage tasting event is back this year and better than ever, featuring dozens of delectable Northwest drinks. You'll find Savor South Sound on the Gazebo Green this year with tastings from a dozen cideries, breweries and wineries on Friday and Saturday between 5 and 10 p.m. Patrons must be 21 or over to enter the event. Don't forget to try some of the hors d'oeuvre pairings provided by local growers and producers that are new to Savor South Sound this year. Get more Savor South Sound details at www.ThurstonCountyFair.org by clicking on the "Entertainment" tab.
Live & Local Concert Series
If you are looking for even more reasons to visit the fair this year, then consider the line-up of local entertainers that will be delighting crowds with their sizzling summer sounds during the "Live & Local" concert series that is free with your fair admission. The Live & Local line-up features South Sound favorites like Artesian Rumble Arkestra on Wednesday, Brittany Kingery on Thursday, The Blackberry Bushes on Friday, and an encore appearance by The Brown Edition on Saturday along with DBST, all playing on the Main Stage sponsored by Les Schwab. New to the Live & Local line-up this year are some musical pairings on the Food Court Stage with the neighboring Savor South Sound event. And be sure to catch this year's KACS Sunday Concert featuring legendary Christian rocker Bryan Duncan. Get more Live & Local details and other entertainment information at www.ThurstonCountyFair.org by clicking on the "Entertainment" tab.
Other new events in 2014 include up close and personal displays and presentations by Predators of the Heart in front of Heritage Hall. You can visit with all of the feathery, furry and scaly friends all five days at the Thurston County Fair. New on Saturday, August 2 is the Tattoo Art Contest where local tattoo artists will have their skill and artistry on display and cash prizes on the line. Also new in 2014 is the Rescue Pet Roundup on Sunday, August 3 from 10 a.m. to 7 p.m. in the Hicks Lake Barn. Come meet all of our furry friends who are available for adoption. There are also several fan favorites making a comeback this year at the fair, including:
One Buck Wednesday on July 30, when admission is just $1 per person when you bring a non-perishable food donation for the Thurston County Food Bank. Tons of other $1 deals are featured inside the fair.
Kid's Day Thursday, July 31. Kids 14 and under pay just $2 for admission, and carnival armbands that get you unlimited carnival rides for the day are buy-one-get-one free for your buddy. Don't forget, admission for kids 5 and under is always FREE at the fair!
Military Appreciation Day is Friday, Aug. 1. Active duty and retired military personnel and their families can get $2 admission to the fair with your military ID. Just present your military ID for lots of other military deals inside the fair.
Author's Corner is back in the Sharp Building will once again feature local authors selling books, greeting fans, and autographing everything from children's books to crime dramas.
The Antiques Appraisal event is back on Friday, Aug. 1 at 4 p.m. in Heritage Hall, when a professional appraiser will evaluate collectibles and antiques provided by local residents.
The Thurston County Commissioners Annual Pancake Breakfast on Saturday, Aug. 2 from 8:30-10 a.m. Breakfast is free with fair admission. Join us on the Gazebo Green on the east side of Heritage Hall.
The annual Animal Market Sale will be in the Hicks Lake Barn on Saturday, Aug. 2 at 6 p.m.
The annual 4-H Equine Western Games begin early at 8 a.m. on Sunday, Aug. 3.
For more information about these events and other fair entertainment and attractions, go to www.ThurstonCountyFair.org and click on the "Daily Events Calendar" link.
The last day to purchase discount carnival ride armbands is Tuesday, July 29. Visit www.ThurstonCountyFair.org and click on "Fair News" for more information about discount carnival armbands and other discounts and deals.
To learn more about this year's events, entertainment and exhibits, contact the Thurston County Fair Office at (360) 786-5453 or visit www.ThurstonCountyFair.org.
"Fun for the Whole Herd at the Thurston County Fair!" July 30 – Aug. 3