By Katie Doolittle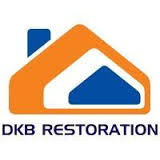 The ghosts of summers past haunt Gile Blueberry Farm. Ken Gile, the current proprietor, can readily recall the long-ago days when crowds of neighbors and school children hired on as summer berry pickers. Everyone's bare feet would turn black and itchy from roving all day over the meticulously tilled earth. Back then, people picked for a nickel a pound, working towards their daily minimum of 20 pounds apiece. It's how many local kids earned money for their school clothes. "I always got fired," Ken admits. "I was kind of terrible. But it would only last a couple of days and then I'd get sent back to the field."
The farm, says Ken, was his father Claude's dream. Originally from New York, Claude Gile moved to the Pacific Northwest in the 1920s. He paid $500 for his first two acres of land. "This was all brush and trees way back when," explains Ken. "Dad was a longshoreman and when there were no ships in he'd bring a crew over and they'd clear the brush by hand." At that time, Claude paid his fellow longshoremen 15 or 20 cents an hour for their labor.
After a brief stint of blackberry farming–which was soon deemed too troublesome–Claude switched to blueberries. As the baby of the family, Ken doesn't remember much about the early days of the farm. However, he can still recall the labor shortage they experienced during the Korean War. Claude solved the problem by hiring a company of soldiers from Fort Lewis. "That was quite a time," Ken chuckles. They had a mess hall for the military blueberry pickers, and "there were always G.I.s trying to sneak off to town for a drink or two."
Claude and his wife Laura had eight children: Juanita, Leon, Tiny, Marie, Jean, Betty, Ann, and Ken. At one time or another, everyone was somehow involved in the farm. Marie shares her memories with dry humor: "I was a row boss, riding my broom through the fields and telling them to pick their berries clean." She took on her leadership position around age 14 and didn't miss a single season until she was married. "And then I made the kids go out and pick berries," she reminisces.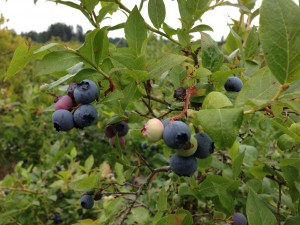 Marie and Ken both agree that their father Claude was quite particular in his expectations of pickers. He demanded meticulous attention to detail and "was kind of a tyrant about no berries on the ground." When he blustered too much, the family would banish Claude to the house. He'd then hover in the dining room (which offers an excellent view of the fields) and bang on the windows if he saw subpar workmanship.
Throughout the 1950s, Claude took his berries up to the Sunny Jim plant in Seattle. Ken says, "He used to run the old Dodge up there, sometimes twice a day… which was a fete in and of itself." Later, Claude joined forces with other local farmers to form the Producer Marketing Company (PMC). This cooperative effort was located in Mossy Rock. Until 2006, PMC processed local blueberries and then sold them to companies such as Smucker's.
When Claude died in 1965, brothers Tiny and Leon split the farm. Ken took over Tiny's portion in 1993, which is when the Giles first instituted U-pick.
Ken appreciates how U-pick offers berry lovers a chance to tailor purchases to their individual palates. "You can eat on the different bushes until you find one you like," he says. He estimates that the property currently boasts 30 to 40 different varieties, if not more. "There are a lot of varieties that you probably can't get anymore," he says. Plants and their fruit evolve as farmers seek to improve berry yield, size, and taste. Yet some of the bushes on Ken's property trace back a full century; they began as cuttings from Eberhardt's on Steamboat Island, which some sources say was the first blueberry farm west of the Mississippi River.
Come for a taste from a bygone era and you'll also see some old-style farming. The Giles planted their fields before modern irrigation practices grew widespread. And in contrast to the current common practice, the plant varieties on their farm are intermixed to promote cross-pollination. It means that berries in a single area ripen at varying rates, rendering large scale machine-picking impractical. Consequently, Gile berries get picked by hand. Ken describes the current pickers as "a senior citizens' crew of six to eight." Not surprisingly, that crew includes his sister Marie.
Want to enjoy the fruit of their labor? It's $2.25 for pre-picked berries. But I recommend trying out U-pick or, at the very least, taking a walk around this beautiful old farm. The land and the people are well worth a visit!
Gile Blueberry Farm will open the week of July 21st for the 2014 season. Hours are 8:00am to 6:00pm. Updates and contact information can be found on the farm Facebook page.