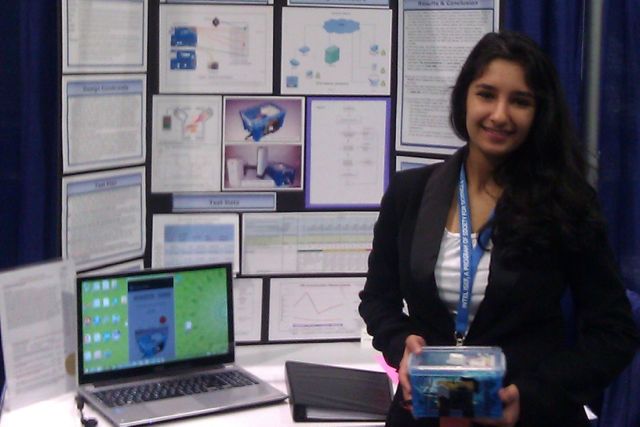 By Tali Haller

Two Olympia High School freshman students, Anjali Vasisht and Surabhi Mundada, are on track for scientific success. Excelling at the state and regional levels, they both qualified to attend the Intel International Science and Engineering Fair (Intel ISEF), the world's largest international pre-college science competition. The competition hosts over 1,700 high school students from more than 70 countries, all of whom have the opportunity to showcase their research and compete for more than $5 million in awards. Reviewing the students work are doctoral level scientists. "It's crazy – even some Nobel Prize Winners are there looking at your work," exclaimed Vasisht. This year the competition was hosted in Los Angeles, California in mid-May.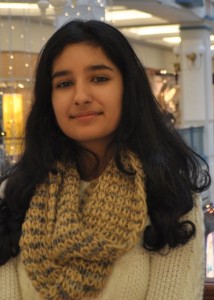 Both Vasisht and Mundada's love for science was sparked early on. "I've had a lot of teachers over the years who have really inspired me, plus my parents have always been extremely supportive," explained Vasisht. Her first science project was on the rates of water evaporation in first grade. In third grade, Vasisht experimented with seesaws, testing different weights and balances; and in fifth grade, she did a musical experiment, testing how different strings and their widths affected the resulting frequencies they gave off. "My earlier projects were very physics-oriented," said Vasisht. Then, after being inspired by her sixth grade environmental science teacher, Mrs. Flynn, Vasisht's scientific interests took a new direction.
In sixth grade, she tested the water quality of local rivers. However, with the progression of her scientific abilities, her projects began to take on more depth. In seventh grade, Vasisht did a "Barnacle Experiment," attempting to identify drugs that would repel barnacles. "I got the idea for that experiment when I visited a museum in the San Juan Islands. I saw a big poster of a whale with a lot of barnacles attached to it, which made me sad," explained Vasisht.
"Whales are my favorite animals and I kept wondering if there was a way to remove the barnacles by using some type of drug," she added. With help from her science teacher, Vasisht designed an experiment in which she injected different drugs into barnacle-inhabited water and observed the reaction of the living part of the barnacle.
Technically, barnacles are just the outside shell of a small invertebrate animal, which draws food in via slender hairs called cirri. In her observations, Vasisht observed the movements of the cirri, which would retreat when certain drugs were present. As far as she knows, Vasisht was the first person to discover that the drug Detomidine caused a strong reaction in barnacles. She also discovered that the drug Medetomidine had a powerful repelling effect on the cirri.
During eight grade, Vasisht and Mundada did a team project, attempting to discover a way to repel locusts from crops. Using grasshoppers, a similar and more easily obtainable insect, they found that lavender acted as a grasshopper repellant.
This year, as a freshman at Olympia High School, Vasisht again opted for a science fair project in the environmental category. However, her project also interweaves a combination of computer science and engineering. Having already tested water quality, she decided to experiment with air quality. "Air pollution is a very serious issue because it's making so many people sick," described Vasisht.  "I wanted to create a device that could detect air pollution by sensing air particulates (dust, pollen, etc.) and alert people when there was a high concentration," explained Vasisht.
Although the prospect of creating such a high-tech device may seem intimidating, Vasisht jumped right in, ordering a commercial sensor for $72 with her dad's permission. Like a true scientist, curiosity-driven passion drove her to look for ways to improve upon what was already created. "One thing I wanted to do was to make my sensor cheaper," said Vasisht. "I also wanted to add more features!"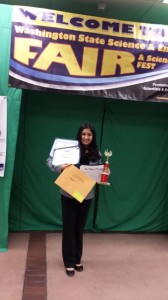 One of the first options Vasisht added was LED lights that blink different colors depending on the air particle concentration (red in high concentrations, yellow in medium concentrations, and green in low concentrations). She also added a buzzer that would accompany the red light. In order to add these features, Vasisht taught herself computer programming, getting help from her dad, who works as a computer programmer for Intel.
"The unique thing about my sensor is that it can send reports on all the data it collects to an 'Internet of Things' website, which allows anybody in the world to access the information and send in real-time data," Vasisht said. "People can even alert the government of areas that have high concentrations of air pollution via the site."
Vasisht's sensor can pick up the smallest types of particulate matter. However, it also picks up rain particulates, so it must be used on a relatively dry day. To test her sensor, Vasisht went to the Olympia Air Quality Organization, where she compared their nephelometer (a high-tech, expensive air quality sensor that uses lasers) against her own. According to Vasisht, her sensor was very accurate, especially when considering the difference in prices and technology.
"I'm now in the process of patenting it," she told me. However, before doing that, she wants to do a little more research and see about any other possible improvements she can make.
As a high school student this year, Vasisht was eligible to participate in the Regional and State Intel Science Fairs. She received the "Best Lab Journal" award at the regional competition and a myriad of awards at the state competition. As one of the qualifiers at the Regional Competition, she headed to the Intel ISEF. Although Vasisht didn't win anything at ISEF, she had "quite the experience."
Coming back from such an exciting, science-oriented trip, Vasisht hasn't yet begin to plan for next year's project. "I'm actually debating on whether or not I should do one," she mentioned. "I don't want to overload myself."
Aside from science-related activities, Vasisht plays piano and does Taekwondo. "Although it may not look like it, I'm a second degree black belt – I've been practicing for over 6 years," she said with a laugh. With lots of time left to decide on a future career, Vasisht is currently looking at combining her interests in the medical, computer science, and biology realms to become a biomedical engineer.
Like Vasisht, Mundada got involved with science fairs early as well. In third grade, she experimented with the motion of pendulums, in fourth grade she did a research project on water conservation, and in fifth grade she did another conservation experiment. Upon reaching middle school, Mundada narrowed in on her interests, recognizing her passion for biology. "My first real biology experiment was in seventh grade," she remembers. Then, in eighth grade, she did a team project with Vasisht (mentioned above).
This year Mundada began thinking about ideas for her project with a goal already in mind: she wanted to solve a common problem through natural treatment. "At first I wanted to look at acne but there are actually natural treatments for that already (namely one from Burt's Bees) so I chose to try and treat a common fungus," she said. After gaining isolates of the fungus from Providence St. Peters Hospital, Mundada began testing different plant extracts – in different combinations and ratios – to find out what, if anything, would make it go away. Since she hasn't yet published her findings, her treatment, which she says works better than the medicine currently used as a treatment, must remain confidential.
With the help of OHS biology teacher Ed Bassett and Dr. Ted White, a senior research scientist, Mundada's project was a success, winning first place at the regional competition. "Surabhi is an extremely driven and tenacious individual," observed Bassett. At ISEF, Mundada was awarded $500 through the fourth place grant in her category, Medicine and Health Sciences. She plans to use this money to further her research which she will showcase at next year's science competition. "ISEF was an amazing experience. I got to meet so many young scientists," said Mundada smiling. She also had a lot of fun. "We went to the Lucky Strike Bowling Alley and Universal Studios – all at no cost to us," she explained.
From their obvious passion and dedication, it is clear that these two young scientists are on their way to unlocking the next big scientific advances.