Submitted by Cathy Johnson for Dandelion Gardens
Yesterday was such a glorious day.  I happily worked out in my garden for hours.  It was wonderful to feel the sunshine on my face while weeding, pruning  and dreaming about how I'm going to plant my window boxes, patio containers, and hanging baskets.  Today it's just pouring, but I can't stop thinking about my planters.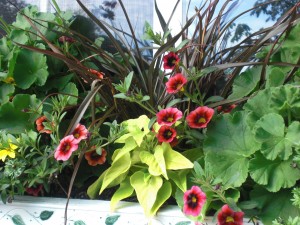 If you have window boxes, don't hesitate to plant them for year round color and interest.  Dwarf conifers (something that won't be more than one foot in height) combined with ornamental grasses such as black mondo grass, dwarf sweetflag (bright yellow foliage), orange sedge, and heuchera (so many wonderful leaf colors and textures!) are a colorful and easy window box combination.
To say summer, tuck in supertunias, geraniums, and other annuals.  In fall, remove the tired looking summer annuals and add mums, kale, pansies, and pumpkins or other fall gourds.  When Christmas and winter arrive, don't hesitate to take cuttings from your evergreen shrubs or twig dogwoods and tuck them into the boxes.  Add holiday decorations to your window boxes:  big ornaments, artificial snowflakes or snowballs, artificial foliage with bright berries, glittery pinecones, etc.   Let your imagination run wild for all of the seasons and holidays!  Add red, pink or white decorations for Valentine's Day; shamrocks and green decorations for St. Patrick's Day; bunnies, eggs, etc. for Easter and so on.  Wander the aisles at your favorite stores to discover your inner "Martha Stewart" and add whatever catches your eye to your window boxes or other containers.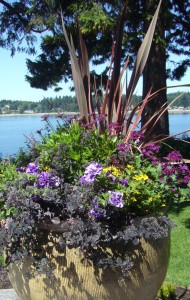 My husband was kind enough to make my window boxes.  I painted them to match the house trim color and then I added some designs in bright colors to provide additional interest.  The trailing plants may cover the designs in time, but I really like the color while waiting for the plants to fill in.  You can buy window boxes at many of the local stores and even find some great ones online, but if you have a non-traditional sized window or want to customize the window box, building one is the best way to get exactly what you want.
Nothing says "I love you" more than a custom made present.  If you have children or grandchildren, you will have helping hands in the window box construction and painting.  The kids can put their handprints on the boxes, paint flowers on them, etc.
Another spring gift option is a terra cotta or resin planter.  Resin planters are especially nice since they are lightweight and easy to move. There are many styles and types of these planters available in the market place, and they can be painted to match any house color.  And just like with window boxes, they can be stenciled and decoratively painted, so they also make a great present.  If your loved one likes edibles, plant a tomato plant (you can plant lobelia around the edge of the container for additional color) or lettuce greens (many attractive and tasty leaf colors and textures) in the container.  Blueberry plants look beautiful in containers as well because they have pretty spring flowers, tasty berries, and the leaves turn a brilliant orange/red in fall.  If you don't want to plant edibles, then plant gorgeous summer blooming annuals such as geraniums, supertunias, bacopa, etc.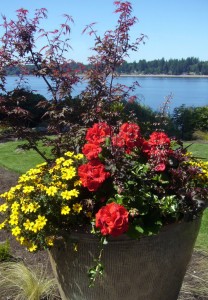 And don't forget about the many beautiful ceramic containers available.  Ceramic containers are my favorite type of container because they are frost proof, are available in so many sizes, styles, and colors, and last forever.  I especially love red, copper and black hued containers – red and copper brighten up a location without being overpowering and plants look good in them.  I liken black containers to the basic black dress – everything looks good in them and they make a strong statement.
Sometimes you have room for just one large container, and then you plant the thriller (attention grabbing focal point), filler (fills the space between the thriller and the edge of the container while complementing the thriller), and spiller (cascades over the edge of the container and softens it) all in that large container.  I like to use flax, beanpole yew, or a small conifer for the thriller.  Heucheras, ornamental grasses, euonymus, and small shrubs make great fillers.  Trailing annuals or small groundcovers such as sedums and periwinkle make great spillers.  You'll be happiest with your container if you concentrate on leaf texture and leaf color with the flowers filling a secondary role.
Last but not least, hanging baskets are a great seasonal item and loving gift.  The Olympia Farmers Market and many of the local garden centers have gorgeous hanging baskets this time of year.  If you want to make your own basket, concentrate on annuals with flowers that are red, purple, and/or yellow because the strong color contrast really grabs your attention.  As with your other containers, mix the type of annuals you use so you have some foliage contrast – ivy geraniums, supertunias, yellow brachycome daisies, and verbena are great in hanging baskets.  White is an excellent flower color for hanging baskets located in the shade because white really brightens a dark location.  Bacopa, lobelia, begonias, and impatiens are great shade flowers.