By Jennifer Crain
The picture window in Fred and Katherine Colvin's living room frames a grand view of grazing pasture surrounded by a stretch of coniferous forest.
The cattle at Colvin Ranch are grazing elsewhere today. Fred Colvin, a fourth generation rancher, rotates their cattle through a series of pastures divided up by fencing on the 550-acre expanse of land in Tenino.
Ever since Ignatius Colvin, Fred's great-grandfather, settled on this property the cows have been fed nothing but their natural diet – grass. This was true even as the feed of choice on Midwest feedlots shifted during the post-World War II corn surplus.
"We never had the feed resources," Fred explains. "You don't see corn raised around here."
Grazing, made necessary by their locale, turned out to be not only the best thing for the animals, but a tremendous marketing opportunity. Eight years ago, the Colvins decided to launch a niche campaign aimed at marketing their beef to a public that was becoming increasingly interested in the health and environmental merits of grass-fed beef.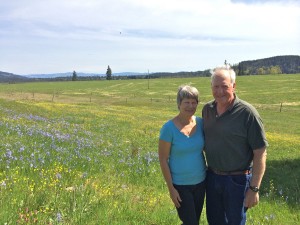 "The timing was optimal with the literature coming out about the benefits of grass-fed," Katherine says. "The public was just being more aware and conscious of the product that they were getting in the supermarket as opposed to buying directly off the ranch."
The Colvins started by selling three cows directly to consumers the first year and added a few more animals every year after that. Now, every one of the 240 cattle on the ranch will be sold through direct marketing efforts, though not all at once. The Colvins sell their two-year-old cows, so about one-third of the herd is slaughtered each year. Five years ago, they added pigs.
Individual consumers buy about half of their meats as half or quarter animals directly from the ranch. The rest is a combination of retail and wholesale sold at local markets, grocery stores, and restaurants in the South Sound area.
Nate LaGasa, manager at Spud's Produce Market, says Colvin products sell well in part because customers are doing their research.
"Especially with beef, after all the health concerns that have cropped up in the past, people worry about the conditions cattle live in, how they're medicated, what sort of hormones they've had introduced," he says. "That's a non-issue with Colvin. They're pretty much the opposite of a factory farm."
Fred Colvin says they decided early on to limit the growth of their business to whatever the two of them are able to handle. They've almost stuck to that goal: other than a quarter-time employee who helps around the ranch, Fred and Katherine do all the work themselves.
Looking out on blue camas strewn across a hill and the pristine fields beyond, it's easy to imagine that a sunup-to-sundown work ethic is what has guided generations of Colvins. Fred says Ignatius Colvin settled on an even larger portion of land in the area. He and his family cultivated and grew everything they needed: sheep, poultry, dairy, fruit, vegetables, and wheat, in addition to cattle.
Though there is no paper trail to support it, family lore suggests that Ignatius traveled to the area on a scouting journey several years before he moved west. The first record of his presence appears in December 1851 as the second signer on a petition to form Thurston County. (Fred notes that the third signature is in the same handwriting, supporting a theory that Ignatius could not read or write.) The first deed on the land is dated 1859.
The ranch no longer supports the number of uses it did in Ignatius's day. But Fred and Katherine Colvin have designated it for another type of diversification. Following the 2002 Farm Bill, 220 acres of the ranch received the first permanent easement in Washington state to preserve grasslands, a goal that dovetails with the Colvins' priority on preservation. Now, the entire ranch has been signed into easement through the Grassland Reserve Program.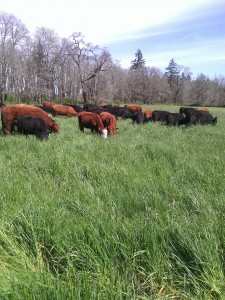 They explain that the cattle actually help in this effort: once native wildflowers go to seed, cows are let into the protected areas to graze the forage (the standing remains of the plant) to allow sunlight to fall on the seeded ground. Katherine says their grazing system makes cattle themselves "a management tool to help enhance the prairies."
All of the care that goes into the welfare of the land and animals helps enhance confidence from consumers, too.
"It's easy to trust a source when you know them well, and see what they're doing so regularly," says LaGasa, adding that he finds their meat leaner and better tasting than conventional beef.
"It's simple: put happy cows out there eating grass. That's pretty much the whole thing. That's great for us to be able to relay to our customers."
2828 Capitol Boulevard South in Olympia
360-915-9763
Spud's carries ground beef, stew meat, sirloin tip, rib steaks, London broil, and roasts from Colvin Ranch.