By Tom Rohrer

All families find themselves, at some point, in a difficult situation.  Together, it creates a strong bond within the group that ultimately makes the eventual turning point that much sweeter.
After eleven months of conditioning, rehearsals, practices, cross country traveling and performances, the "family" that is the Capital High School Dance team accomplished their dreams together.
On Saturday, March 29, Capital earned a 2A State Championship in the Pom category at the WIAA Dance/Drill State Championship inside the SunDome in Yakima.  Capital edged out Tumwater 290.4 to 285.4 to earn their first team state championship since 2010, when CHS won the 3A Pom Title.  The Cougars also finished second to Lake Washington in the Military Category.
Along with the victory in Pom, sophomore Ally Barton took first place in the individual drill down category.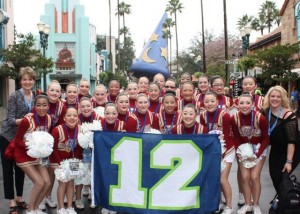 For longtime CHS coaches, Jan Kiefer and Jaci Gruhn, these victories will be remembered forever.
"It was just such an emotional moment," said Gruhn.  "There's so much time, so much work that went into this.  When they started playing our music (during the announcement), tears started flowing."
"Winning together is special because we all get to share that moment over and over again," added Kiefer, now in her 18th season coaching the team. "Through the highs and lows, we made it to this level together."
When the 2013-14 team was finalized last May, the Cougar dancers knew they had a chance to make a special run.
"This team has been special to me since the beginning of the season. They're (all) goal-driven and committed," said senior captain Ellen Short. "Since the beginning of the year, we've been able to accomplish all of the goals we set out to reach because of our hard work and dedication."
In February, the team traveled to Orlando, FL., for the Universal Dance Association (UDA) National Championship. The experience of traveling across the country to compete in a high pressure environment against top flight competition is something the dancers and coaches believe gave them an edge in Yakima.
"Nationals definitely prepared us for the nerves and excitement of State, but I don't think it was just the experience of performing that helped us," said Captain Davin Yeom.  "The bond our team created at Nationals really brought the team together, and we learned to trust each other and push for each other on the floor."
"UDA Nationals was such a phenomenal experience because of how we grew as a team," Gruhn said. "What we learned from being in that situation, it absolutely prepared us for state."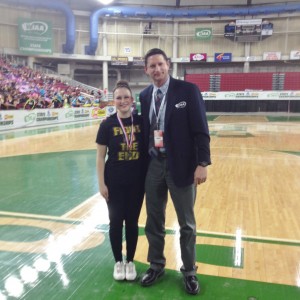 Being surrounded and supported by your team can provide comfort for all members of the drill team.  For Barton, her individual drill-down performance does not provide the same luxuries.
"There's nerves for sure, but the key is using those nerves to your advantage," reflected Barton.
Barton edged out Angela Park of Bellevue and Rose Crawford of Interlake for the Drill Down Championship, a victory she found hard to believe even a few days following the competition.
"I think the time it hit me the most is when I got my medal sent to me," said Barton, who won drill down competitions at Tumwater and Edmonds-Woodway this past season. "I actually had it in my hand and thought, 'wow I actually did this.'  This is my medal.  It felt unreal before that."
Barton's mother, Marci, was in the stands in Yakima, along with CHS Principal Chris Woods, Athletic Director Steve Bellande and a large collection of CHS dance parents and supporters.  Having such a following in attendance was impressive according to Kiefer.
"As a coach, seeing that support, it's what you dream of," said Kiefer. "Our parents, support team, school administration, they've all been instrumental in our success.  So to share that with them, it was priceless."
Guiding the team to the state championship was the leadership and structure set in place by Kiefer and Gruhn.  The self-described odd couple provided everything the team needed to be successful, on and off the dance floor.
"Jan and Jaci are second moms to me and I don't know where our team would be without them," said Yeom. "Jan picks our routines apart to make every move clean and make sure that our formation is perfect down to millimeters. Jaci comes in with amazing routines and crazy fast music which she speeds up even more later in the season. They're complete opposites, but they make our team work."
"They push us even when we don't think we can go any further and always hold us accountable to working towards our goal," added Short. "We spend over 750 hours a season with them and all of our accomplishments this year are all because of them."
Gruhn and Kiefer are quick to direct praise back to the dancers.
"This is a tough, tough sport.  You have conditioning, rehearsals, traveling and every step of the way, our girls stepped up and faced the challenges," Kiefer said. "They inspire us with their work ethic."
"We're like any family, there's ups and downs, but we're all in together," said Gruhn.  "Anything we go through, we go through it together."
After all the time they spent together, the nine CHS seniors got to go out on top.  It was a moment they were happy to share together.
"Abbie, Ellen and I were on the SunDome floor representing our team as both four-year members and captains and when we heard our music play on the speakers and we were announced state champions, we couldn't believe it," said Yeom. "We screamed and yelled and ran up to get our trophy. When we came back we all hugged each other and cried and I said, 'we did it, it took 4 years, but we did it.'"
"I hope, as seniors, we have left behind a legacy and a team that knows that nothing is impossible as long as they trust each other," Short said. "I'm extremely happy that I get to graduate with the title of State Champion but the part I'm most elated about is that our team will be remembered for our performances. That was our ultimate goal."
A goal that was accomplished as a family.