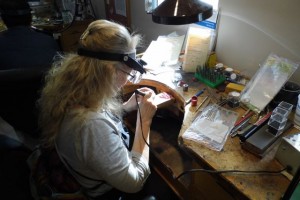 Hartley Jewelers is a not-so-hidden gem. Located at the prominent West Olympia intersection of Cooper Point and Harrison, you likely drive by it often. But if you've never stepped inside this lovely shop, you're missing something special.
Rick and Linda Hartley co-own Hartley Jewelers, which started in 1967 out of Rick's garage, when he was still a teenager.
Rick's years of expertise are the foundation for this store built around a solid team of talented goldsmiths – who have nearly 250 years of combined experience working with, crafting and restoring fine jewelry.
"I'm so proud of our goldsmiths," says Linda Hartley. "The five we have all bring their own special talents. And two are from other countries – Germany and the Philippines – where they trained under the true masters of the trade in their own countries. They bring skills to us you don't learn in the States."
Hartley Jewelers is a tight-knit group. "Most of the people have been here between 15 and 22 years, so we all know each other very well," says Hartley. "Without this team, we absolutely would not be who we are."
Who they are is a group of talented jewelers who strive to make the experience of buying or crafting precious pieces enjoyable and meaningful, not stressful.
Too often, buying jewelry can feel like buying a car: a high pressure, brain-racking and confusing experience. Chain store jewelers typically work on commission and have quotas to meet, hence the fitting comparison.
But that's not how Hartley Jewelers does business.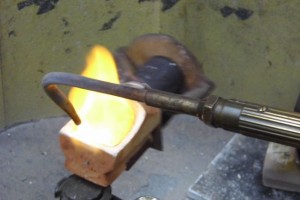 "Dollar value is not our measure of success," says Linda. "We measure our success more by the thoughtful thank you notes that arrive frequently, the stars we get on Angie's list and the referrals we get from our clients – not sales quotas or commission sales."
The only bottom line at Hartley Jewelers is that the entire team wants to do what's appropriate for each person looking for a different experience.
"Our goal is that they love what they have," Linda says. "It's our passion to make sure that all the pieces of jewelry we create are carefully designed specifically for that person and their life story," says Hartley, "to hopefully become a family heirloom; something they love, every time they look at it."
Hartley Jewelers thrives on excellence through all stages of the manufacturing process – whether it's the sketch, the wax, or the completion. "We want the optimal design for each particular customer and their individual story."
Very often, finding that perfect piece means creating a custom piece of jewelry, rather than selling something already in the case.
But the selection you find in the cases that line the Hartley Jewelers showroom also stands out from the crowd.
"We carefully select items specifically from the new designers," Linda explains. "We'll go to the largest trade shows and rather than purchasing from the more prominent well recognized designers that are presented in all the typical jewelry stores, we zero in on people who are more like us – BEFORE they are featured in 'People Magazine.'"
"We look for more one-of-a-kind or unusual pieces you're not going to see anywhere else," Linda continues.  "We critically inspect the craftsmanship to ensure it meets the standards our clients have come to expect."
On a recent visit to the store, Rick Hartley describes the process in action. The front section of the store holds glittering display cases, the back area an array of tools and goldsmiths leaning over worktables, head magnifiers in place.
Heading to the work area, Rick hands me a pair of sunglasses. He lights a torch and begins to melt down a piece of jewelry for a customer, which will be recast into something completely new. In short order a shimmering pool of molten gold begins to bubble.
Across from Rick, a goldsmith works on creating a mold for former soldiers. The source material is a shell casing, which will be mixed with silver and made into rings. The exact story isn't known, but the casing somehow saved these men's lives.
Every day a new story is told through the exceptional work done by the Hartley Jewelers team. Several of these stories are shared on the Hartley Jewelers website, and well worth reading. They also put together a nice video showing how they make a set of custom wedding rings.
Hartley Jewelers recently won Weddingwire's Couples' Choice Award and in 2013 received the Angie's List Super Service Award. The shop has also twice been voted Best Jeweler of South Sound, and is the official jeweler of the Miss Washington Pageant.
But Linda doesn't like to talk about accolades – she's focused on offering high quality work and helping others. It's what Hartley Jewelers has done for nearly 50 years. And the care, experience and respect for its customers shines through every job, large and small.
Hartley Jewelers designs and manufactures fine jewelry for clients all across North America, but they have a particular passion for their local, South Sound clientele.
"We feel very committed to South Sound," says Linda. "It's important to us. Because we live here, we work here, and we raised our children here. We feel a real responsibility to the people we do work for. They give us trust in letting us work on their precious jewelry and we strive to earn that trust with each and every job we perform."
400 Cooper Point Road SW, Suite 2
Olympia, WA 98502
360-754-6161